Article
A world of experience in the Holiday Region Interlaken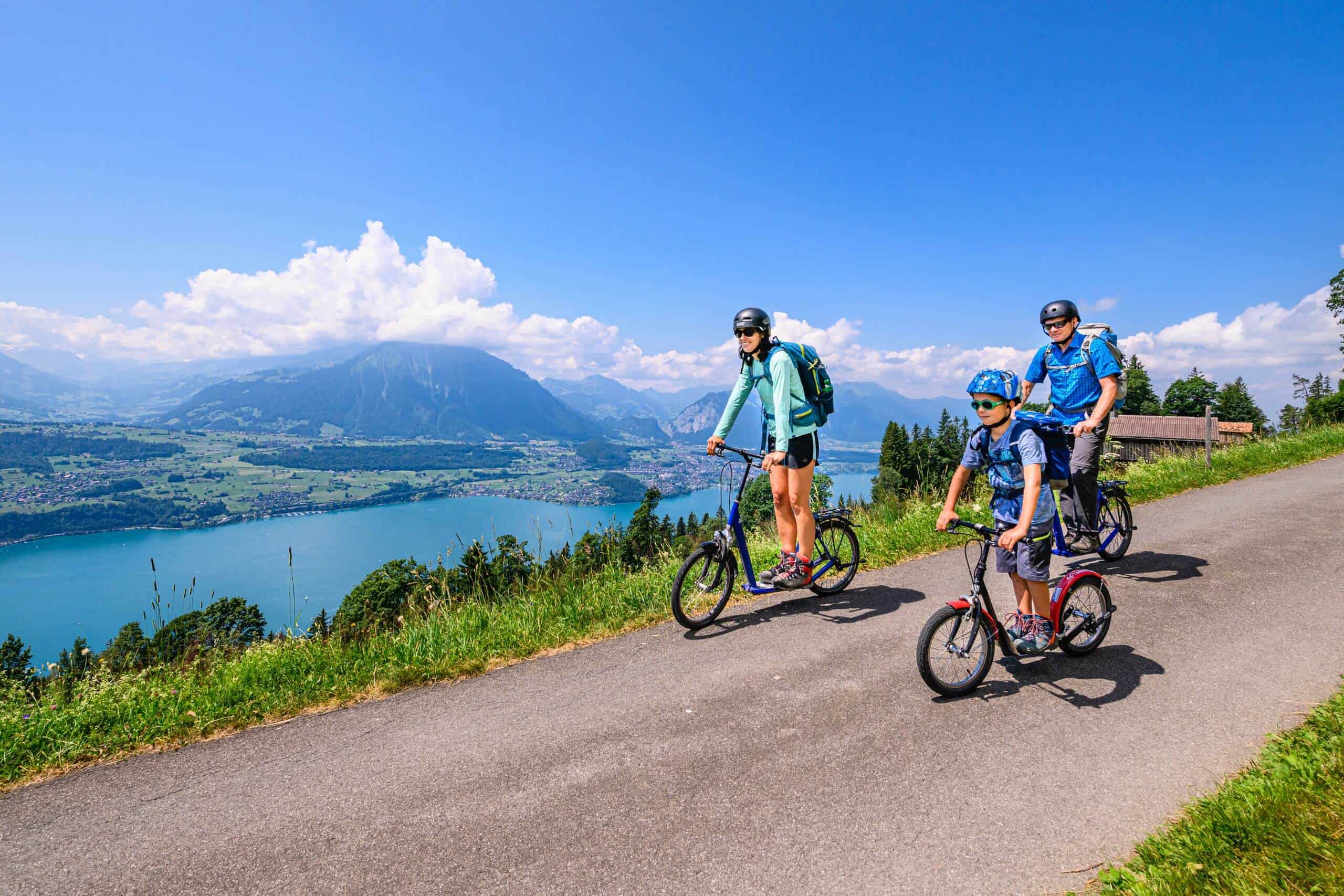 A varied world of adventure and action awaits you and your family in the Holiday Region Interlaken. With its dazzling array of activities, an unforgettable family holiday is guaranteed, whatever the season. Tear down the mountain on a scooter bike with your loved ones or take a kayak out onto Lake Brienz. The region's natural beauty compels you to be active and explore. Climb high up into the treetops at the rope park, go on a treasure hunt or explore the Alpine landscape on family hikes and themed paths.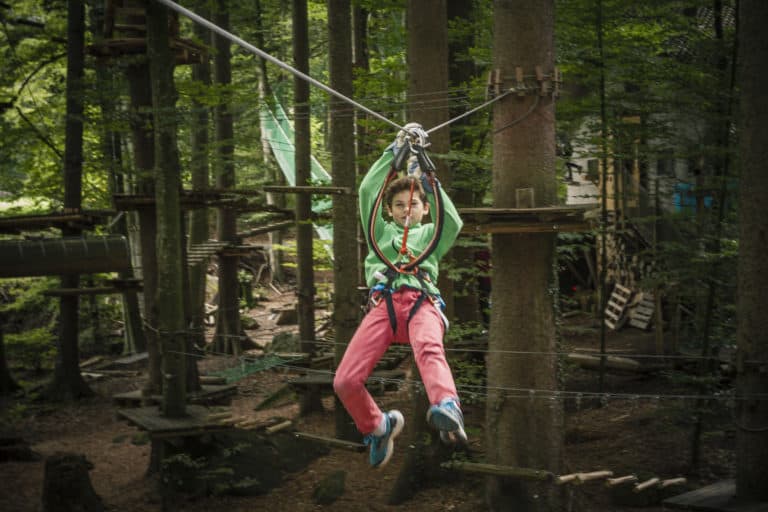 Biking fun with a choice of routes and views of the Bernese Oberland mountain peaks
During the summer season you can hire scooter bikes at the Niederhornbahn's middle station in Vorsass. There are even special scooter bikes for your children. The staff will equip you with the necessary equipment and helmet before you set off. The cable car takes you straight to Vorsass. Two different routes take you along unsurfaced and asphalt roads to the railway station in Beatenberg. It's an unforgettable experience offering plenty of fun and action. Choose your own pace – leisurely or fast. The routes wind their way through verdant forests, passing lush meadows and gushing mountain streams on the way. If you feel like a taking a break, you can stop at one of the well laid out barbecue areas, so it's worth bringing a nice picnic with you.
More at: www.interlaken.ch
Adventure Park Interlaken – thrills at heights of up to 20 m
Experience over 120 obstacles on nine different challenging courses, surrounded by nature and the mountains of the Bernese Oberland. You can explore the different routes at your own pace and on your own initiative. Let off steam on various obstacles, swings and zip lines at a height of up to 20 m. The Adventure Park offers fun for everyone: There are varying levels of difficulty to ensure that there is something for everyone. Book your day of adrenaline, fun and personal challenges at Adventure Park Interlaken now. Trained guides ensure your safety by showing you how to secure yourself to avoid accidents.
More at: www.interlaken.ch
Speed across Lake Thun on an inflatable tube or banana boat
Maximum fun for all ages: whizz over Lake Thun on an inflatable Tube or Banana. Do you prefer a leisurely cruise or a full-throttle ride for that ultimate adrenaline kick? Fast or slow – the speed is up to you. Fun for young and old guaranteed. This activity is suitable for children over the age of 4 and can be booked daily between May and September, good weather permitting.
More at: www.interlaken.ch
Take a tour of exploration by canoe or SUP
Paddle a canoe or SUP along the impressive Canoeing Trail to explore the natural beauty of the left bank of Lake Thun. The Canoeing Trail extends from Gwatt to Leissigen, so you could start a tour in Spiez – the loveliest bay in Europe – and glide over the glassy waters into the sun. As you pick up speed with smooth, regular strokes, fairytale Spiez Castle and the vineyards of Spiez gradually recede into the distance. The landscape of lakes and mountains is simply unparalleled. From Spiez you can paddle towards Faulensee and Leissigen, or head for Gwatt. Along the way there are places to rest, swim and fortify yourself with a good picnic.
More at: www.interlaken.ch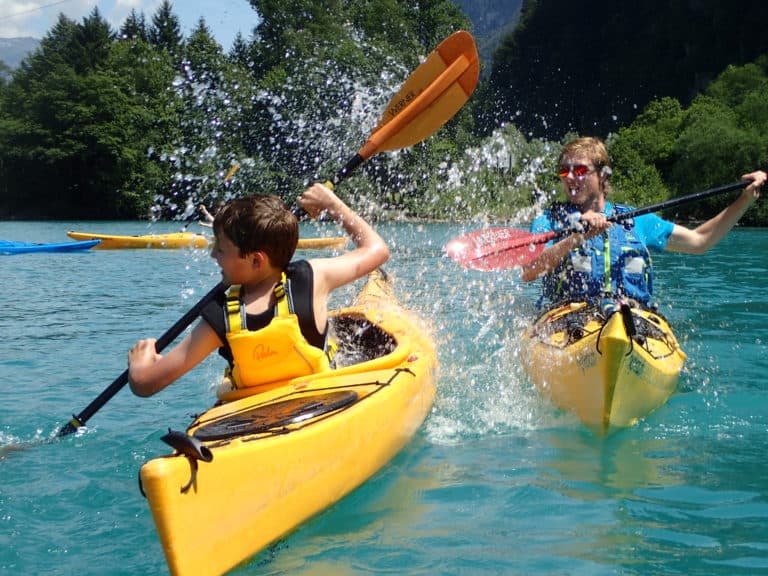 Cross lake Brienz by kayak
Learn the kayaking basics while you enjoy a fun-filled day with the whole family on turquoise Lake Brienz. Be the captain of your own ship and spend two entertaining and action-packed hours on the water. The course features various games and sporting challenges: Balance on the kayak, go head to head in a family paddle race or practise your Eskimo roll. This splashy adventure will test your sea legs and leave the whole family rolling with laughter. If you love water-based activities and have swimming skills, this experience guarantees fun and games galore.
More at: www.interlaken.ch
River rafting in Interlaken – feel the power of water
An easily accessible launching area on the lower reaches of the Lütschine river means that families can also book an adventurous river rafting trip on the famous white-water river. You and your family will paddle together towards Lake Brienz, fully equipped and in the expert hands of one of our guides. The smaller waves and splashes ensure fun for all ages. A plunge into Lake Brienz at the end of the tour is the perfect way to round off this fun family experience.
More at: www.interlaken.ch
Genuine adventures and unforgettable experiences await you in the most beautiful surroundings: www.interlaken.ch
Find more articles like this here: www.internationalschoolparent.com/articles/
Want to write for us? You can submit an article for consideration here: www.internationalschoolparent.submittable.com