Article
Dubai Animal Encounters for every budget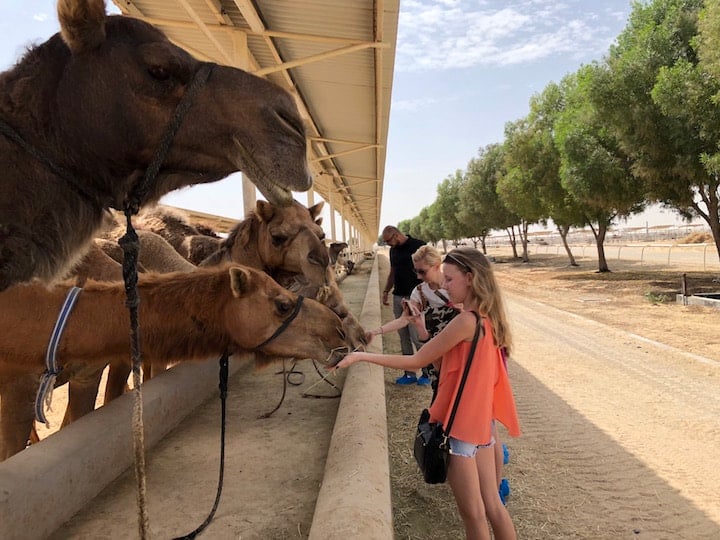 Dubai offers a surprising range of animal encounters, from native Arabian wildlife to exotic imports from far-flung countries. To save you the legwork, we tracked down some of the most interesting options for every age and budget.
Free:
Turtles at the Dubai Turtle Rehabilitation Project
This charity project takes injured or sick turtles and helps them rehabilitate with the aim of releasing them back into the Gulf. Currently based at Jumeirah Al Nasseem Hotel, the enclosure is open all day every day, with no charge to view the turtles and no need to book in advance. There is a feeding session once a week, but bear in mind it is much more crowded then. A few times a year the rejuvenated turtles are released back into the wild.
In summer months when the sea gets too hot the turtles are taken to a temperature-controlled facility with no visiting possible. The best way to keep up to date is to check out their facebook page.
Birds at Ras Al Khor Wildlife Sanctuary  
Dubai is a major travel hub, and not just for people. At Ras Al Khor Wildlife Sanctuary there is the opportunity to watch a surprisingly diverse range of migratory birds in a protected landscape of mudflats, lagoons and mangroves. Whilst flamingoes tend to attract most of the attention, there are many other species including herons, osprey, egrets, and sandpipers.
Access to the hides is free, and provides an unusually calm and serene Dubai experience, less than 5km from Burj Khalifa. Driving towards Downtown Dubai on the Ras Al Khor Road, continue 3km after the intersection with the D62 and the hides are on your right.
Small change:
Ponies and horses at Desert Palm Riding School
Desert Palm Riding School is part of a high-class equestrian centre that also includes the Desert Palm Polo Club. For a short pony ride in secluded, calm and safe surroundings, this can't be beaten. Pony rides cost about AED30 and you can just show up and jump into the saddle! Horse-riding lessons, including showjumping and dressage, are available for the more intrepid young riders. Or if you just want to watch horses in action, there are local competitions every few weeks that are free to attend. Overall, it's the perfect way to introduce kids to horses and learn about how to care for them.
The Riding School is open in the early morning and from 4pm in the afternoon, but it's closed on Fridays (full info is on their facebook page). To get there, drive on the E44 towards Hatta and The Desert Palm Polo Club is on your right.
Camels at Camelicious, the world's first camel dairy
Camels are a key part of this region's history and development. Perfectly suited to desert conditions, they can go 20 days without water in the middle of a Dubai summer. Any creature that can manage that deserves some serious respect! Also, one unusual way to see these adaptable animals up close is to visit Camelicious, the world's first camel-milking facility. Yes, camel-milking is a thing! Call ahead to let them know you're coming and you can get a short tour of the premises. Also, most importantly, get a chance to feed the camels. Camel milk is a premium dairy product with plenty of health benefits. At the end of the tour is a chance to try some of it yourself, as well as other products from the Camelicious range. I thoroughly recommend the ginger ice cream!
Big splurge:
Dolphins at Atlantis The Palm
You probably wouldn't expect swimming with dolphins to be a budget experience, and it isn't. But it is totally memorable. The Marine & Water Park at Atlantis The Palm has a world-class facility called Dolphin Bay. Visit options range from shallow water encounters with no swimming required (suitable for children of any age) to scuba dives for certified divers aged 15 or above. The dolphins are clearly well cared for and the informative trainers make it a learning experience as well as a 'wow' moment. The price also includes access to the hotel's Aquaventure water park. As a result, you can make a full day of it. Latest prices and timings are available on the Atlantis website.
Ian lives in Dubai and writes about life-optimisation for the modern expat at An Expat Dad, with a special focus on family, travel and finance.
Find more articles like this here: www.internationalschoolparent.com/articles/
Want to write for us? You can submit an article for consideration here: www.internationalschoolparent.submittable.com