Article
Asian Culture, Swiss Art, and Singapore Schooling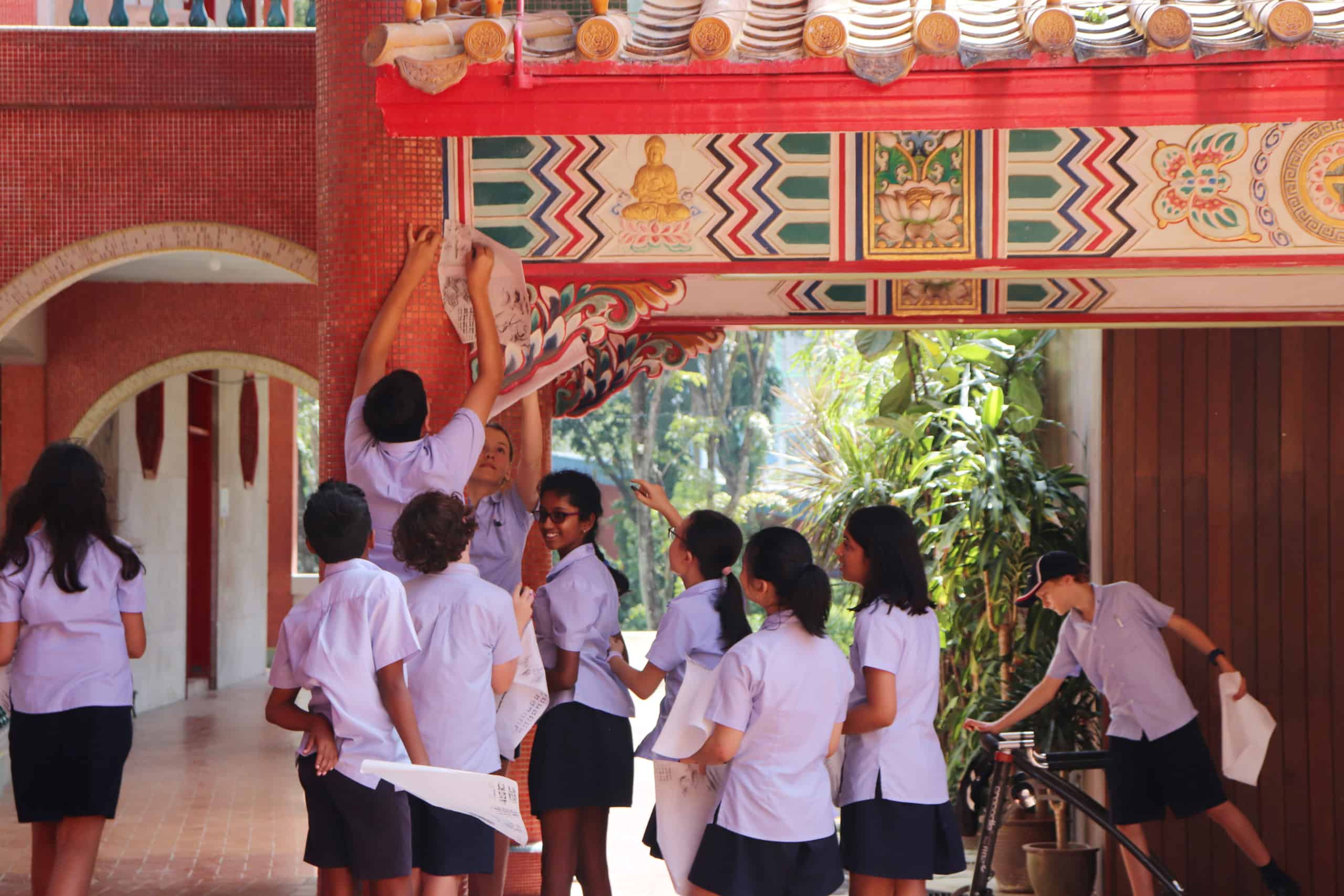 An International Student's Perspective
I have always enjoyed listening to older generations talk about their childhood; particularly tales of school years that are recalled starry-eyed. It makes me wonder what stories I will tell future generations, and how I will tell them. But instead of waiting until I can say, 'in the good old days…' I'd like to give you a sneak peek into the life I'm living now.
I'm Lila, a 17-year-old Swiss student in Singapore. Here's the story of how my Asian schooling, Swiss homeland and international life have shaped my passion for the arts.
Lila's Story
At the age of three, I moved from Switzerland to China, where I spent four years before moving to Singapore. When I remember Shanghai, it's the street markets and native cuisine that first spring to mind. You can't say you've experienced China unless you've walked through the street food stalls and seen pig snouts on a stick, snacked on white rabbit candy or tasted the sweet and sour, sugared treats known as bingtanghulus (candied hawthorns).
These sights and smells take me back, but what I took forward was the artistic culture. Whether I was painting on canvases or renovating my family's furniture with unique designs – that not everyone appreciated and were troublesome to restore – art surrounded me from an early age. Immersion allows us to understand art. My mother opened up a craft workshop for children called the 'Loli Studio'. Each week a group of children would come over, and we would experiment with pearls, fabrics, textures and paint, just letting our creativity run free.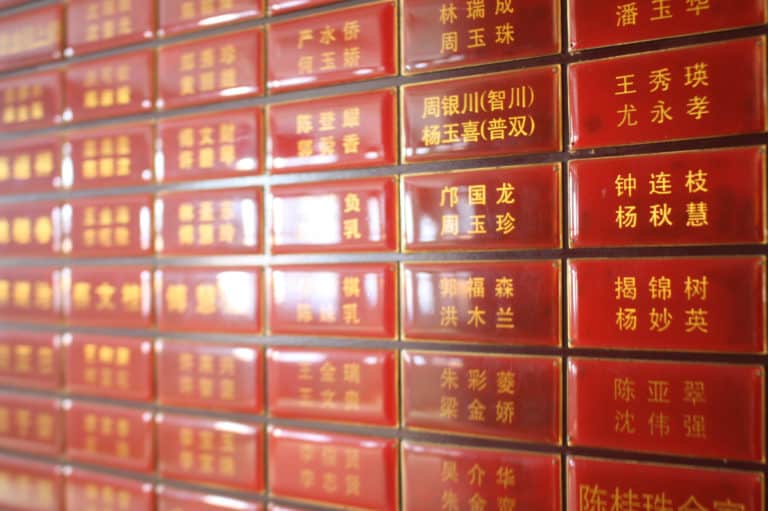 Now that I'm older, I realise how lucky I was to have a world of art all around me. In my Chinese school, I recall learning about traditions such as calligraphy, playing the violin and cooking dumplings, but it was the festival celebrations that I enjoyed the most. It was fascinating to learn about old Chinese myths and to make moon cakes, lanterns and even our dragon dance costume in preparation for the festivities.
I lived in China as a young European, which was exciting but never completely comfortable. We stood out as different and sometimes felt we did not belong. Singapore, on the other hand, feels like home. I'm neither a tourist nor an outsider thanks to the diversity of the culture.
Moving to Singapore
For my first few years in Singapore, I went to an international primary school. When we were preparing for school plays, my friend and I would go to the art room every lunchtime and help paint or sculpt accessories. There wasn't much academic pressure from the school at this point. Still, there were some teaching strategies that I look back on and question, such as streaming into groups based on ability at an age when we were still discovering what those abilities might be. After I finished Junior school, I was homeschooled by my mother for half a year. Art was my favourite class of course, and this is when I learnt about the infamous Alberto Giacometti, the Swiss sculptor renowned for his 'Walking Man'.
When I first joined Tanglin Trust School at the age of 13, I was glad to be surrounded by a diverse group of students, facilities and opportunities for extra-curricular activities. My most notable memories of my time at school are all the incredible trips that I have experienced. Living in Singapore makes it easy to travel to nearby countries such as India or Thailand. Through these school trips we would learn about the culture of the region and participate in activities such as visiting caves, zip lining and, my personal favourite, rowing down a river in Chang Mai, which is said to rid you of your sins. We all jumped in the water after hearing that!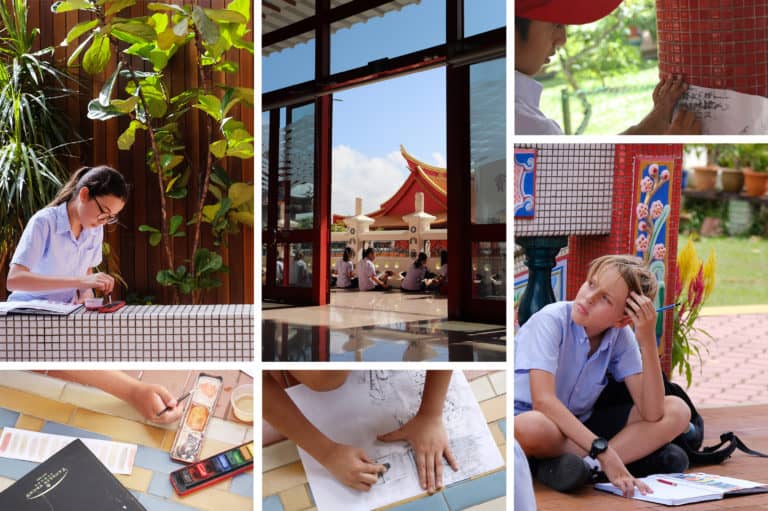 I had no preconceptions about the academic enrichment culture in Singapore, but I was aware of the stereotype that Asian secondary schools focus narrowly on academic success. That has not been my experience at Tanglin. While Tanglin does have high expectations and encourages a purposeful work ethic to stay on task, the curriculum is broad and exploratory with interest-based opportunities around every corner, and the teachers prioritize individual student's personal growth and improvement.
The Arts
That's why I dived into the arts the first chance I had; it's a subject that allows me to explore so many genres without an emphasis on fact recall or essay structures. During my GCSEs, I struggled a lot with art, working nearly every day after school on my projects, which I would often restart over and over again. Luckily my hard work paid off when my exam piece was presented at the IN 2019 exhibition in Singapore.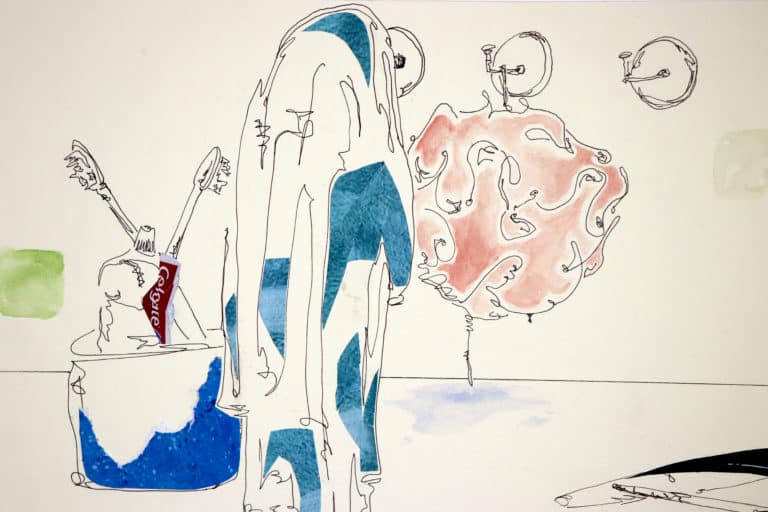 At the moment I'm studying IB and doing Art as one of my higher levels. This is when I encountered the ARTiculation speech contest. It was such a new perspective for me; to work on art criticism, rather than the creation of a piece. ARTiculation offers a platform for students aged from 16 to 19 to express their opinions, passions and thoughts about art, and to reach new, increasingly global audiences. This was my chance to represent the Swiss student contingent at Tanglin and introduce Swiss art, perhaps for the first time, to other nationalities.
It was a full-circle experience for me. From learning about Giacometti just after I had finished Junior school and was being homeschooled, to making a speech about him when I had just started Sixth Form College, on the verge of leaving the nest. The communication of a message and a feeling through art is fascinating; it can bind people together like nothing else. It can take you to new places. Art enabled me to reach you and, hopefully, the person with whom you share this article or my speech. All thanks to Giacometti's 'Walking Man' – a cultural taste of my homeland, one that doesn't involve some delicious Swiss cheese!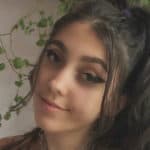 About the organisations behind this article:
Tanglin Trust School
Established in 1925, Tanglin Trust School is the oldest British international school in South East Asia. Tanglin provides the English National Curriculum with an international perspective to children from 3 to 18 years in Singapore.
Tanglin is a vibrant co-educational school of 2,800 students representing over 50 nationalities. It provides a unique learning environment for children from Nursery right through to Sixth Form. The provision of outstanding education is the focus of the tuition fees.
ARTiculation
Based in the UK, ARTiculation is the Roche Court Educational Trust's internationally acclaimed initiative which champions students, aged between 16–19 regardless of background and experience. ARTiculation provides a platform on which students can develop their confidence and ability to express their opinions, thoughts and ideas, through the arts and public speaking.
ARTiculation has reached over 15,000 young people since establishment 12 years ago. Set up by Lucy Salisbury and Madeleine Bessborough OBE at the New Art Centre, Roche Court, as a tribute to the art historian Kenneth Clark, ARTiculation promotes the appreciation and discussion of art while building the confidence of young people.
For more information about ARTiculation please contact Timothy Revell, Roche Court Educational Trust at 
Tanglin and ARTiculation
This year, Tanglin joined forces with the Trustees of the Roche Court Educational Trust to launch ARTiculation Singapore. The ARTiculation Prize is a highly popular and prestigious nationwide public speaking competition in the UK and Europe. This is a highly regarded academic enrichment opportunity. It is endorsed by many top universities, and was brought to Singapore for the first time this year by Tanglin Trust School.
Sadly, the final event was cancelled due to the pandemic. However, Tanglin is sharing the speeches. Each speech presents an exploration of a visual artwork selected by the student, over digital platforms. The ARTiculation entries are a prime example of Tanglin students' love of learning and curiosity. If you have any questions regarding the project, please contact Elizabeth Anstiss at
More from International School Parent
Find more articles like this here: www.internationalschoolparent.com/articles/
Want to write for us? If so, you can submit an article for consideration here: www.internationalschoolparent.submittable.com