Article
Meet the Headteachers – Barry Dequanne School Director – International School of Zug & Luzern (ISZL)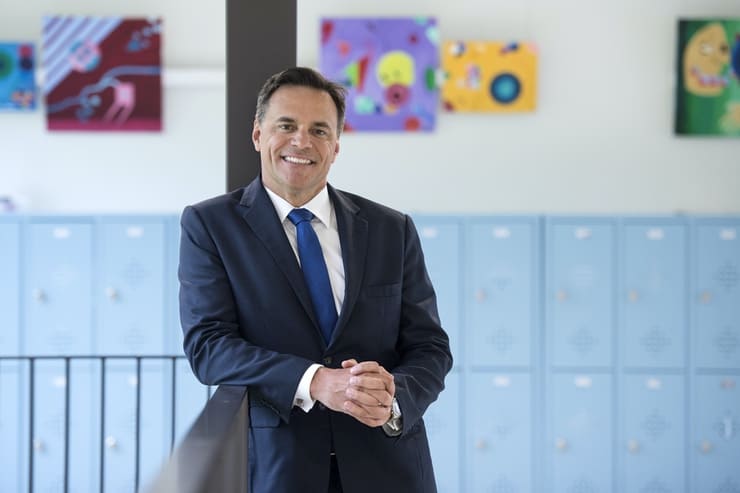 With more than 20 years of experience in the international education sector under his belt, Canadian-born Barry Dequanne was a natural choice for leading the ambitious future plans at The International School of Zug and Luzern (ISZL). The school's pedigree is born from a history of commitment, adaptation and growth, responding to changes in the needs of international families since its founding in the 1950s to provide high-quality education for American expats. Since then, the school has seen continuous expansion, with current plans for developing an educational model that equips the next generation for a rapidly-changing world already underway. International School Parent Magazine speaks to Barry Dequanne to hear about his vision for the school's next chapter, and what the future looks like for international students.
What inspired you to pursue a career in education?
Like many educators, I didn't necessarily decide at a young age that I was going to go into education. I had no intention of working in leadership either; both evolved naturally over time as I followed my passions and interests.
I have always loved sciences and mathematics, which I studied at the University of Waterloo in Canada. The Mathematics and Computer Science programme there was unique, in that it allowed students to alternate studying with working every four months, which meant that I graduated with two years' work experience as an actuary for Prudential Assurance already under my belt.
I found that, while I enjoyed the theory of the course, I didn't necessarily enjoy the working environment, so I began to look for other opportunities. It was while I was working as a programmer for Xerox that something inside me told me to pursue a dream I had always had of volunteering overseas. The Canadian government had a programme similar to the US Peace Corp at the time, which I signed up for and was sent to Swaziland to teach local school children. It was a profound experience on so many levels: I discovered my passion for education and I found a career that fed my soul.
I returned to Canada to study to become a teacher, but I missed being abroad. As soon as I finished my teaching degree and practicum, I went to a job fair and found my first qualified teaching role at a school in South America.
Tell us about your experience teaching around the world – what lessons have you learned from working in so many different cultures?
For me, it's always been about the people. The country and culture might be vastly different, but there are always parallels between organisations – and one of these is that any school is only as good as it's people.
When I decided to look at overseas placements, I had a set of priorities for the professional and personal atmosphere I was looking for. Top of the list for me has always been a school that values community and personal relationships. I also value an environment where people are pushing themselves and each other to excellence. The transition from my previous school, the American School of Brasilia in Brazil, to ISZL has been relatively smooth, as both have these qualities.
I have found that as a director, the key is to identify what makes the school special, and then to develop this. It's about having a sense of humility and really listening to understand the school, its needs, and the next steps in its evolution. It's then about working with the community towards implementation. I have found that this is something that can be applied successfully to most schools across the world.
What do you think makes ISZL so special?
What makes the school special is that it has come from small beginnings, growing rapidly over its 50-year history while retaining that sense of intimacy and high quality of teaching. It has kept this feel through a unique combination of the people here and the influence of the local environment. Usually, larger schools are in larger city centres, but at ISZL we can take advantage of the comfort and closeness of a smaller community, and the opportunities it provides for a more balanced, outdoor education.
The other aspect is the tremendous academic results that our students achieve at ISZL, which are outstanding on every measurable account. At the same time, an implicit culture of academic rigour does not stifle our students' creativity or personalities. We get to know the children and their families, to identify what their personal learning styles are as well as their passions, adjusting our teaching to meet those needs. The natural outcome is that our students are completely committed to their learning, and we see that reflected in the results year on year.
What is the vision that you came to ISZL with and that you are hoping to implement?
My vision is one of empowerment; of supporting and challenging a strong team to continue to move the school forward, without losing the strengths that make ISZL so special.
We already have a tapestry of nationalities here, which is a great strength that we can draw on to create an inspiring and diverse environment for learning. We need to make sure that the school has a structure that welcomes all of those voices, but is also clear in expressing our own identity. It's important for me to make sure we are all going in the same direction, providing the support and resources that everyone needs to succeed.
My overarching belief is that every day we need to focus on getting a little better. It doesn't matter how good we are today, we need to improve a bit more tomorrow and continue to drive that process. Incremental growth in the long term will make a compounded and significant difference to how we serve our students.
You recently invested in a new building for the school; what is your plan for this?
Enrolment has surged in recent years, so we are trying to increase our capacity and provide the best environment for learning for our students. The spaces that we have on both campuses are fantastic, and we are developing the school's facility to fulfil our vision for the future.
The next step is to have our visioning architect work with parents, students, teachers and the local community to understand what our needs are and how we can stay true to our vision and philosophy. We want to create more collaborative structures and integrate technology to provide areas where students can engage and learn, and to build a sense of community not just for the students but for teachers, parents and the external community. This will be a project that will ultimately stand the test of time, able to adapt to the changing educational needs of the future.
What would you like ISZL students to have achieved by the time they leave school?
There are several things that we are trying to achieve here. On the one hand, we have a responsibility to ensure that our academic programmes provide them with the skills, resources and knowledge to function in a future that's changing quickly. It's important that we do this by helping our students realise their potential and how they can adapt their skills.
The other aspect is the importance of focusing on the child as a whole, providing a more holistic education and giving students the opportunity to explore new areas of learning. It could be sports, it could be the arts, it could be community service, leadership or public speaking – whatever inspires passion. When students enter the school with a broad set of skills, we need to help them develop these and broaden their options going forward. This is something that I think we do very well at ISZL.
Beyond this, I believe that all schools have a responsibility to work with families to ensure that the next generation go out into the world as good people and contribute in a positive way.
What do you feel is most important in helping international students and their families settle in when they first arrive?
We understand how overwhelming and difficult it can be for a family to relocate to a new country and set up a new life, so we do all we can to support them before they move and to integrate easily into school life once they arrive. There is a reason why a family chooses ISZL, and our responsibility is to be open and honest about who we are and what we can offer them. People choose schools not necessarily because one school is better than the other, but because there is a strong match between values and their needs.
I posted a piece on my blog recently about the nature of transitions. There is a difference between change and transition; where change deals with a more immediate event and how we react to that event, while transitions are longer-term, internal processes that involve emotional and psychological effects. When we think about our parents and students, we have to understand that it's a deep, meaningful transition which will change them as a family, and to support them accordingly.
When a family arrives, we check in with them with regular meetings throughout the year. For the student, our priority is to connect them into the school environment as quickly and smoothly as possible, while also creating a safe setting where they feel able to share any concerns. One of the ways we do this is to operate a buddy system, so that they know that there is someone in the school that is dedicated to building their confidence within the school.
What challenges do you face in your method of working closely with international families?
Unpacking the specifics of where parents feel their children should be academically is a significant challenge. With families coming from so many nationalities and backgrounds, it's understandably difficult for parents not to draw comparisons with schooling in their home countries.
Ultimately, I believe that the discussion around educational direction is one that parents should be an integral part of. It would be a mistake to exclude parents in decision-making processes as we need to hear what their fears and concerns are as we learn so much from them. At the same time, we also need to ensure that we're communicating with them about the decisions we are making and why they are important.
How do you feel that a good international school should interact with the local community?
I think for any school in a host country we have a responsibility to engage with the local community; in its history, culture and at events. It's an easy mistake to stay in this little bubble of our international school communities, when there is so much to experience around us.
This is even more important here in Zug, as we are a big school in a smaller town, so we need to set an example for our students to interact with the community in a positive way. We're closely connected with international corporations and families, and one of my priorities is to further integrate our school into the local area to provide more opportunities both to our students and local families.
And more generally, what do you think are the main challenges facing education in the future?
I believe that this ties into challenges facing society more generally, looking at the connection between the future needs of the workforce and how we educate our children from primary through to university level.
Looking at the World Economic Forum's literature on changing global skills requirements, there has been a significant shift to focus on a need for overarching, interrelated qualities, such as creativity, innovation, leadership, relationship building, empathy, conflict resolution, and emotional intelligence. So, for the education sector, a critical challenge is in relation to how we prepare our students for the future and this more diverse skillset requirement.
The key challenge will be to transition from our current, rigid model of education, which has been ingrained for over a hundred years, to something that is more reactive to changes in access to technology, information, and approaches to learning and working. The model needs to change, and we need to assess how we can ensure relevancy and meaning in learning, and drive this change collaboratively. This is an idea which is gaining momentum within the field of education, and we have begun to think about how this future model might look in our vision for ISZL's own future.
The International School of Zug and Luzern (ISZL) is an independent co-educational, non-profit day school, from Pre-School to Grade 12 serving the international community of Central Switzerland.
www.iszl.ch
By Tim Gilbert – Guest Interviewer for International School Parent Magazine & International School Parent @IZSL
More from International School Parent
Find more articles like this here: www.internationalschoolparent.com/articles/
Want to write for us? If so, you can submit an article here: www.internationalschoolparent.submittable.com