Article
Building Vocabulary Rich International Schools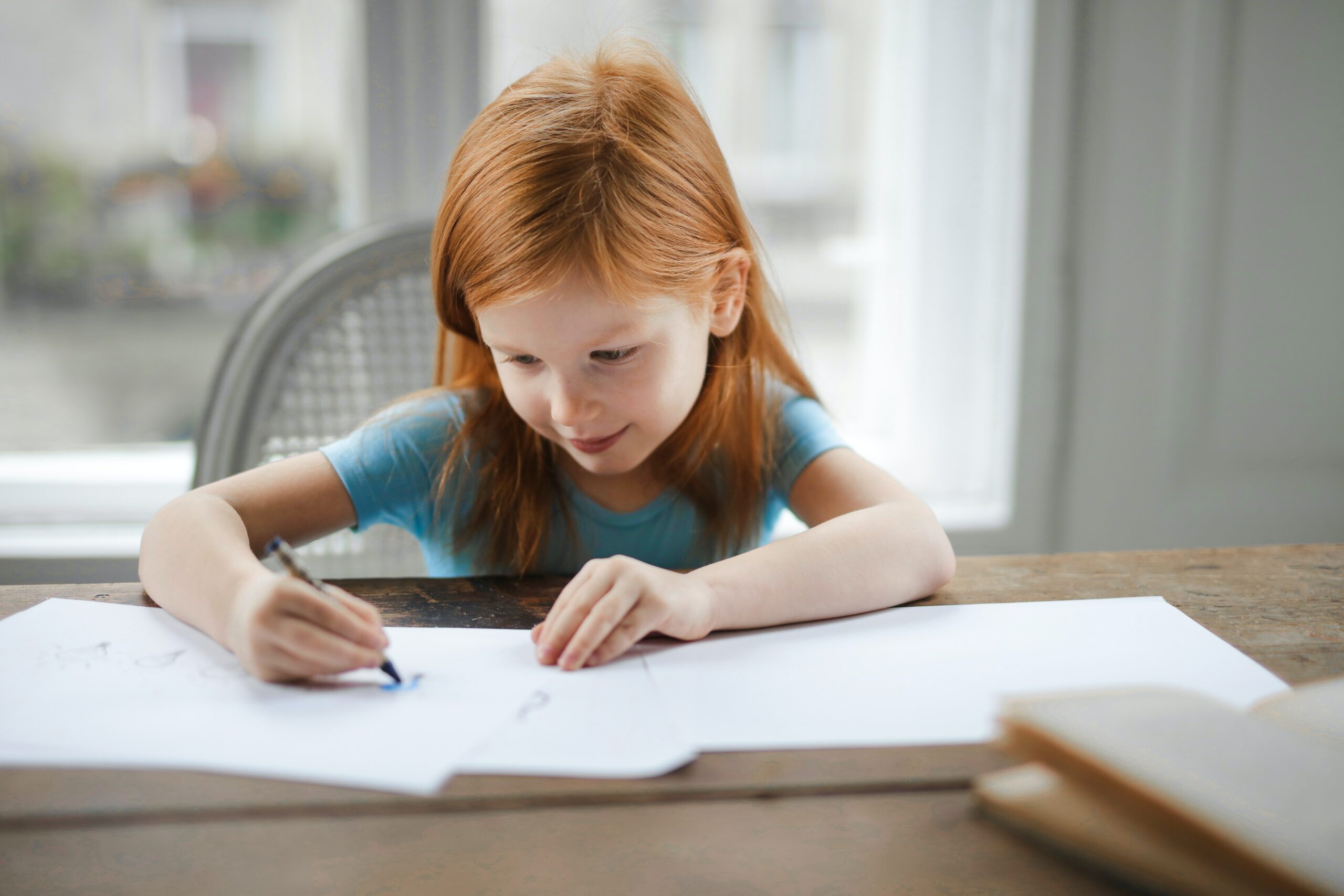 The Vocabulary Gap: what exactly is this?
The vocabulary gap has become an area of concern within education; The Oxford Language (2018) report 'Why Closing the Word Gap Matters' found that the word gap significantly impacts pupil achievement at school and beyond.
"low levels of vocabulary set limits on literacy, understanding, learning the curriculum and can create a downward spiral of poor language which begins to impact all aspects of life." Kate Nation, Oxford University
Being "word poor" can negatively impact not only academic achievement, but also children's self-esteem, behaviour and life chances and this gap begins long before children even start school. Some pupils arrive to school at foundation level having heard thousands of hours of stories, while others may have heard none at all; there can be 19 months of difference in vocabulary between children at age 5.
At international schools we need to consider the potential impact of the word gap on our bilingual pupils, particularly those new to English who may come to school with few or no English words. This is particularly relevant in an English-medium education system context, where students can only get the most out of the content if they understand the language. In these situations a limited vocabulary may lead to developing only limited understanding of the core subjects taught in English. The Oxford research has shown it is not just EAL pupils who arrive to school with low (English) vocabulary so there is a need to teach vocabulary explicitly in school, through all subjects, to all pupils.
Every Teacher A Language Teacher
School is a unique place where every teacher is a language teacher, and every student is a language learner (Margo Gottlieb , 2015)
For a school to become a vocabulary rich school, we all need to be part of it. Teachers need to build in explicit vocabulary teaching as part of their daily planning, always being aware of what language the pupils need to access the curriculum. Ultimately, the more word fluent the pupil is the
 more mental energy they will have to work out the challenging concepts and texts that they are presented with daily. Much vocabulary knowledge develops incidentally through new content, and some is explicitly taught, however, some of our bilingual learners may not have a solid grasp of early, foundational vocabulary. So, for example, if we teach division in the Maths class, EAL pupils might be more likely to grasp the concept if they understand basic vocabulary like share, split, and into.

It helps to consider the 3 tiers of vocabulary ( Beck, McKeown, and Kucan, 2013) when planning for the language content of your subject, so you can take into account the possible language needed for EAL pupils.
As another example, while a teacher may explicitly explain dissolve and melt so that pupils can predict the outcomes of the effect of heat and cold on different materials, they may also need to teach some of the tier 1&2 words that their bilingual pupils need like think, in, will. Teachers should consider the functional language required to complete the task, in this case the vocabulary related to predicting outcomes. The example (left) is a writing frame to scaffold the language a developing bilingual may need to express their predictions. This could also be used as a talking frame during a group discussion. Something like this can be quickly written on a mini whiteboard, during the class, and edited depending on the EAL level.

So, if you're teaching the properties of  shapes, consider the foundational language (tier 1&2) needed particularly, but not exclusively, for EAL pupils to express that they can identify  and describe shape features. As well as teaching tier 3 language like vertex/vertices, make sure pupils understand the mathematical meaning of the word faces, and descriptive words such as straight/curved. In addition, for EAL learners, pick out the language around the new vocabulary so they can actually make their own sentences. We cannot assume that learners using EAL, particularly those at the early stages of English, are proficient in everyday vocabulary (the first one, does, have , has) associated with Tier I.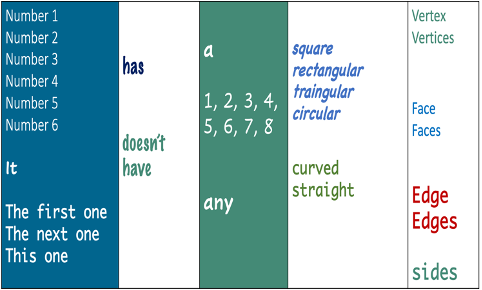 Considering the language function of the task (like describing, sequencing, comparing) is a good approach to planning for vocabulary. Language used to compare might include: X is bigger than Y, Y isn't as big as X, X is similar to Y because… Vocabulary learned for language functions can then be transferred across to other tasks. Once a learner knows words and phrases used to compare, they can apply this to a range of contexts across all subject areas
Warning!
Don't try to address every single word that you think students might not know; this would be completely unrealistic! Try to analyse the lesson in terms of the language it requires and pull out the vocabulary that really needs to be taught. Feldman and Kinsella (2008) suggest prioritising vocabulary by selecting 3-4 vocabulary items that are important for understanding and discussing the topic –life cycle, caterpillar, chrysalis and3-4 high-utility words that EAL learners need to actively communicate about the topic, for example: turns into, after, changes.
A Vocabulary Rich School: Read More, Talk More, Explore More!
Whole School Reading Boost
Without a doubt the best way to extend and deepen vocabulary is to support pupils' reading, here are a few ideas for a whole school push.
Ensure reading for pleasure material is challenging, yet still accessible for EAL pupils by providing scaffolds and visuals and making it age/interest appropriate.
Extreme Reading: Join thousands of children around the world photographing themselves in unusual and unlikely places simply reading a good book.
A book I love: Every child takes their turn to tell their classmates about a book they have enjoyed, depending on the age and ability, children can talk about the characters, themes, author, visuals etc.
Monthly Reading Challenges:
Pair/Mentor Reading: This is a great way for older pupils to support the younger pupils at school. This works best when you change the pairing each term, with the aim of the older pupil sharing several books over the course of a term.
Whole School Quiet Reading Time: Once a week make time for a whole school reading session, secure readers can read quietly on their own, while younger children can enjoy having a story read to them. Make time to check and support comprehension.
Whole School Talk for Learning Boost
The best way to practise more academic language in the classroom is to use it consistently with peers. Encourage pupils to learn collaboratively, providing them with the language they should be using in discussion. Ensure EAL students are placed with good language role models and that they are in groups where they feel confident and comfortable. We don't need an additional talk curriculum we need a whole-school plan to build talk activity effectively into lessons across the curriculum. There are so many resource available but here are a few of my favourite ideas:
Modelling academic talk As teachers we have the chance to plan for and weave academic language into classroom talk, modelling it in use; for example: Student: He is a monster but I can't help feeling sorry for him a teacher could recast the comment, translating it into academic talk. Teacher: Yes, so although he is depicted as a monster the writer conveys sympathy for him which makes us feel pity towards him.
Collaborative Learning If you are not using collaborativelearning.org check it out now. This is a range of curriculum linked, talk based and scaffolded activities which are designed to support talk for EAL learners. These free resources are invaluable.
Talk for Writing/Reading Pie Corbett's Talk for Writing and Reading schemes are also excellent in encouraging talk for storytelling. They focus on extending vocabulary and building academic and creative writing skills.
Science Concept Cartoons are a great springboard for whole class, and small group discussion, seful for introducing a new concept or consolidating. You can by a book-full of images but have a look here for an introduction: teaching-science
Debate, present, summarize, re tell: Make formalized talk the norm within your classroom, remembering to provide scaffolds when needed.
Daily Word Activities
Spending 10 minutes during a lesson playing talk-based games is not expensive in time or money, and it provides the repetition of usage required to embed and understand new language.
Word A Day: Becoming Word Curious
Friend
Can it have a prefix or suffix?
Friendless, befriend
What's the adjective?
friendly
Can you think of any words it collocates with?
Friend for life, best friend
Can you think of any antonyms?
Enemy, foe
Do you know any synonyms?
Mate, pal, buddy
What does it rhyme with?
Bend, mend
Where does the word come from?
Old English "frond"
Put aside 10 minutes a day for word work. You can select a relevant and highly useful word from a text/topic you're working on. Use a word explore card like this one and ask each group/pair to work together on it. You could explore word families, teaching a root word such as create and exploring its forms- created, creates, creating, creation, creations, creative, creatively, creativity, creator, creators, recreate, recreated, recreates, recreating.Considering that over 90% of the vocabulary in school texts have Latin or Greek origins getting to know their etymology really supports knowledge of the base word and its word family.
Word sorting: pupils can order words of similar meanings on a cline, thinking about the relative strength and meanings of words. This provides everyone with a wider variety of words that they can use.
Words in context:Pupils benefit from noticing a word's context through the company that words keep. For example: "I have two feet", "I am four feet tall". In this regard, it is better to teach vocabulary in phrases rather than single words.
Translanguaging: A pupil's home language(s) is one of the most valuable resources available for bilinguals. Encourage home language use , translated subject vocabulary and phrases lists, encourage reading about the topic and getting to know the genre in home language and support translation. Using other languages to extend vocabulary is a useful word extender.
Surrounded by Words: Multilingual graphic organisers, word walls or cognate charts scaffold bilingual pupils' understanding of English words and make other languages visible in school spaces.
We need to consider the vocabulary our pupils need for a given task/topic; select which words to teach; think about possible misconceptions; plan how we teach (and repeat teach) these words; and foster a love of reading and an ethos of rich, academic talk within and beyond our classrooms.
When the whole school and the parents are involved, we can make our schools word richer, we can begin to have an effect on closing the word gap, and we can encourage our pupils to have a lifelong love for learning new words.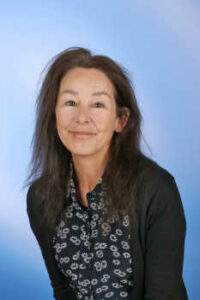 Kate O'Neill is the Head of EAL at JFK International School. Originally from Ireland Kate has over 30 years of teaching experience both abroad and in the UK and has a particular interest in teaching bilingual students with literacy issues. She has worked extensively with refugee families and designed courses and programs for refugees for the Department of Education.