Article
Can sport safety keep up with a new generation of extreme athletes?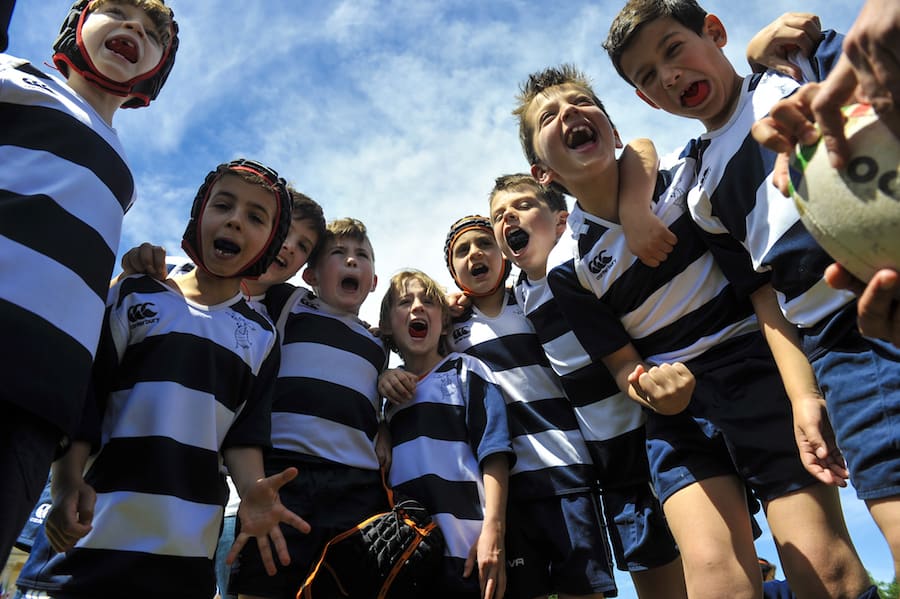 It's every parent's worst nightmare: receiving the call that your child has had an accident. For Rose Crosthwaite's mother, the news arrived mid-afternoon on a Saturday. Her 12-year-old daughter was in accident and emergency with an exposed nerve and missing front teeth, after being hit in the mouth with a hockey stick. "It was a complete freak accident," said Rose, now 24, as she recalled the details. She had been waiting on the sidelines of the sports field playing around with friends, when a team mate's rogue practice swing hit her full in the face with a sickening thud. Her mouthguard was sitting in her pocket, unused. "At first I was just in shock and didn't really realize what had happened," she said. "And then suddenly the pain hit, I had a tooth in my hand and there was blood everywhere."
Managing the balance between risk taking and safety concerns can be a challenge for both schools and parents. High impact sports have been shown to help children challenge their physical boundaries and develop complex strategy skills. But with many schools now offering extreme sporting options from downhill skiing to thai boxing, the stakes for safety awareness are increasing. The latest research data from the U.S. shows that head injuries and concussions among high school athletes has doubled in the last ten years. American football, ice hockey and soccer accounted for the highest percentage of head injuries, with cumulative concussions hiking the risk of permanent neurological damage by 39 percent. So how can young adults tread the fine line between playing hard and playing it safe?
Investment in properly fitted, certified equipment is one way to help limit potential injury and vast medical costs. Mouthguards, and particularly custom fitted ones, may play a more important role in preventing head injuries than previously thought, according to the latest research from the Academy of Dentistry. A recent study found that among high school football players in the U.S., those wearing custom fitted mouthguards were only half as likely to sustain traumatic brain injuries than those wearing store-bought ones. Lead author of the study Dr Jackson Winters explained that despite increasingly advanced helmet design, "a custom made, properly fitted mouthguard is also essential to player safety."
For Nick Gilbert, the concept of wearing a mouthguard was seemingly a no-brainer. But as a parent standing on the sidelines of numerous school sports matches, he noticed multiple children removing uncomfortable mouthguards while they were running or simply not wearing them at all. Then came the problem of actually finding somewhere in Switzerland to professionally fit a mouthguard for his young daughter. "It was expensive, time consuming and a real hassle," he said. Determined to streamline the process, Nick is teaming up with Swiss dentists to create Mouthguards.ch, a startup providing custom mouthguard fitting service directly to schools. "Properly fitted mouth guards reduce face and head injuries in every case where they were worn," he explained. "And as parents we need to be able to judge that we've done everything we can."
A growing appetite for riskier and more extreme sporting options has also been fuelled by a boom in online videos. With snowboarding, BMX biking and rock climbing all on the Olympic program for 2020, dangerous sporting pursuits are having a moment in the spotlight with younger viewers. Roughly 100 hours of GoPro sports videos are uploaded to YouTube every hour, says U.S. Consultancy Delaware North. They also predict that the surge of interest in more high risk sports is just the beginning of a growing trend. Thrill seekers are starting younger and high profile competitions are adding a competitive edge to what were previously considered more peripheral sports. In the next 5 years, the company estimates, extreme sports will seriously challenge professional and collegiate team sports for the title of most watched online content.
But despite more students than ever getting involved in riskier physical training, safety laws and fixed regulations have been slow to keep up. Fear of litigation can frequently leave schools or sports providers feeling exposed and the knock on effect can mean fewer opportunities for regulated and supervised practice. "Sensible risk management is not about creating a totally risk free society," the UK Health and Safety Commission explained, but added that both parents and schools need to make active decisions on safety precautions.
While it can be tempting for parents to simply limit a child's exposure to seemingly dangerous sports, diversifying physical training has been shown to actively reduce injury rates and improve mental health. Research from Norway during the 1990s also suggested that teenagers allowed to experiment with more extreme physical sports committed fewer drug offences and were less prone to antisocial behaviour. Child sport psychologist Dr Patrick Cohn agrees, pointing out that encouraging safety is a more effective strategy than discouraging risk taking. "Kids must be focused and mentally prepared for these sports" he said. "They need to be trained properly and have the ability to concentrate to stay safe."
Rose Crosthwaite was back on the hockey field at the first opportunity following her accident. But though it didn't take long to rebuild her confidence she said, after having a root canal, tooth implants and her bottom teeth capped, her attitude to sport safety changed dramatically. "I definitely used my mouth guard all the time after that," she remembered. "It shouldn't knock people's confidence, but the safety precautions are there for a reason."
PLAYING IT SAFE: TOP TIPS ON SPORT SAFETY
Invest in equipment
A custom fitted mouthguard and a European standard approved helmet are worthwhile investments for any kind of contact or high risk sport. The National Ski Areas Association recommends that at whatever their level of experience, winter sports enthusiasts should look for helmets fitted with Multi Impact Protection Systems (MIPS). Back protectors have increased in popularity as high tech skies facilitate faster downhill speeds. Appropriate footwear, shin pads and wrist guards should also be part of every child's safety kit.
Be risk aware not risk averse
Encouraging students to try a wide range of different sports builds confidence and allows them to develop strength and agility, while preventing burn out. It's important to make sure that schools are making use of the most up to date equipment and training methods, especially when offering more high risk sporting options.
Communicate boundaries
Setting attainable goals for progress requires planning and self awareness from both students and teachers. As more advanced gear facilitates sporting performance that is faster, harder and more extreme, the stakes for injury also ramp up. Fostering a supportive, talkative environment allows young athletes to make calm, realistic judgement calls.
Build skill progression
Confidence comes with steady skill progression. Most sporting injuries tend to be sustained during practice, so having a professional coach to guide training strategy is key. A focus on building physical strength should always be coupled with stretching and flexibility training to help protect against strains and sprains.
More from International School Parent
Find more articles like this here: www.internationalschoolparent.com/articles/
Want to write for us? If so, you can submit an article here: www.internationalschoolparent.submittable.com