Article
Christmas Markets in German-speaking Switzerland
You haven't experienced the true magic of Christmas until you've experienced a Christmas Market in Switzerland. With the unfortunate closing of many markets in 2020, this year gives us more reasons to enjoy the Christmas spirit and make many memories with family that we will treasure forever.
From Winterthur to Bern, below we have rounded up the best German-speaking Christmas Markets in Switzerland to explore with your family this year.
Lucerne Christmas Market
2nd – 23rd December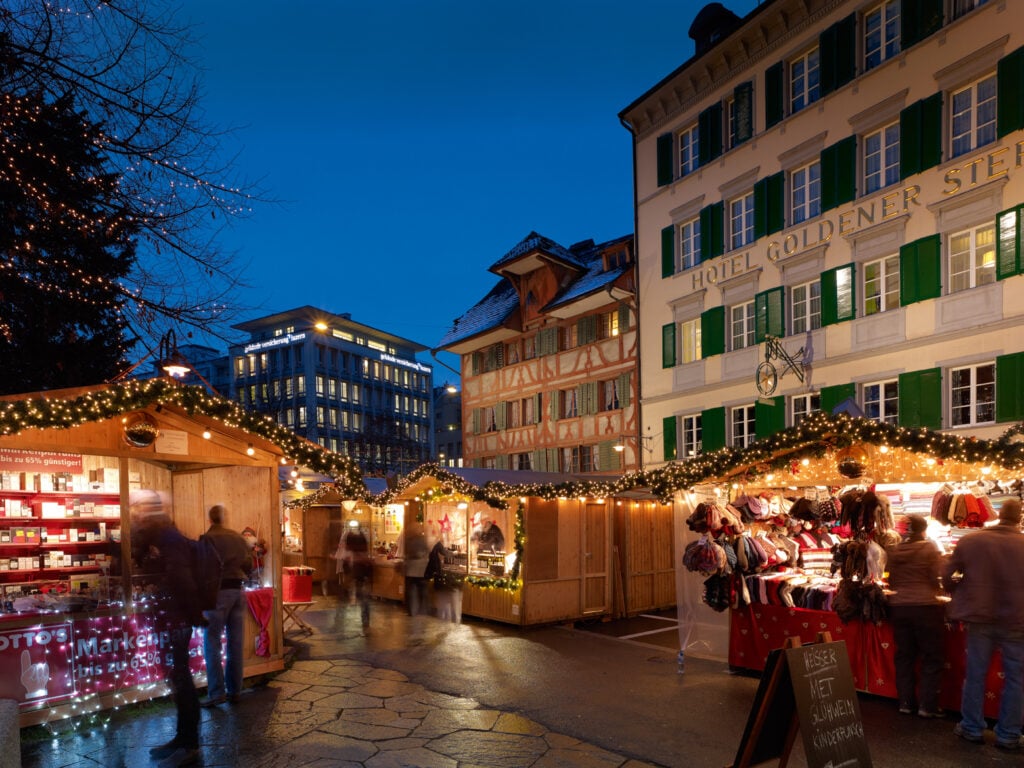 The Lozärner Christmas market in Lucerne is home to the Franziskanerbrunnen fountain, which transforms into the largest Advent wreath in Central Switzerland with metre-high candles and twinkling fairy lights. Families will also love concerts in the church of St. Maria and the unique nativity scene with life-size figurines. For little ones, we recommended Rudolph's Christmas Spectacle at Inseli-park. After a long year in hibernation, Rudolph's nose is shining bright again, ready for some festive cheer.
Discover more here.
Winterthur
25th November – 23rd December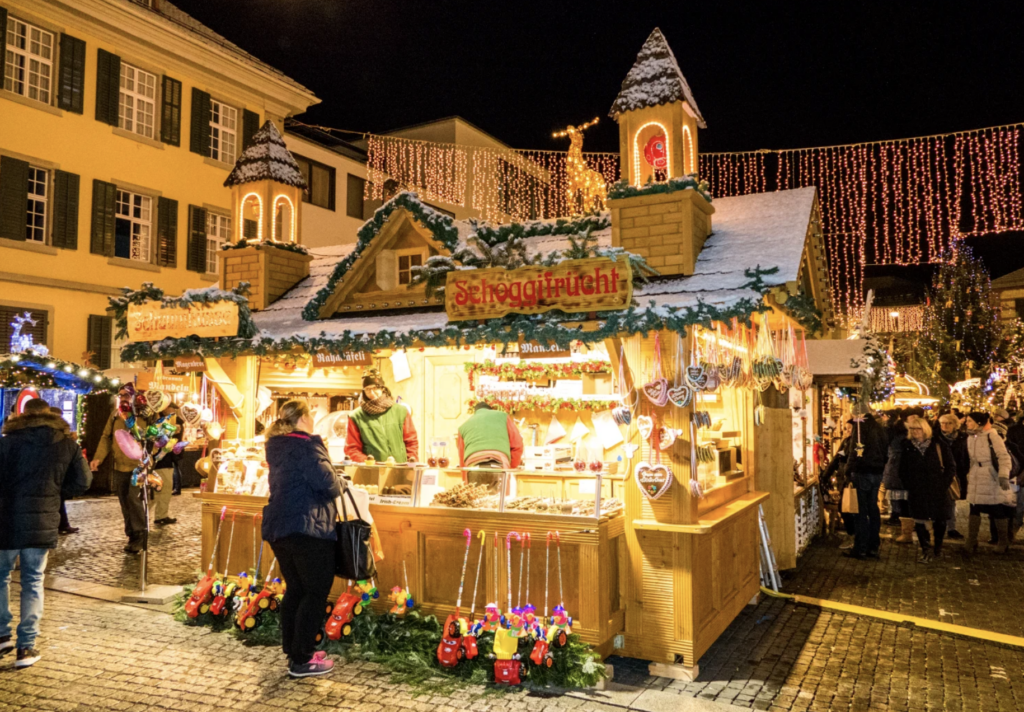 Over 350,000 visitors explore the Neumarkt square in Winterthur each year, and it's no wonder why it's so popular. You will marvel at the delicately decorated Christmas huts, as well as all the gifts to discover and many Santa Clause's to meet.
Find out more here.
Zurich
November 26 – December 24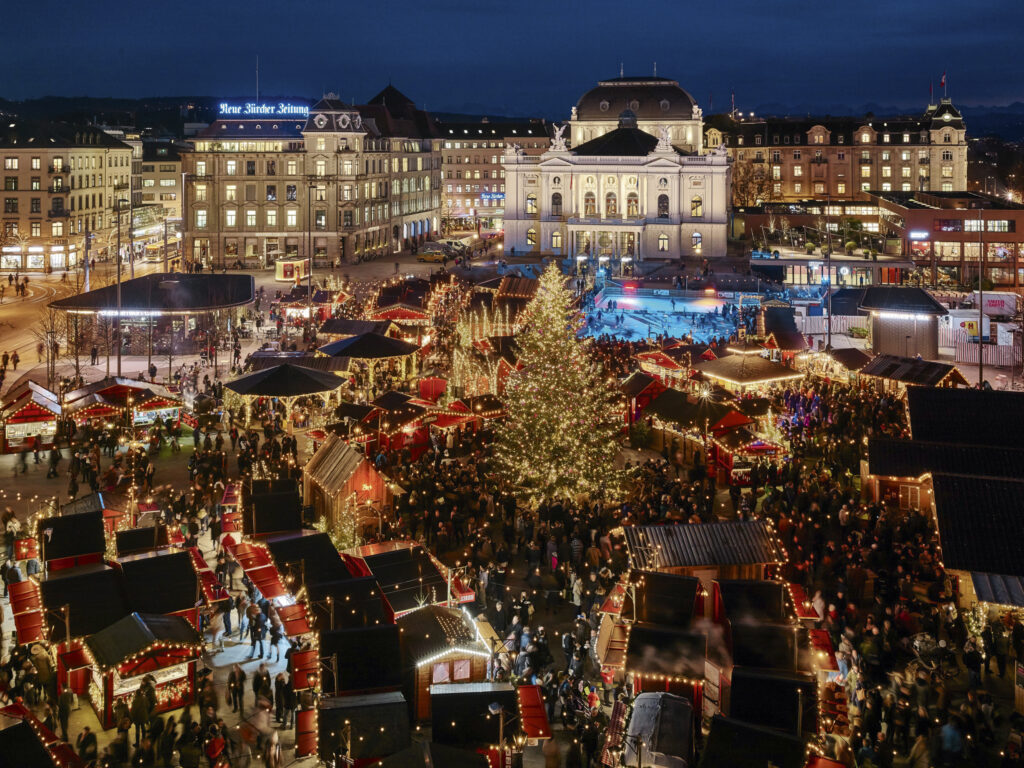 Zurich boasts a variety of beautiful Christmas Markets, including one in the picturesque Old Town at the "Wienachtsdorf" Christmas village, as well as at Zurich central train station, where you can gaze up at the sparkling 15 metre Christmas tree decorated with over 7000 Swarovski crystals. As you stroll around the stalls, there are plenty of opportunities to indulge in fondue and warm up with a fruity mulled wine. One particularly wonderful experience is the 'singing Christmas tree' at Werdmühleplatz.
Find out more here.
Thun
8th – 23rd December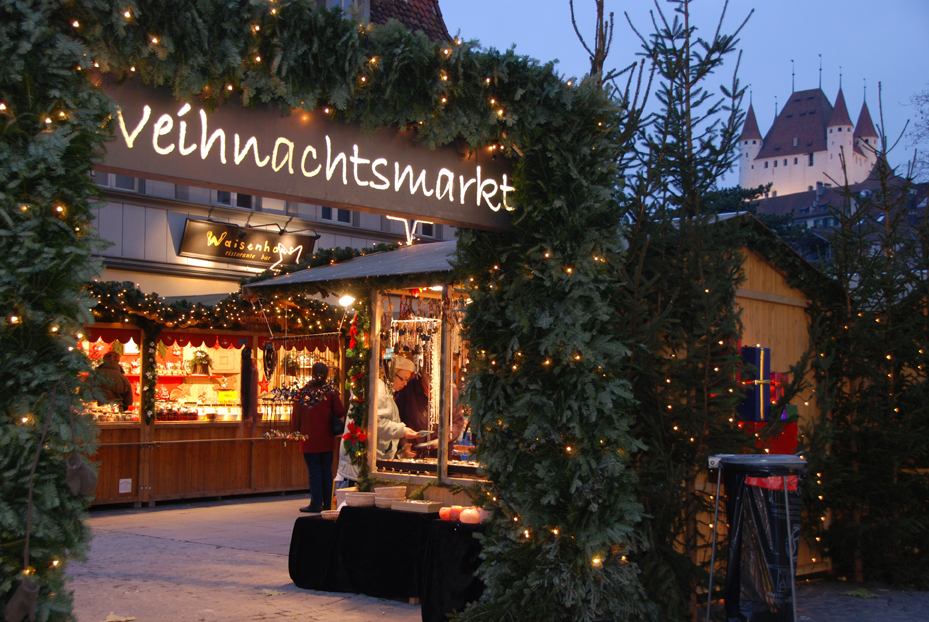 The Christmas Market at Thun is a spectacle for all ages. With candle making and a merry-go-round for children, as well as an array of decorated market stalls and local delicacies for adults to enjoy. The panoramic view of the Alps is a bonus that boosts the festive ambience.
Learn more here.
St. Gallen Christmas Market
25th November – 24th December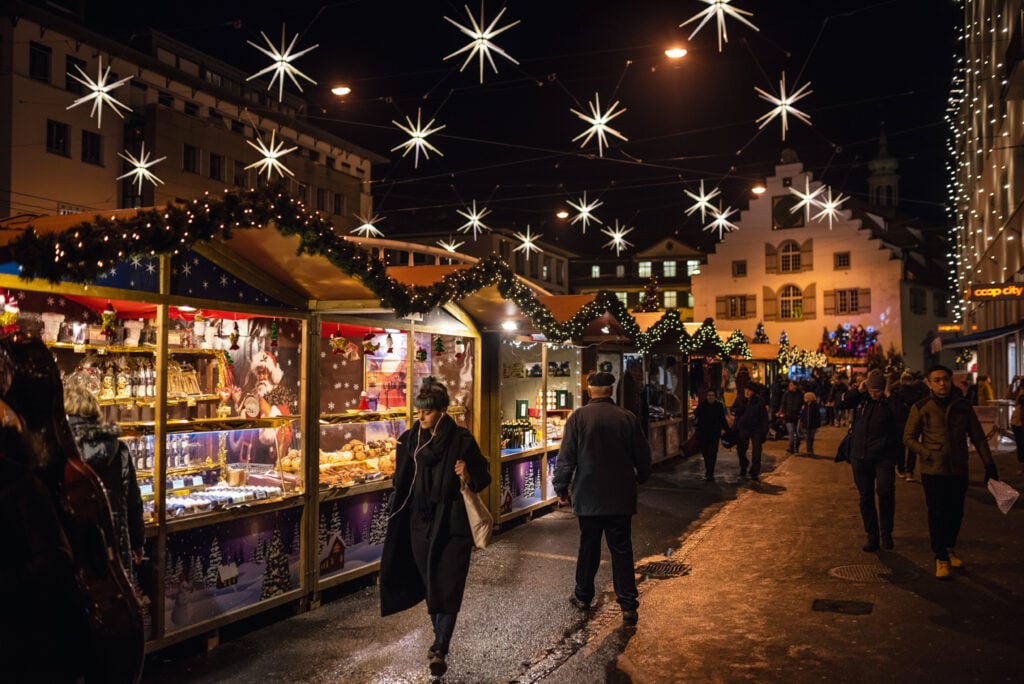 St. Gallen transforms into the "Swiss City of the Stars" with 700 twinkling stars glowing over the UNESCO World Heritage site. The winding alleys of the old town are adorned with Christmas stalls that offer traditional crafts and delicacies that everyone will love.
Find out more here.
Schaffhausen Christmas Market
11th & 12th December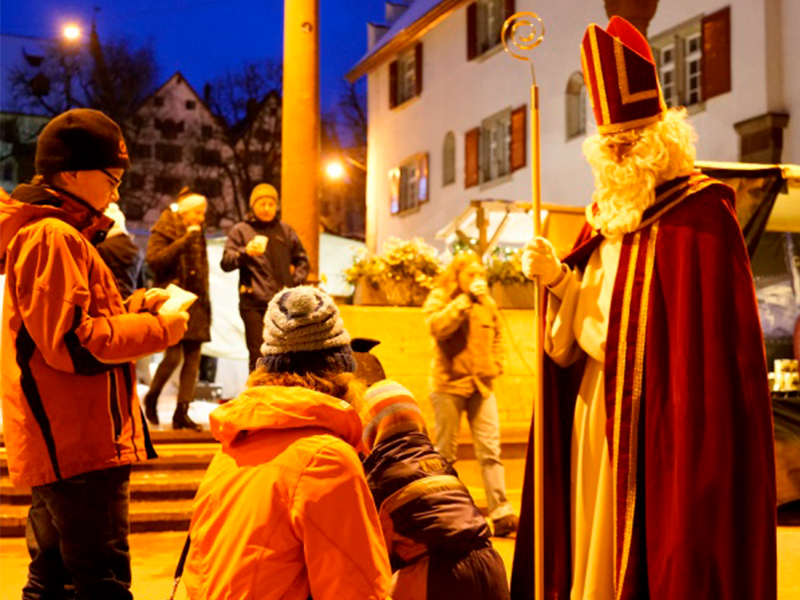 For two days only, 11th & 12th December, the 800-year-old cloister of the Allerheiligen Monastery in Schaffhausen is the backdrop to a spectacular Christmas market. Visitors can stroll through the old town and enjoy exclusive market stalls in the festive atmosphere — the perfect experience for the lead up to Christmas.
Find out more here.
Olten Christmas Market
3rd – 23rd December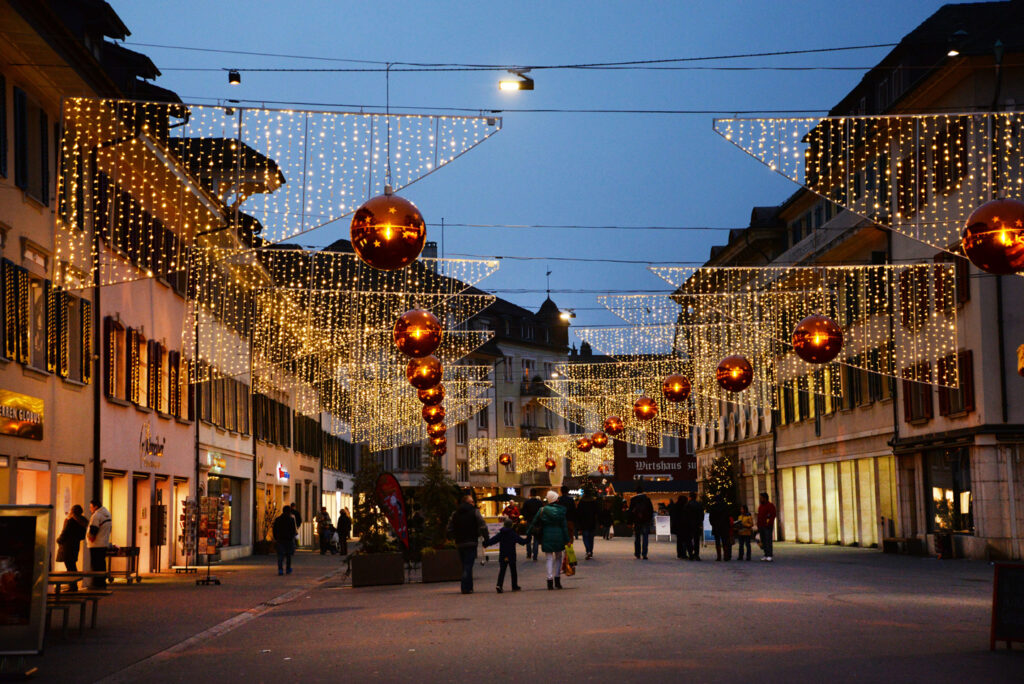 The first Olten Advent Village opens on 3rd December. They are offering a perfect combination of Christmas Market and Advent magic. Over 40 chalets are lovingly decorated, with vendor changes weekly – so there's an endless variety of products to choose from. Little ones will also be delighted with the Christmas carousel and ice rink to dance and prance around on.
Discover more here.
Chur Christmas Market
26th November – 23rd December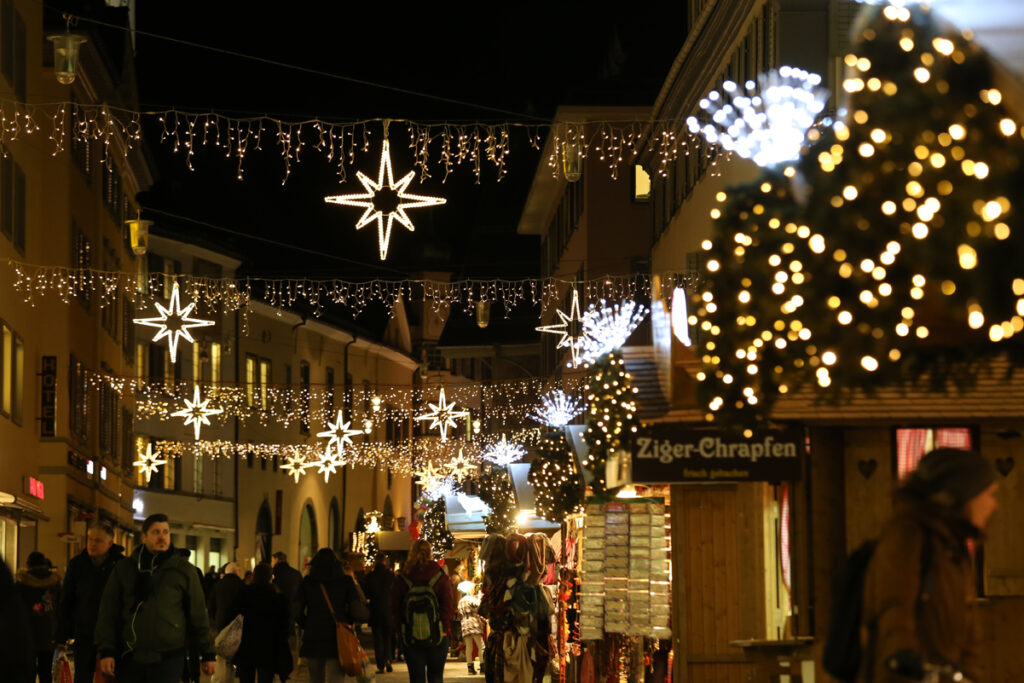 The rustic and illuminated alpine city of Chur offers everything you need to feel the festive spirit this year. From handmade crafts and festive treats to beautifully decorated Christmas trees to gaze upon, there's plenty to enjoy here. Children can also look forward to Märli Wiahnacht, where they can listen to fairy tales in the Grisons dialect.
Find out more here.
Biel/Bienne Christmas Market
2nd – 24th December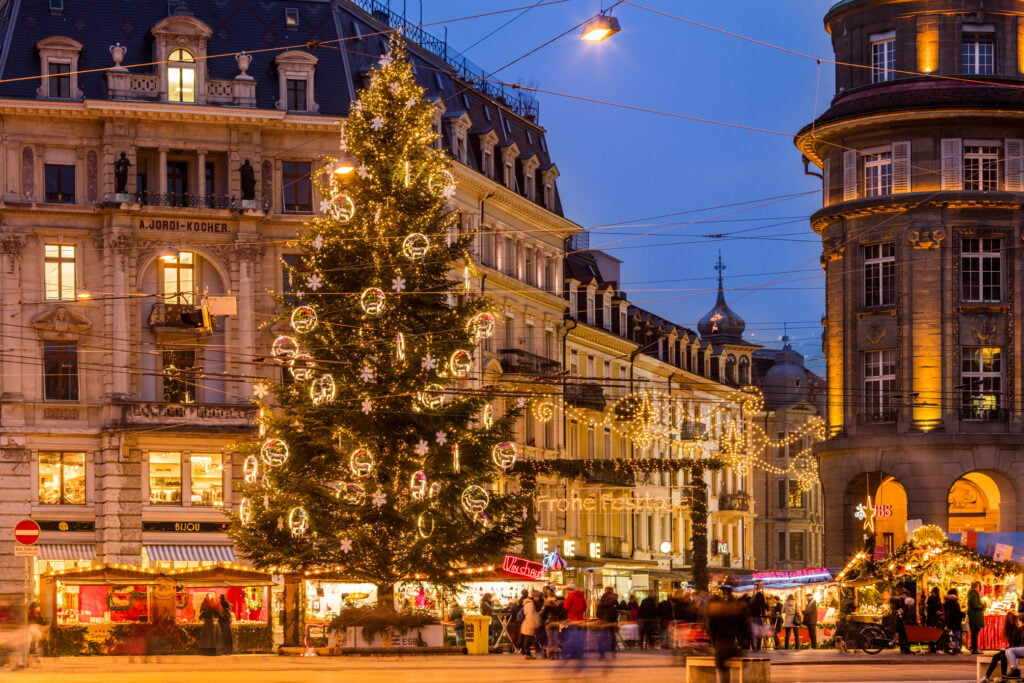 A glittering sea of lights and the scent of delicious gingerbread awaits you at the traditional Christmas market of Biel. Open daily in December; there are plenty of opportunities to enjoy the Christmas music and many attractions for all the family.
Be sure also to see the glassblower in the Nidaugasse.
Discover more here.
Baden Christmas Market
1st – 24th December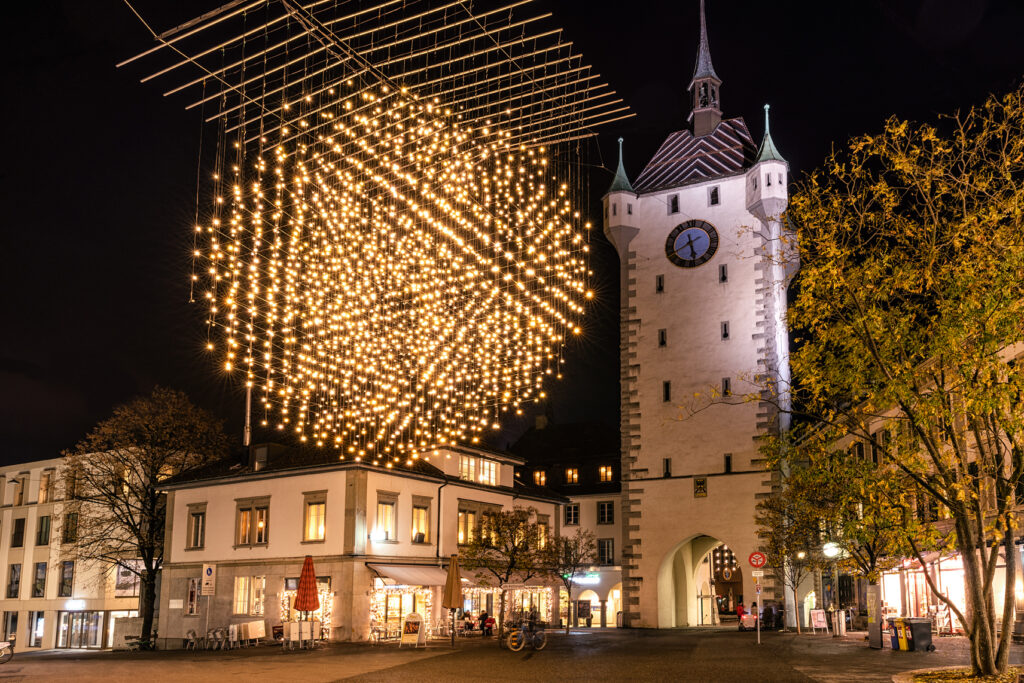 Enjoy the winter magic in Baden this December. Gaze up at the alleys glowing with sparkling lights or stroll through the several Christmas villages full of festive delicacies for you to enjoy. This year you can also indulge in fondue whilst wrapped up cosy in the fresh winter air.
Find out more here.
For our ultimate guide to Christmas markets in French-speaking Switzerland, click here.
Information: most of the Christmas markets can take place under the current protection measures. However, there may be changes due to the further development of the Covid-19 situation.