Article
Discover the Hoher Kasten in Appenzell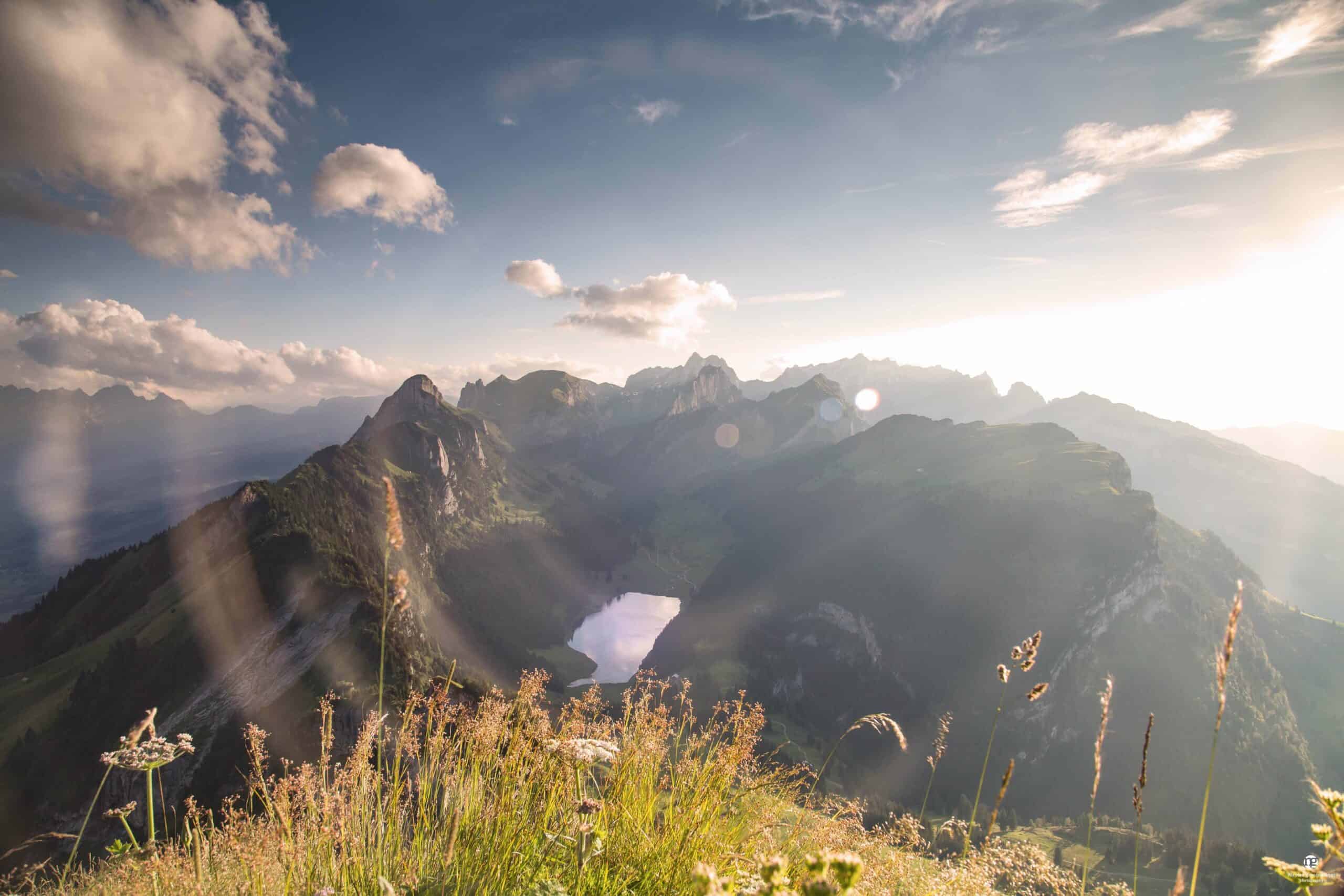 The Hoher Kasten is a mountain located in the Appenzell Alps with a 360 degree unlimited panoramic view over six countries. It offers an incredibly diverse selection of hiking opportunities. 
Is there a better way to start a journey of discovery than with an adventure in itself? The Hoher Kasten cable car rides up to the summit within eight minutes. The journey takes you across green meadows from 900 to almost 1800 metres above sea level. Once arrived you will want to discover the surroundings immediately. On the summit there are resting benches, free telescopes and various panoramic platforms, where you can admire the view to the fullest.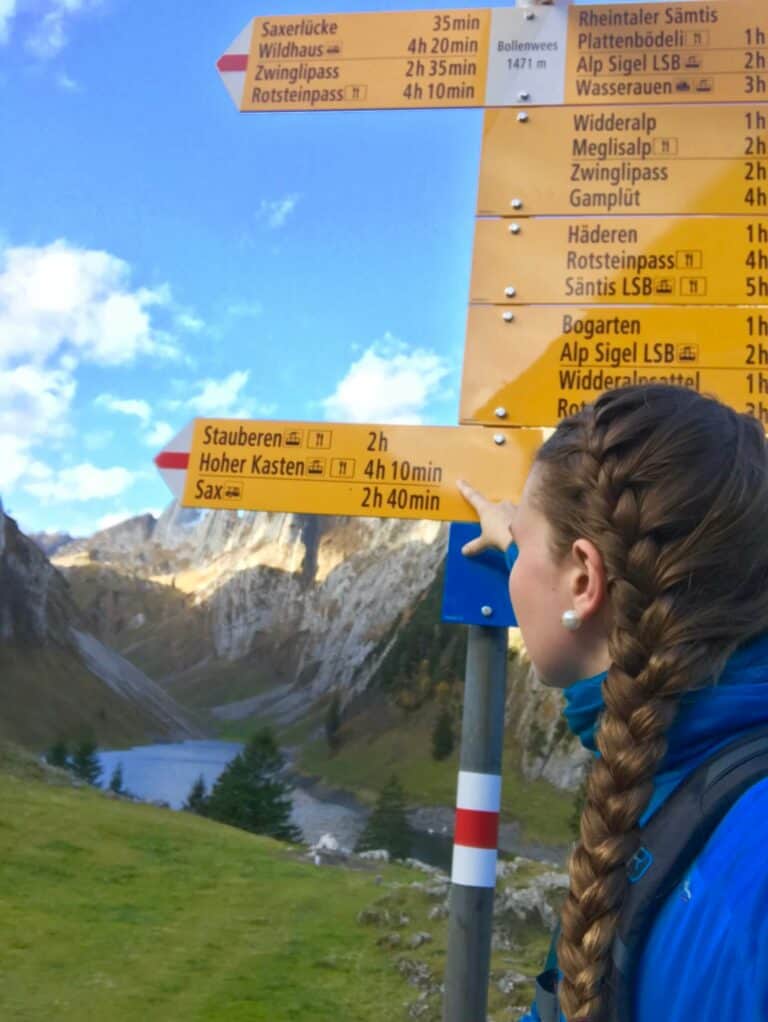 Unlimited panoramic views on the Europa-Rundweg circular trail
The Europa Rundweg Circular Trail circles the striking silhouette of Hoher Kasten and offers exceptional views in all directions. It is wheelchair-accessible and therefore also accessible for families with prams and people with mobility issues. With good visibility, you will have the opportunity to view six neighboring countries: Germany, France, Liechtenstein, Austria as well as the summit of the Monte di Zocca in Italy. Switzerland counts too, obviously.
Along this summit trail, a unique alpine garden features up to 300 alpine plants for you to see. With 15 information boards, adults and children can learn a lot about native plants and animals. The Hoher Kasten alpine garden association breeds seeds with care, resettling endangered alpine plants. Every spring when the snow has melted, the plants awake from their hibernation. 
The only Revolving Restaurant in Eastern Switzerland
The only revolving restaurant near and far is located on top of Hoher Kasten. The restaurant revolves around its own axis within an hour, allowing for stunning panoramic views. Whether you are deciding to have lunch at the restaurant or simply a cup of coffee, try to spend some time inside the restaurant to feel the rotating effect! Needless to say, local Appenzell delicacies, friendly hosts and just all-around a great atmosphere complete this experience.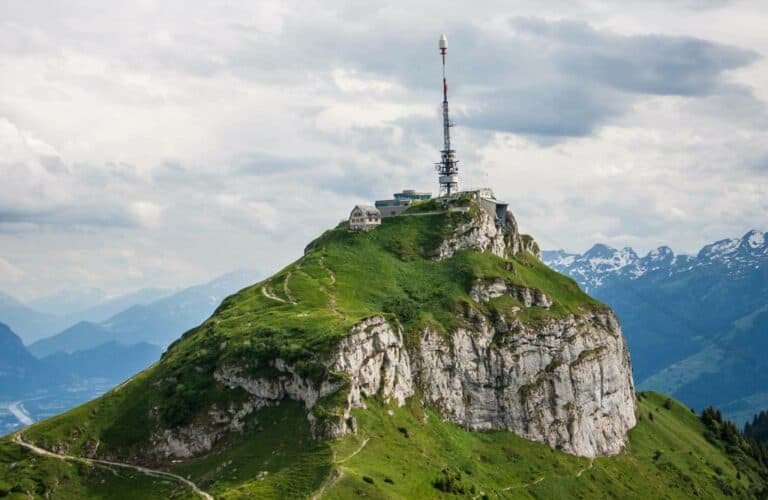 Hiking Opportunities for everyone
The Hoher Kasten is the perfect starting point for a variety of hikes across the entire Alpstein region – for all levels. From families with children to experienced hikers – there is a suitable hike for everyone.
The best walking option for families is the family trail Hoher Kasten – Kamor – Forstseeli – Brülisau, which begins at the cable car and takes hikers along the mountain ridge Kamor before descending through a peaceful pine forest, where you can either continue to the idyllic Forstseeli Lake for a waterside picnic or to the mountain inn Ruhesitz where it's possible to rent scooters to ride back into Brülisau for a slightly more energetic end to the trail.
Another option is to hike to the dreamy Sämtisersee lake. Either you hike from Brülisau up to the lake or you start your hiking journey from Hoher Kasten. This one is a little trickier but it's still accessible for families. 
If you want a bit of a challenge you can try the Geological Trail from Hoher Kasten – Staubern – Saxerlücke – Bollenwees (Fählensee lake) – Plattenbögeli (Sämtisersee lake) – Brülisau. It takes around four to five hours. With panoramic views over the Rhine Valley and the rolling Appenzell hills, as well as over the surrounding mountains, this trail is a must for everyone who wants to go beyond his limits.
Season starts in May 2021
Due to construction work, the cable car and the revolving restaurant will be open from may 2021. Since November 2020, the connecting tunnel of the top station and the catering area has been renewed. A comfortable inclined lift was realized and new animation in the tunnel will make the trip even more of a unique experience. Please refer to our website for the exact opening date.
Top tip for families: Exploring the Appenzell Alps has never been easier or more affordable. Children up to 15 years of age can travel free of charge on the Hoher Kasten cable car throughout 2021 as long as they are accompanied by at least one adult. And the offer is open to school groups too!