Article
Discover The Summer Paradise of Bernese Oberland – A Bucket List Adventure Awaits!
Immerse yourself in the serene beauty of the Bernese Oberland this summer. Home to verdant landscapes, sparkling lakes, and breathtaking mountain vistas, our region offers an exceptional variety of adventures that promise unforgettable experiences for all ages. Whether you prefer the thrill of water sports, the serenity of mountain hikes, or the awe of natural wonders, the Holiday Region Interlaken has something for everyone.
Photo credit: Interlaken Tourismus
Become an Adventurer on Lake Brienz with the Family Fun Kayak Tour!
Switzerland's stunning landscapes are not just about the mountains. The turquoise blue Lake Brienz, nestled in the shadows of the towering Eiger, Mönch, and Jungfrau peaks, is a spectacle itself. Our Family Fun Kayak Tour lets you become a captain of your own vessel, challenging your balance with tricks, and exploring hidden beaches. Half a day of splashing fun, games, and challenges await your family on this unforgettable tour.
Photo credit: Hightide Kayak School GmbH
Ascend to Breathtaking Heights at Niederhorn!
High above Lake Thun, Niederhorn offers a 360° panoramic view of the Alps that locals treasure. With over 120 km of hiking trails, wild ibex sightings, two mountain restaurants, and thrilling scooter-bike runs down to the valley, Niederhorn guarantees an unforgettable day of adventure and scenic beauty.
Photo credit: Niederhornbahn AG
Have a Splash with Family Rafting!
Designed with families in mind, our short and easy rafting tour is a safe yet exhilarating introduction to outdoor adventure. Even the smallest rapids are a thrill for the kids, and the tour concludes with a refreshing swim in Lake Brienz.
Photo credit: Outdoor Switzerland AG
Explore the Depths of St. Beatus Caves!
The St. Beatus Caves, a natural wonder on Lake Thun, offer an enchanting journey into the heart of the Niederhorn massif. Walk along the illuminated path and marvel at the stalactites and stalagmites that have formed over millions of years. Complement your adventure with regional delicacies from our restaurant Stein & Sein, and expand your knowledge in our cave museum.
Photo credit: Beatushöhlen-Genossenschaft
Rest and Relax at Hotel Seaside!
After an adventurous day in the Bernese Oberland, unwind at the Hotel Seaside, located in the stunning bay of Spiez. Our family-friendly rooms include a hearty breakfast buffet, free Wi-Fi, and parking. Additionally, you'll receive a Spiez voucher worth CHF 100.00 for activities like motorboat hire, mini-golf, and ice cream treats. With the PanoramaCard, you'll enjoy free use of regional public transport and discounts on excursions and activities.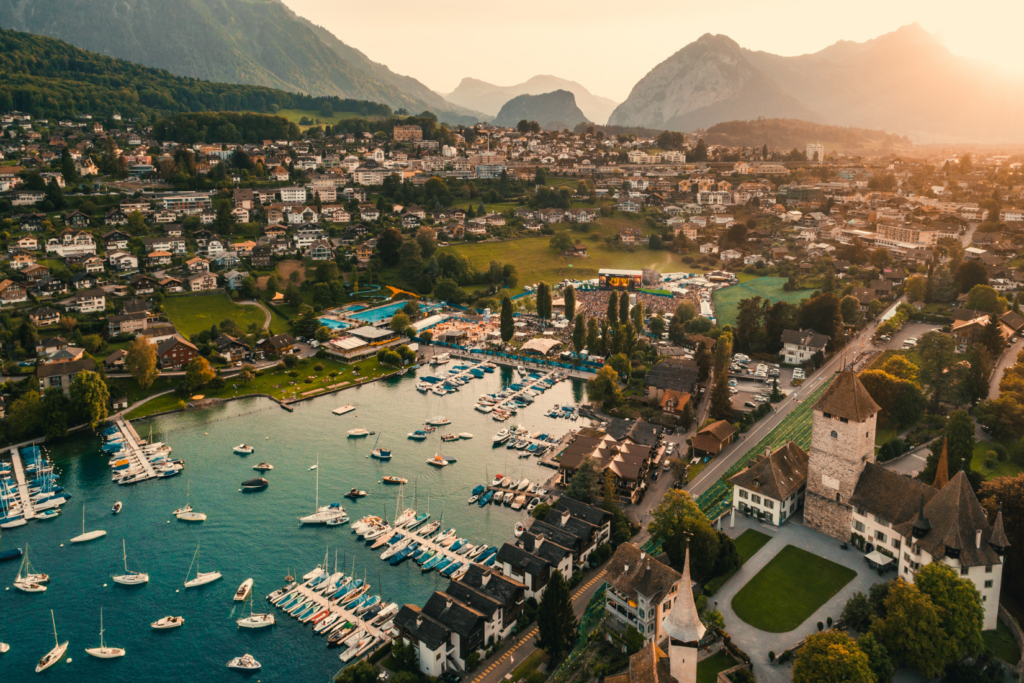 Join us this summer for a thrilling and unforgettable adventure in the heart of Switzerland's natural beauty. It's time to tick off the Bernese Oberland from your bucket list!
Photo credit: Spiez Tourismus