Article
Working across cultures to professionally empower women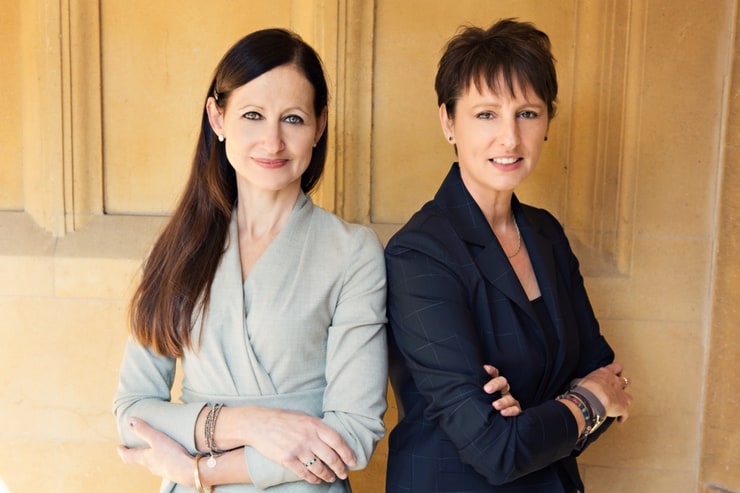 The Communications Consultancy Giving Women a Voice
In conversation with Dr Susan Laverick and Lizzy Bagnall, co-founders of House of Beaufort
Communications coaching and Tudor matriarch Lady Margaret Beaufort might – at first glance – have little in common. However, the Geneva-based business consultancy which takes Beaufort as its namesake grounds its philosophy in key qualities from the formidable countess: triumph in the face of adversity, development of skills crucial to success and a fierce protection of her right to be at the leadership table.
House of Beaufort, the brainchild of Dr Susan Laverick and Lizzy Bagnall, was founded to develop those crucial attributes in tomorrow's leaders: first-class communication skills, empathy, confidence and authority. They have a dedicated platform for developing these skills in professional women. International School Parent Magazine talks to co-founders Susan and Lizzy, to find out more about the individual, tailored approach to communications coaching which is breaking ground in the board level shake-up.
Let's start by you telling us a little bit about your own backgrounds – how have your careers progressed up to this point?
Susan: I have a very mixed background. My qualifications include a Doctorate in English Literature, a Masters in History and a Cambridge certificate in teaching English as a foreign language. I started my career in private banking in London and then moved to a role at the BBC. After moving to Geneva with my husband, I trained as an English teacher and worked with international organisations. A few years ago, I completed my doctorate in English and decided that communications was my great strength and passion, so pursued an ICF executive coaching qualification.
My expertise lies in being a seasoned speech-writer and presenter at conferences around the world, so I am very familiar with the pressure of the podium and the effectiveness of a great presentation. I also have a great belief in contributing my skills to the non-profit sector, so I donate a lot of my time to organisations that champion peace, the welfare of women, child protection and initiatives for supporting women business leaders in the developing world.
Lizzy: Before Susan and I started House of Beaufort, I worked for about six or seven years developing and delivering training and coaching assignments for a broad range of businesses in Europe, North America and Asia, including many of the big investment banks, law firms, accountancy firms and corporations. That could be anything from sales to negotiation to board level discussions. I am also a WABC and Solicitors' Regulation Authority accredited executive coach.
Before that, I was in private equity, working closely with early stage companies to develop their management teams and business strategies to achieve either a VC fund raise or trade sale. I also set up an online internet-based law reporting company.
You've both got quite different backgrounds, so how did you come together to create House of Beaufort and what can you tell me about it?
Lizzy: Susan and I have known each other for more than 25 years and have gone through the ups and downs of careers and family life together.
Two years ago, Susan had come away from a conference with high net worth women and found the same issues of gender brought up repeatedly by women in discussions. Similarly, in my experience teaching at the London Business School on their executive MBA programme, it was surprising the extent to which many women have never learnt the fundamentals of effective and authoritative communication, both written and spoken.
Throughout our own careers, we have found that many coaching consultancies have an 'in and out' approach; they came into the organisation, offer a presentation on communications skills, then leave. We wanted to offer something different, based on a relationship of longevity and trust. We thought it would be fantastic to put together our backgrounds to create a unique consultancy.
As parents of young women, how do you see these challenges that they face today, compared to those when you were their age?
Susan: I think there are still a number of hurdles for women to overcome in the workplace. Our daughters are in very different fields, but across the board the working environment is incredibly competitive, more so than when I was a young graduate. There is something missing within our educational syllabus, where we should be providing young women with the sort of skills that will enable them to compete effectively – even at the initial interview stage. If they can have an extra toolkit of self-belief, communication skills and confidence which they can draw on, they will already be one step ahead. That first job for these graduates is the most critical one because it will shape their experience, behaviours and how they perceive their worth.
It's not just the experience of our daughters; it's also something we've seen working within financial intuitions and seeing young graduates come through and currently with women in their 30s and 40s within a playing field that still isn't level. It's a problem that snowballs. We have worked with women in senior positions who often find that during meetings, the conversation moves on without them because they are spending time overthinking how they are going to say what they want to say. Giving them the tools to stop worrying about it being perfect and focusing on building the skills to quickly articulate their point allows them to be part of the discussion. This is hugely important because research shows that where women are perceived to not 'speak up' in meetings, they are seen to be less effective. Once this reputation has been formed, it becomes a self-fulfilling prophecy: the less you are listened to, the less confidence you have, the quieter you become, and then you're probably not on the leadership's radar when they are thinking about who to promote.
We need to ensure that women are well-equipped and aware of some of the pitfalls that they might face to support them properly in their careers. This is a global, intergenerational problem which we can't cure single-handedly, but if we teach those fundamental communication skills, like gravitas and confidence, at an early level it will have a huge impact.
What advice would you give to schools or universities in how to incorporate these skills into their curriculum?
Lizzy: We would suggest that teaching effective communication skills should be mandatory to develop confidence and individual style. The important point here is that communications skills are actually about putting the individual across in the best way possible. This is something that schools should be teaching as part of their curriculum from a young age, as they are fundamental to personal and professional success, both for men and women.
What approach to coaching do you take to help individuals gain the skills they need?
Susan: The first, most fundamental thing is that it's about the individual and building that relationship of trust… We have developed a technique called 'skills-based coaching'; we spend time with each individual to identify and develop the skills we see are missing. It's a very tailored approach, which we use even in group sessions.
Lizzy: Our approach is about committing to the individuals and the organisations that we work with. We consciously limit the number of clients we have at any one time so that we can really focus on getting to know them, and commit to working through a programme that ensures they have time to embed what they have learnt. Our clients know that we are at the end of the phone whenever they need us, and I think that's something they really value.
Can you give us an idea of the range of people and organisations that contact you for help?
Lizzy: It's a very interesting mix; it could be anything from an NGO to a private client. It could be graduates moving into their first jobs; it could be people moving jobs; it could be organisations trying to retain individuals by providing coaching and enable staff to progress. There is a global discussion at the moment around women in leadership, with many organisations looking to try to develop a talent pool of women. There is not a single answer to this issue, but we offer something to help combat an important aspect of the problem.
A lot of our work comes from referrals, which is obviously a wonderful boost to know that our clients are happily recommending us to others. Our backgrounds have helped enormously because our expertise lies in big corporations, which financial institutions and large law firms find reassuring.
Being in an international environment means that we have the opportunity to work with interesting clients from across the world. For example we had an assignment at the United Nations in November, where we were invited to support Rotary International who were being hosted by the UN for the Geneva Peace Day. We were working with six very diverse Peace Laureates from across the world who were making their maiden speeches at the event.
You have recently decided to launch the Beaufort Syndicate in Geneva and Muscat, what exactly do these involve?
Susan: This is a new development for our offering. Late last year we decided to introduce a Beaufort Syndicate- Geneva for senior professional women working in Geneva. Geneva is a truly global city for international organisations, so it was a natural starting point for a concept we envisage as a think tank. We believe that by working and thinking together, women become powerful agents of economic and social change for their countries and communities, and role models for the next generation.
The Syndicate offers a networking opportunity for like-minded professional women to convene, under our umbrella, to talk about professional or personal challenges within an atmosphere of confidence and trust. We want to encourage relationships which will benefit and support women in the city, and to encourage women to talk across organisations.
The Syndicates will allow women to create a global community of women who are linked by common goals and interests, allowing communication with female leaders across the world.
What does the future hold for House of Beaufort and what's your long-term goal?
Lizzy: We are excited about the potential that our Syndicates hold for women across the world and, ultimately, we would like to set them up in more cities to create a fantastic network of women across the globe. It's very much going to be guided by the feedback received by our current members, but it's already proving very popular.
We are currently writing an "emergency" handbook of skills for people in business and will continue to develop our presence from London to Muscat.
More from International School Parent
Find more articles like this here: www.internationalschoolparent.com/articles/
Want to write for us? If so, you can submit an article here: www.internationalschoolparent.submittable.com