Article
Exploring Switzerland this Summer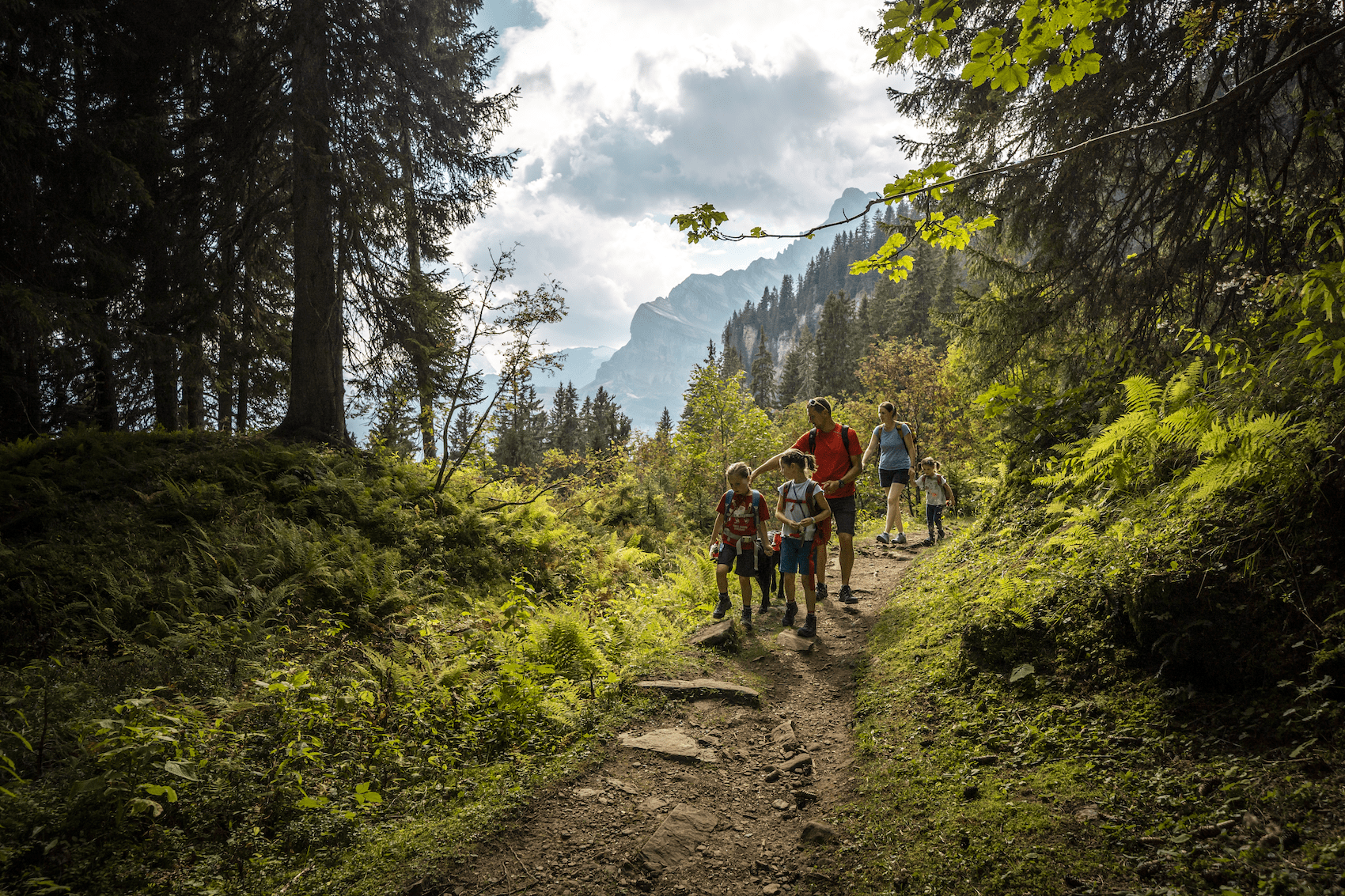 Switzerland is blessed with beauty, history and spectacular landscapes for all the family to enjoy, and summer is the perfect season to step outside and explore. There's nothing quite like a sunny summer's day In Switzerland, when the sky is deep blue, the lakes are shimmering and you feel the cool breeze blow past as you and your family immerse in laughter and fun whilst uncovering new adventures.  
After the year we have had, now is the time for an unforgettable summer holiday in Switzerland and we have the ultimate guide to help plan your trip. 
Aletsch-Arena: Guided glacier tours
When you look out onto the Great Aletsch Glacier for the first time we guarantee the view will take your breathe away. Through a guided family tour you will learn fascinating facts about the Swiss UNESCO World Heritage site and experience the longest stream of ice in the Swiss Alps. A number of one- and two-day glacier tours take place every day from June to October.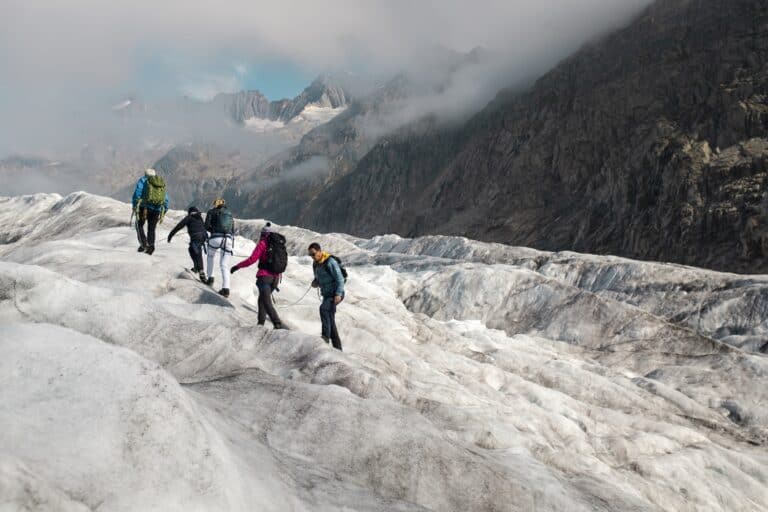 UNESCO Biosphere Entlebuch / Sörenberg
Located in the foot of the Alps is Entlebuch, the first UNESCO biosphere reserve in Switzerland. Adorned with unspoilt moorlands, a relaxing atmosphere and multiple offerings for all the family. Including energy and fairytale trails, mud baths, satellite-guided hiking and field trips. 
The focus is on the mystical moor landscapes. Visitors of all ages will learn how a moor is formed, get to know the moorland inhabitants and will be encouraged to experience the moor with all of their senses.
Climbing with the family in Pontresina
Pontresina is a romantic alpine village renowned for it's various sports activities which include climbing gardens, high alpine tours and adventure parks. The mountaineering school is a popular attraction which aims to teach children aged 8 – 14 to experience the rock as a challenge that they can meet and tackle. All safety equipment is provided.
Hasliberg: Step into a fairytale
The adventure of Hasliberg begins on the journey there by cable car, and once you reach the Mägisalp upper station the dwarf trail begins. This charming trail has play stations that align with the Muggestutz storybook, which tells about the fairytale dwarfs that live in the Hasliberg area. We recommend reading the Muggestutz storybook before you arrive to really bring this magical adventure to life. 
In addition to the dwarf trail and a butterfly path, the surrounding areas of Hasliberg offer modern bike parks and several adventurous mountain bike trails where paraglider's can be spotted soaring through the skies. Your family can also rent scooters to explore the mountainous landscapes and lakeside views.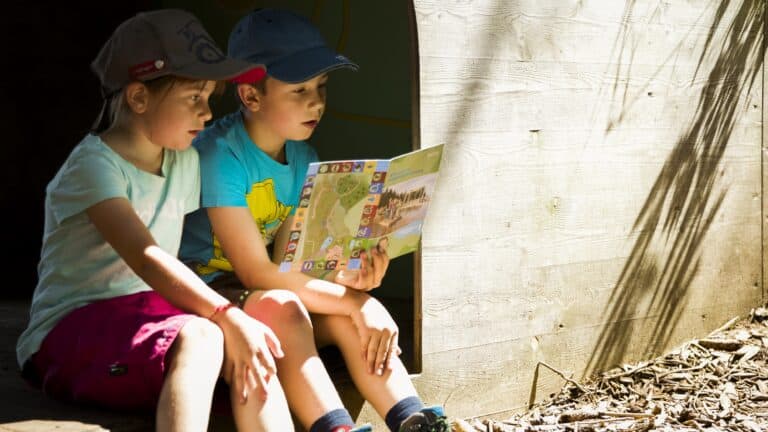 Braunwald
Bartli the dwarf with his long beard, red trousers and green jumper emerges from his hut from mid-June to October to welcome families and show them around his magical forest at Braunwald. Follow along his 4km path and discover some wonderful places such as the dwarf's castle, the dwarf's tower and the dwarf's bathing spot.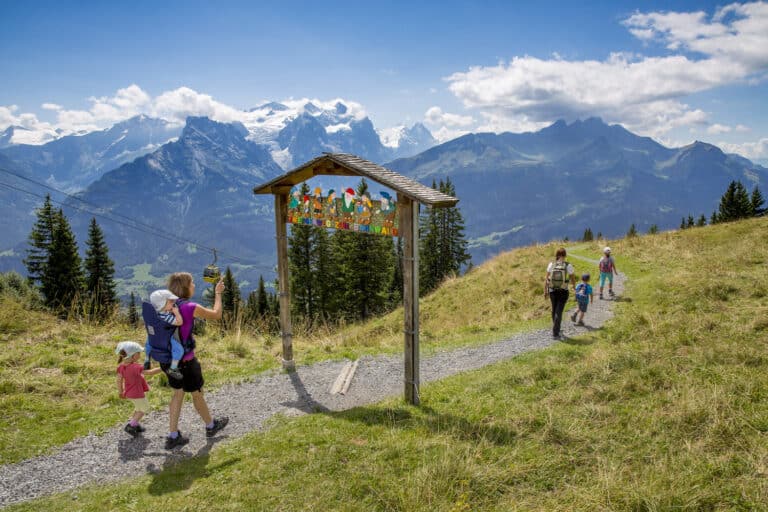 Grächen
The Ravensburger Games Trail boasts a fun alternative to hiking, with exciting challenges for the whole family. There is something for everyone in the six games cabins and seven activity stations including a tricky escape puzzle for you to crack. 
As well as enjoying the games trail, this is a great opportunity to expand your own knowledge of local plants and animals with everything you need provided in a pack at the local tourist office.
Nendaz
Raclette cheese is a Swiss staple that was invented as a way to warm up after a long day on the slopes, with a rich history that begins in the heart of the Alps. Guests of Nendaz can learn how to make this famous cheese with a cheesemaker at the Balavaux alpine pastures and find out their culinary secrets! 
Toggenburg
With codes to crack and clues to uncover, the Foxtrail creative team and the Toggenburg holiday region have created a scavenger hunt for families to discover. Can you solve the riddles? It all comes down to sharp ears and team work.
Ascona-Locarno
Children that love an adventure will be thrilled with the treasure hunts offered by Ascona-Locarno Tourism. The four hidden treasures are a fun and stimulating way to discover the area as well as expand map reading skills and use tactical quick thinking. Top explorers can expect prizes for their courage.
Savognin 
Join spectators at Savognin who every year wait for the Cotti family to take a 4 hour ride down into the village with their livestock. 300 sheep are shorn each Saturday in October and local market stalls offer a range of regional products, including a variety of treasures made from soft sheep's wool.  This is a unique experience that immerses you in a Swiss tradition.