Article
Freestyle families – Swiss Winter Wonderland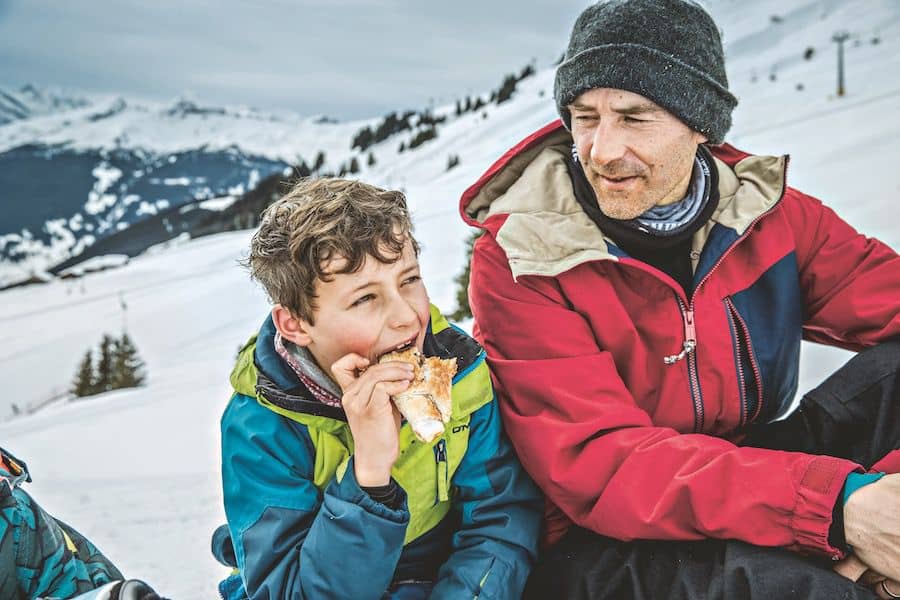 With a father famous for half-pipe Olympic gold, it's only natural that brothers Niculin and Florin Simmen are growing up with the snowpark as their playground. Drawn to the adventure and variety of the White Elements Snowpark in Grindelwald, nine-year-old Niculin describes an ideal day on the slopes.
A Day on The Slopes
Winding up the Oberjoch chairlift, there is a clear view of the freshly shaped beginners' snowpark; a learner's paradise of kickers, rails, jibs and boxes. For the brothers, the early mornings bring excited anticipation of taking to the piste to learn new tricks:
Florin and I are always up early in the holidays; we can't wait to get out of bed and onto the slopes. Snowboard lessons begin at 9am with our instructor, Sam, who is teaching us loads of cool tricks. As a result, we are improving every day; Florian has already slid over a box. We whirl across the piste, land jumps and even ride the half-pipe.
Advanced Snowpark
Across the valley at the Bärgelegg ski lift, the advanced snowpark tempts more confident visitors with its 650 meters of freestyle jumps, including the newly integrated 130-metre long half-pipe. With a morning of practice under their belts, the boys are keen to show off their new tricks to their father, Gian:
In the afternoon, we put what we've learnt into practice with dad in the snowpark. I had an amazing run where I managed a 180 over a jump, landing backwards and carrying on down the slope. I righted myself and did a nose slide over a box on the tip of my board. Finally, I finished off with my favourite trick which is a method jump, grabbing the back edge of my board with my front hand while in mid-air.
We went to the Bärgelegg Hut which has the best nut croissants in the world. The day is over too quickly and we leave the park to make our way back down to the valley – luckily we can look forward to dad's Pizokel for dinner!
Famous since the nineties as a snowboarding mecca, Grindelwald has challenged and delighted competitors. Do the boys see themselves following in the footsteps of their father and joining the freestyle elite?
Florin always says his goal is to learn to hand plant, which is where you do a handstand on the edge of the half-pipe. For me, I want to one day take part in contests and jump as high as my dad does.
5 tips for freestyle families…
1. Leysin, Lake Geneva Region: Size is everything
In Leysin, there is a choice because the 'small park' has little kickers and simple rails for beginners, children and families. The 'medium park' has boxes and kickers up to ten metres flat, and in the 'large park' even the pros won't get bored.
2. Crans-Montana, Valais: Pure adrenaline
The name of the Adrenaline Snowpark says it all. On an area spanning 100,000 square metres, there is a half-pipe as well as three runs with boxes, rails and kickers. It was jointly designed by Pat Burgener, the first snowboarder to do a switch backside triple cork 1440.
3. Nendaz, Valais: Back to nature
The 4 Vallées ski region not only includes six resorts, but also has three snowparks and even a small snow skate park. At the Woodpark in Nendaz, tree trunks, branches and benches have been used to make obstacles. The park has been perfectly tailored to riders.
4. Davos, Graubünden: All that Jatz
In the extended JatzPark on the Jakobshorn, freestylers will find a compact, varied and perfectly prepared snowpark. Four lines have been built next to the lift for short, intensive runs; each a combined line with rails and kickers for beginners and medium, plus one medium rail and a pro-kicker line.
Find more articles like this here: www.internationalschoolparent.com/articles/
Want to write for us? Send an article to www.internationalschoolparent.submittable.com