Article
GWAS: Dr Dalziel – New Head of School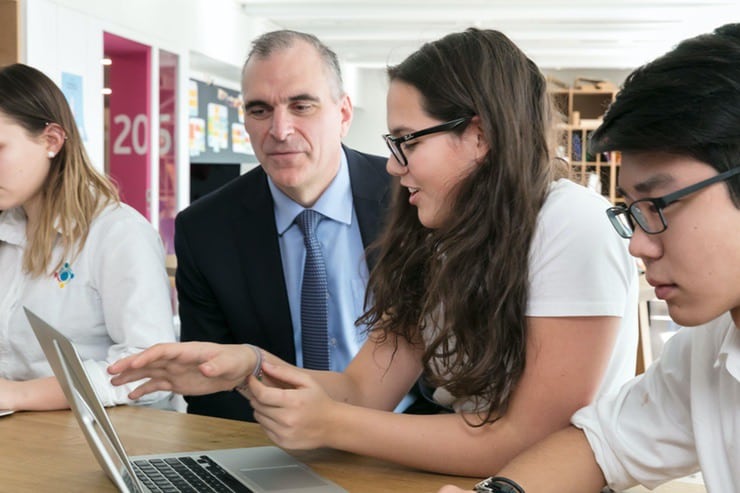 Dr James Dalziel brings over 20 years of experience in international education and leadership to his new role of Head of School at GWAS, succeeding Catherine McKeever who has taken on a new project within the GEMS Education group in Dubai.
"An educational leader with a solid combination of education and international experience managing schools."
James Dalziel is a Canadian who pursued his undergraduate studies in Canada, with a BA Special Honours from York University and a Bachelor of Education from the University of Toronto. He then went on to obtain both a Master of Education (Leadership) and a Doctor of Education (Policy) from the University of Western Australia, and most recently, an MBA from the School of Economics at Aalto University and at Helsinki. Dr Dalziel believes in the value of education!
He has been a Head of School, involved with all aspects of the learning and daily operations for over 16 years, including being the Head of East Campus for United World College of South East Asia (UWCSEA) for seven years, Middle School Principal of the same school for four years before that and for the six prior years, the Secondary Principal of the Canadian International School in Singapore.
James Dalziel continues with active involvement in educational research and has been influenced mainly by the educational philosophy of Kurt Hahn and the idea that "there is more in us than we think". He is the author of a blog, and he also conducts workshops with the Academy for International School Heads (AISH), the International Baccalaureate Organisation (IBO), and the Principal's Training Centre (PTC), with a focus on school leadership, creating effective schools and supporting organisational change.
Joining GWAS
Dr Dalziel joined GEMS Education in August 2017 as the Director of Education Operations – Continental Europe, operating out of GWAS as his home base. Already living in the area, with his children integrated into the school and being familiar with GWAS and its community will no doubt allow him to have a seamless transition to his new Head of School role.
James will undoubtedly enjoy the many outdoor sporting opportunities available in Switzerland as he is an avid hiker, alpinist and canoeist, as well as a CrossFit athlete and coach. As a trained Sommelier, he is also likely to appreciate the opportunity to explore and discover some of our local Swiss wines.
The entire GEMS World Academy Switzerland community, including students, parents and staff, warmly welcomes James Dalziel and looks forward to thriving under his inspirational leadership and expertise.
Read more about Dr Dalziel in our full-length interview here: Click
GEMS World Academy Switzerland is an international school in Etoy for students ages 3 to 18 that offers all three International Baccalaureate (IB) programmes. Founded in 2013, GWAS now has over 300 students from more than 35 different nationalities. Part of the GEMS global network of more than 250 schools in 14 countries, GWAS offers an exceptional learning experience in state-of-the-art facilities, with an emphasis on Wellbeing. To learn more about what makes GWAS unique, please visit our website at www.GemsWorldAcademy-Switzerland.com or call us at (021) 964 18 18.