Article
How can our canine companions help us survive and even thrive in these pandemic times?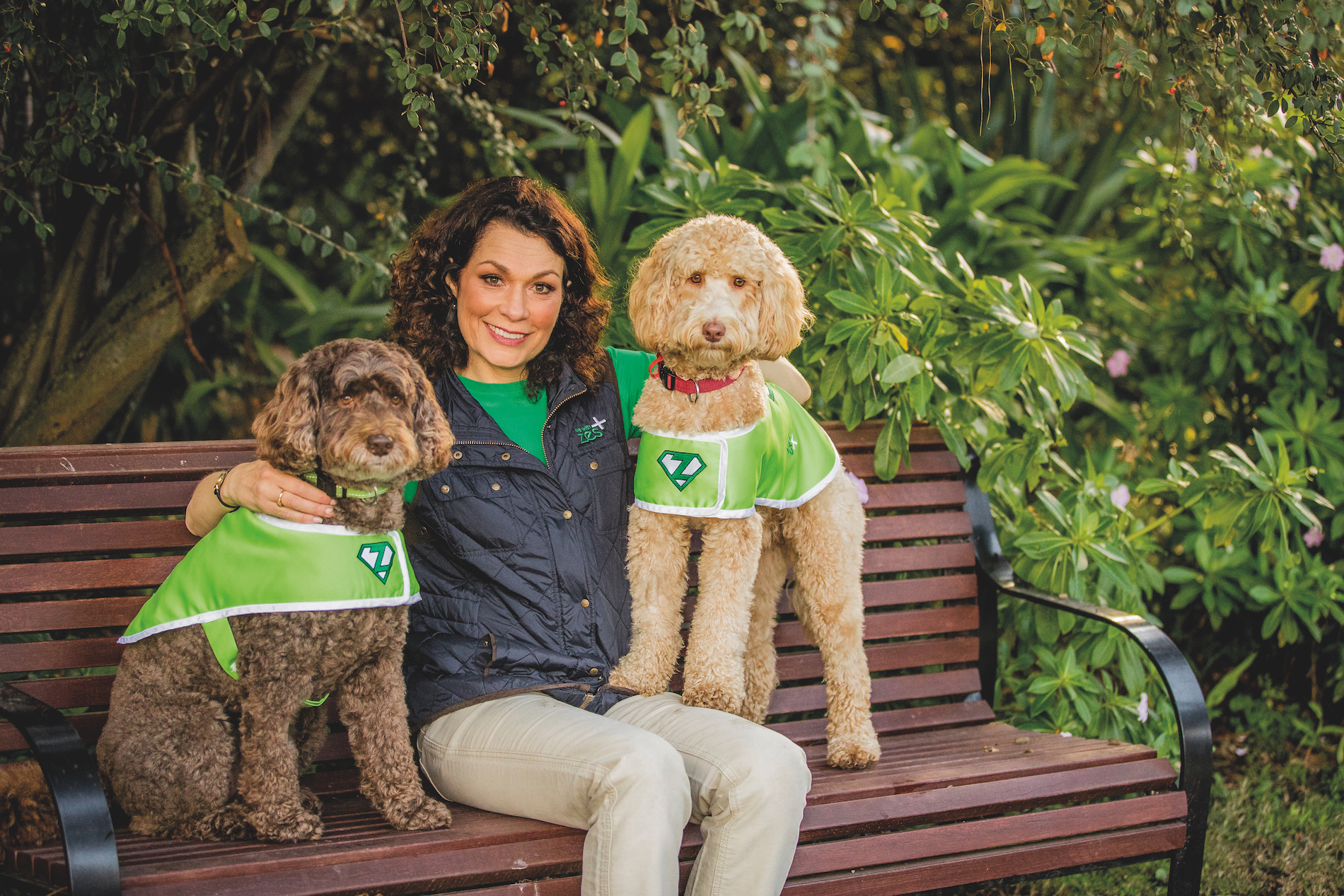 How can our canine companions help us survive and even thrive in these pandemic times? 
The last 18 months have been a testing time for us all and has seen us grappling with new challenges forced on our already complex and challenging lives. We have had to sustain our resilience within our families, schools and workplaces. Losses, lockdowns, lethargy and loneliness, have all taken their toll. But, of course, those of us with dogs will know they have been influential in helping us through. But how do they (and other pets) impact positively on our well-being? 
The science of well-being and Positive Psychology, tell us that there are many things we can do to enhance well-being in ourselves and those around us. For example, experiencing positive emotions, showing compassion and helping others, using our strengths, being mindful, practising gratitude and savouring, and investing in building high-quality connections (Waters et al, 2021).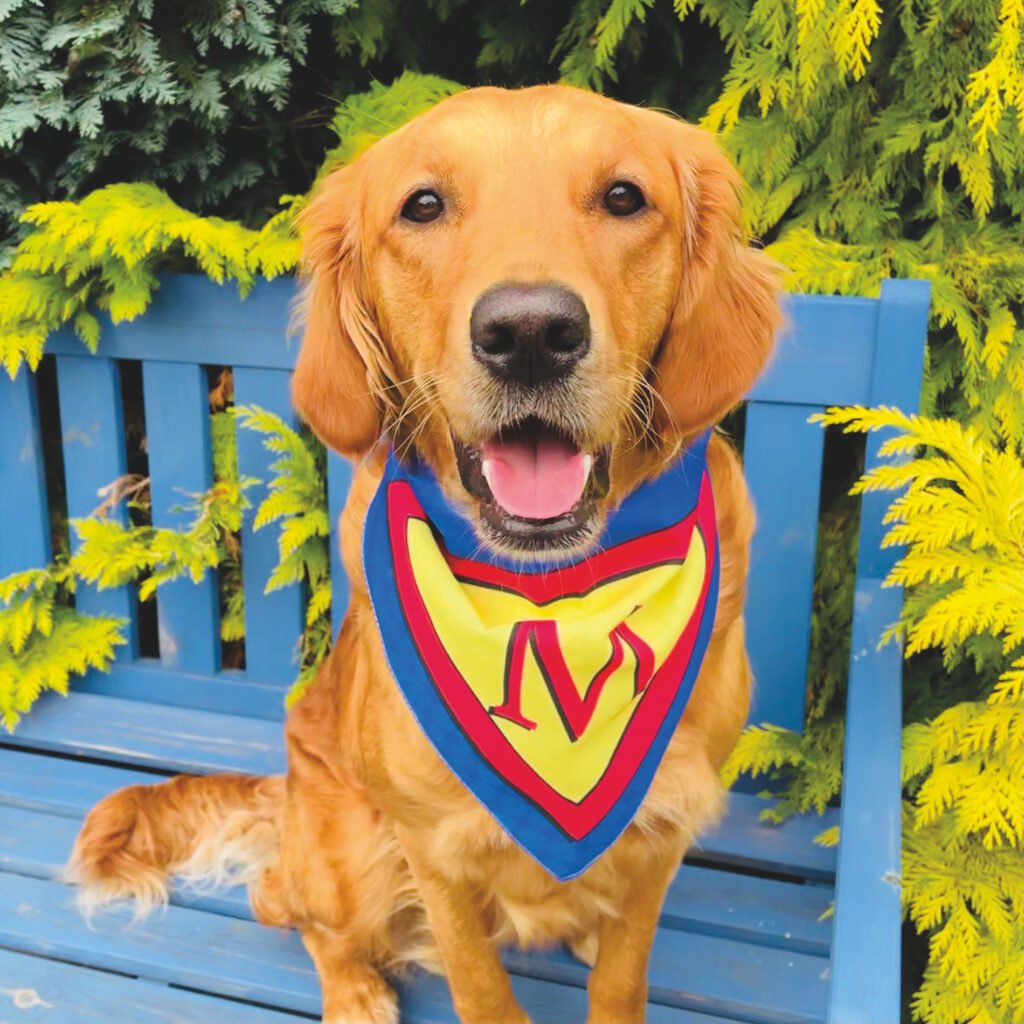 These interventions do three critical things. They:
1. Buffer against the risks of anxiety, stress and depression that can result from the impact of the pandemic and other adversities we face in life.
2. Bolster our resilience to navigate successfully through these difficult times.
3. Build our capacity to grow and flourish and make the very best of the opportunities the world still has to offer us. 
To help people better understand what well-being is, many schools and organisations have started applying a much-used, evidence-based framework called PERMAH. This stands for Positive Emotions; Engagement; Relationships; Meaning; Accomplishment; Health. PERMAH helps us realise what well-being is and how we can enhance our capacity to feel good and function well irrespective of our circumstances. 
As wellbeing coaches and dog-lovers, we want to share with you some of the research demonstrating the benefits of human- animal interactions from both recent
studies and our own experience with our PERMAH Pups Flash, Rafa, and Miss May.
Let's explore how our four-legged family members and friends might have contributed to building PERMAH for ourselves and our families during these unprecedented times.
We'll also give you some 'Pawsitive Pointers' that you can apply to help you be more mindful of the contribution interacting with your dog or other people's dogs can make to your family's wellbeing.
P = Positive Emotions
The ability to experience a full range of emotions from fear and anger to joy and excitement is a sign of positive mental health. Of course, no one goes around being 'happy' all the time! But we do need to be mindful of what we call the 'negativity bias' and understand that because negative emotions are stronger, we feel them more acutely and pay more attention to them than positive emotions. So, it's crucial to generate more positive emotions, particularly in this challenging time as the pandemic impacts. This is because the experience of positive emotions broaden our ability to learn, be creative and find solutions. They also build our physical, mental and social resources, so we are stronger and more resilient in the face of life's stresses and pressures. 
What emotions do you experience when you are interacting with your dog? Interacting with dogs can bring about feelings of love, joy, serenity, laughter, gratitude, pride, curiosity and even awe when they do some truly amazing things!
"Savouring our interactions with dogs can be such a wellbeing boost, particularly when we are experiencing the primary and vicarious impacts of ongoing stressors within our communities."

Dr Tom Brunzell 
Dogs can reduce stress in students facing deadlines and taking examinations, and they can help calm and relax us just by observing them in the environment, whether at home, work or school. So they can be a comfort during a high stakes event or in overcoming a disappointment such as not making the sports team or school play.
Our dogs feel positive emotions, too and just looking (not staring) into their eyes can relieve their stress and anxiety. Our feelings can influence their feelings and vice versa. As we relax, the dogs relax, and we can attune to our dogs and co-regulate each other. They can energise us in the morning to get us moving or relax, calm and soothe us in the evening before bed.
Our dogs provide many opportunities for savouring in the present by luxuriating in the feel of their fur. We can also savour the past by reminiscing about their antics as puppies and sharing stories with family and friends. Looking forward to an upcoming positive event with our dog is a way of savouring the anticipation. So, our dogs can help ramp up our positive emotions in the here and now, re-experience the joys of the past and look forward to good times still to come. 
Pawsitive Pointer: Dial up your senses, especially sight, smell, hearing and touch (taste could be tricky!) to savour positive emotions and be present with your dog.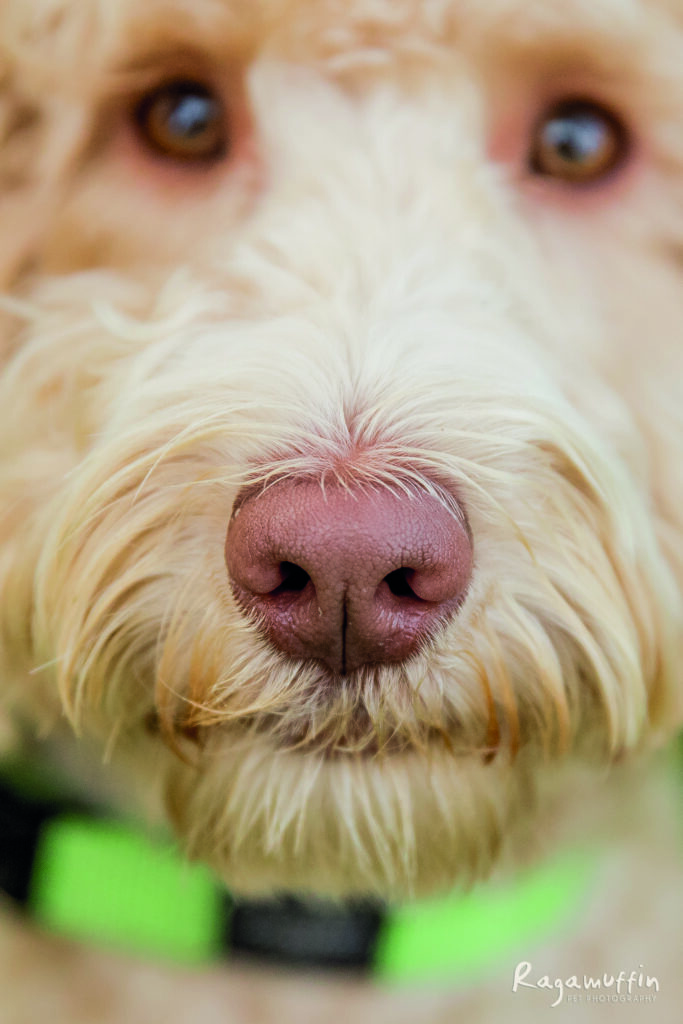 E = Engagement
When we are genuinely engaged, we get into the 'zone' and the flow state, which is excellent for our psychological health. We feel energised and focused, fully involved, wholly absorbed. We are also likely to
be using our strengths. For example, by interacting with our dogs, we can become immersed in pursuits such as feeding, grooming, training and playing with them, hiding toys, scent games, ball retrieving and tricks. Being present with our dogs is a great way to be in the moment, slow down and be mindful. Rafa is very ball/play focused, and he is a great role model, just concentrating on one thing at a time.
Interacting with our dogs is also a great way to develop our strengths or interests – may be painting, photography, writing or rambling. They can be the subject matter, catalyst or motivator for our strengths and interests. Curiosity is one of Roz's top strengths, and it spurred her on to find ways to engage Rafa and Flash in Wellbeing coaching. Clive loves photography and has the perfect model in Miss May to practice his creativity!
Pawsitive Pointer: Strengths Spotting
• What strengths do you have?
• What are your passions?
• How could you involve your dog?
Take the popular VIA Character Strengths Survey to check out your top strengths and see how you might find a way to use them with your dog.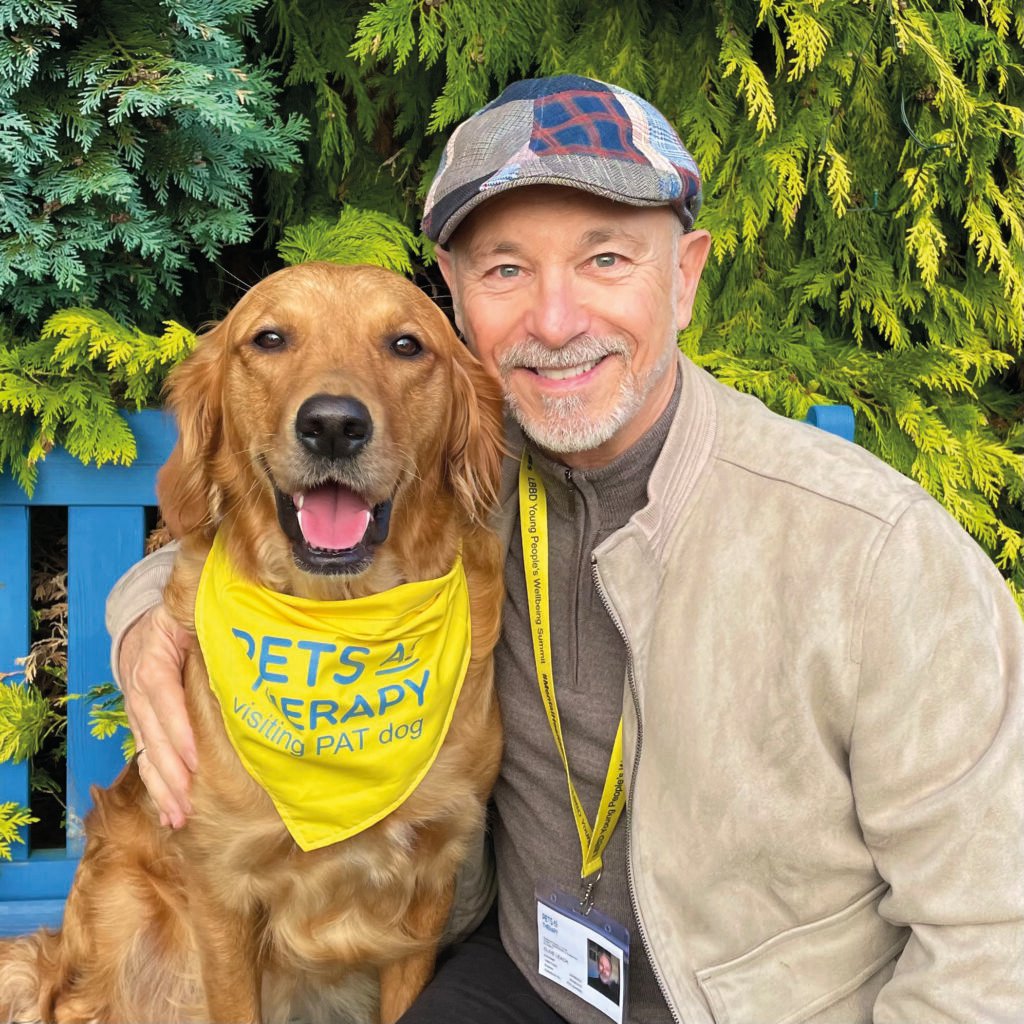 R = Relationships
Positive Relationships are crucial to our capacity to flourish. Humans have an innate propensity to attend to and be attracted by other living things, so 'other people matter', and our dogs do too! Love is a universal emotion, and we express it through acts of care, kindness, and compassion.
However, you can argue that a critical difference between humans and dogs is that dogs are much less judgmental. They don't care if you are short or tall or judge you for your age, race, religion, politics, gender, ability, beauty or just having a 'bad hair day'. They aren't bothered if you're rich or poor, what school you go to, your job, what car you drive or how big your house is! Instead, they will love you unconditionally if you are kind, caring, worthy of their trust and gently stroke their tummies! 
Dogs are lovely social support and help build self-acceptance and self-esteem in young people and adults and reduce isolation and loneliness. They seek not just attention but connection. They don't believe in 'alone time' but you and me time! In addition, dogs are social lubricants and stimulate interaction and conversation between families, friends, work colleagues and communities. So, dogs are both social support and facilitate interactions between others. 
Pawsitive Pointer: Walk and Talk with family or friends. Moving side by side
in the same direction, especially with teenagers, is more conducive to nurturing and maintaining healthy relationships and healthy conversations.
M = Meaning
Having a sense of meaning in life is key to our ability to flourish, and there are many ways to find meaning through our family, work and community. Meaning is about being a part of and contributing to something greater than ourselves. Having a dog in our lives can add a real sense of purpose, give reason to think and act beyond ourselves and contribute to higher pursuits as we commit to their responsible care. 
Meaning can also be enhanced through activities with our dogs – being mindful of their impact across all the PERMAH dimensions. In the cases of Flash, Rafa and Miss May, their work in Canine- Assisted Therapy and as Wellbeing Dogs is significant and purposeful for Clive and Roz. It adds value to the lives of the dogs, too, as they engage with and enjoy the many interactions they have in the schools, colleges, universities, hospitals and care homes they visit. 
Pawsitive Pointer: Adopt a Service Mindset. What's one thing you could do with your dog to make a positive difference to others?
A = Accomplishment
Humans have long realised dogs can be helpful, evidenced by a history of dogs working alongside people from many industries and professions such as farmers, the Police, first responders, Armed Services, and the Health and Social Services sectors. Dogs have proven themselves to be highly adept and accomplished at assisting people in fundamental ways through transport, care, security, health screening and guidance.
People feel accomplished when they work towards and achieve rewarding and meaningful goals, and for dog guardians, this often starts with initial dog training – learning to sit, stay, fetch, drop and come back! Setting and striving towards meaningful goals with your dog is a great way to build hope in adults and young people. This encourages a growth mindset and pathways thinking as you find different ways to overcome challenges and setbacks and reach your goals. 
Hopeful thinking leads to a range of positive outcomes, such as positive self- esteem, self-efficacy, pride, and improved coping skills, which all enhance success in school, work, and life.
Pawsitive Pointer: Set a goal to do something with your dog, such as learning a new trick.
H = Health
An obvious way dogs can positively impact our lives is through our physical and mental health. The regular exercise, fitness and thinking space opportunities afforded by dog walking are life-savers for many people with busy family and professional lives. Physical exercise produces feel-good endorphins, improves muscle tone, lowers blood pressure and improves circulation. In addition, getting outside into fresh air and experiencing the effects of nature can increase longevity and aid health recovery. 
From a mental health perspective, our dogs can read our facial expressions and body language and sense when we are frightened and stressed. This is because of their potent noses (see the photo of Rafa's nose), which smell cortisol (the stress hormone) that we exude when anxious. The challenging emotions that sometimes bubble up are easier to regulate through physical movement and giving attention to our dogs. 
The loving and pleasant feelings we experience when we engage with our dogs lead to physical benefits such as stress relief, lower blood pressure, lower cholesterol and improved cardiovascular functioning. They also increase oxytocin (the cuddle hormone) and create a sense of psychological safety, connection, and belonging to self and others. This is known as the 'oxytocin effect' and can be very soothing, mutually beneficial for you and your dog.

Pawsitive Pointer: When anxious, engage in dog patting for between 5-25 mins. 
Conclusion
Having dogs in our lives can genuinely add value to and enhance each of the critical dimensions that contribute to our capacity to be resilient and flourish. Dog guardianship can be stressful and challenging, so there is that to consider. However, both the research and reported lived experience point overall to the extraordinary benefits our PERMAH Pups bring to our lives, as we do to theirs. We hope this article helps you further appreciate the value your canine companions add. In addition that it has given you some ideas for how together you and your families can continue to thrive at school, work, and home despite these ever challenging times. 
Written by Clive Leach & Roz Rime
References 
Lea Waters et al. (2021) Positive psychology in a pandemic: buffering, bolstering, and building mental health, The Journal of Positive Psychology, DOI: 10.1080/17439760.2021.1871945
MGJones (2021) Canine Assisted Therapy. Guest lecture Animal-Assisted Therapy for Healthcare Professionals. Latrobe University 10th November 2021
Clive & Roz provide virtual 1:1 and group sessions on well-being to individuals, schools and organisations in many parts of the world. 
Clive Leach is an organisational coach who works widely in the international education and business sectors on leadership, career development and wellbeing programs. Heand his Goldendoodle Miss May are Pets As Therapy Visiting PAT Dog volunteers. For further information, contact  or visit https://www.linkedin.com/in/ cliveleachconsultancy/. 
Roz Rimes is a wellbeing educator coach and founder of the social enterprise 'Live with Zest'. She works in schools and universities with her Australian Labradoodles Flash and Rafa, who have advanced Canine-Assisted Therapy qualifications. For further information, contact  or visit https://www.livewithzest.com.au/.