Article
How participation in an Online Research Programme can support university admissions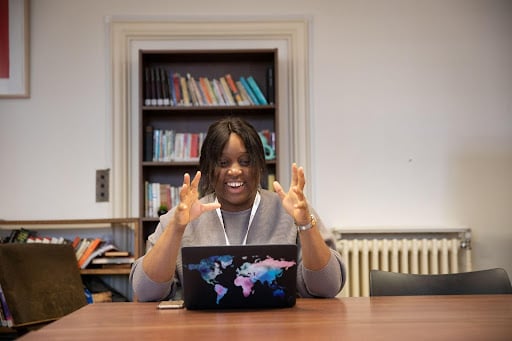 In an increasingly competitive academic landscape, students are continuously seeking avenues to enhance their prospects of securing admission to their desired universities. While good grades and standardised test scores are vital, engaging in extracurricular activities and demonstrating a passion for learning can truly distinguish students from the crowd. One valuable avenue for students to develop their academic and research skills is through participation in online research programmes. In this blog, we will explore what online research programmes are and how these courses can support students in their journey towards university admissions.
What is an Online Research Programme? 
Online research programmes are courses that take place online for students typically aged 16-18. These programmes are designed to equip students with a foundation of research skills which they can showcase on university applications and take with them into their first year at university. These particular courses are designed to "fill the gap" in the leap from secondary education to higher education, providing students with the opportunity to develop skills otherwise not taught in school such as conducting independent research on a topic of interest, learning how to identify and reference reliable sources and build knowledge in a subject relevant to their degree of choice.
Taking a look at the Immerse Education Online Research Programme as an example, students are first paired with an Oxbridge or Ivy League tutor with expertise in their subject of choice. Subjects range from Medicine to English Literature, Mathematics to History, and more. Once students have been allocated a tutor and agreed on a set time and pace to study, the course commences with the student sharing a proposed research question or topic with their professor. The tutor will then aid the student in refining their research question and guide them on how to acquire the answers needed to form their whole research project. Students typically end the programme with a well-written 5,000-word academic essay, showcasing their academic writing skills, research abilities and advanced subject knowledge.
How do these programmes support students with university admissions?
1. Developing Research Skills
The core learning outcome of any research programme is to ensure students leave with a solid foundation of research skills. Students gain hands-on experience designing research projects, conducting literature reviews where relevant, collecting and analysing data, and presenting their findings in a coherent and logical way. Universities highly value these skills, as they demonstrate a student's ability to think critically, work independently and potential to contribute to the academic community with thought-provoking questions and insight. Research experience gained through online programmes can be emphasised in college applications and can be a strong point of differentiation from other candidates.
Elif, an Immerse Online Research Programme participant, said that she described her programme and the research she conducted in her university application and was accepted into Oxford University. She went on to say that "Overall, this was the perfect programme. The research sessions and 1-1 teaching sessions were perfectly combined and it gave me a taste of what to expect at Oxford in terms of teaching methods. I also learned other skills like how to write research papers, how to find a research topic and how to find literature to reinforce my arguments." (Elif, Immerse ORP Alumni, 2022).
2. Demonstrating a Commitment to Academics
Admissions officers are not only interested in grades but also in an applicant's dedication to intellectual pursuits. Participation in an online research programme showcases a student's passion for learning beyond the classroom. It demonstrates their willingness to explore academic topics independently and engage with complex subject matter. By undertaking research projects related to their field of interest, students can convey their enthusiasm and dedication to their chosen discipline, making their applications more compelling.
3. Establishing Connections with Experts
Online research programmes typically involve working with experienced professionals in the field. Interacting with these experts allows students to gain valuable insight, guidance, and mentorship. These connections can be immensely helpful in the university admissions process. A strong recommendation letter from a respected researcher or mentor can carry significant weight and highlight a student's potential to succeed in an academic environment. Additionally, these connections can also provide networking opportunities, opening doors to internships, research grants, or even future career prospects.
4. Contributing to the Academic Community
Engaging in online research programmes enables shows students opportunities to make meaningful contributions to the academic community. Students will be exposed to how their original research can produce valuable findings that can be shared with the broader scientific community through conferences, publications or online platforms. Such contributions demonstrate a student's ability to make an impact beyond their immediate academic environment, and universities appreciate applicants who show a proactive approach to expanding knowledge and making a difference in their field.
5. Enhancing Personal Statements and Essays
One of the critical components of a university application is a students personal statement or essay. Participation in online research programmes can provide students with rich experiences, anecdotes, and insights that they can draw upon while writing their applications. These experiences can add depth and authenticity to their narratives, making them stand out among a sea of applicants. By sharing their research experiences and how they have shaped their academic and personal growth, students can showcase their unique qualities, passions, and motivations to the admissions committee.
Key takeaways
Participation in online research programmes offers a multitude of benefits for students seeking admission to universities. Immerse Education's Online Research Programme is an example of this type of programme, designed to allow students to develop research skills, demonstrate a commitment to academic growth, establish connections with experts, contribute to the academic community, and enhance their university applications. By embracing the opportunities provided by online research programmes, students stand to strengthen their profiles and increase their chances of securing admission to their desired universities, bringing them one step closer to their dream careers.