Article
Interlaken – No. 1 Adventure Destination in Europe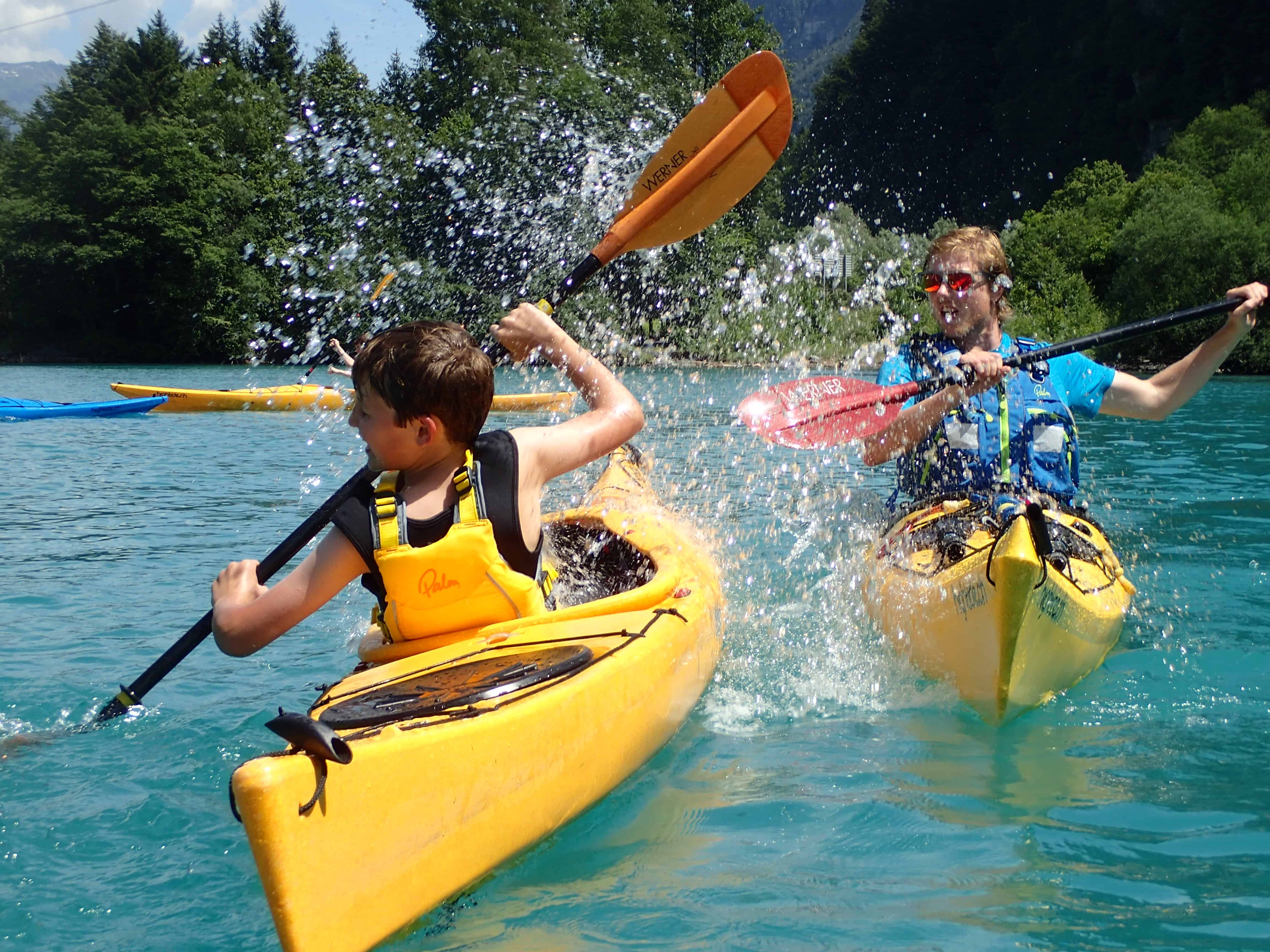 The Interlaken holiday region lies around Lakes Thun and Brienz amidst the mountains of the Bernese Oberland. The valley floor has an elevation of approximately 560 m.a.s.l. Magnificent alpine peaks punctuated by the world-famous Eiger, Mönch and Jungfrau reach up to over 4000 metres. Immerse yourself in the variety of recreational activities to be enjoyed at the heart of the stunning Bernese Oberland. The glistening waters of Lake Thun and turquoise-hued Lake Brienz, dense forests, lush green meadows, rushing rivers and burbling mountain brooks form the picturesque backdrop for unforgettable adventures. And the region's natural beauty is as diverse as the soft adventure activities on offer – a plethora of exciting experiences await you and your family. Have you always wanted to climb from treetop to treetop with your nearest and dearest, glide over a mirror-smooth lake in a kayak or enjoy the thrill of a family-friendly rafting tour on a white-water stream?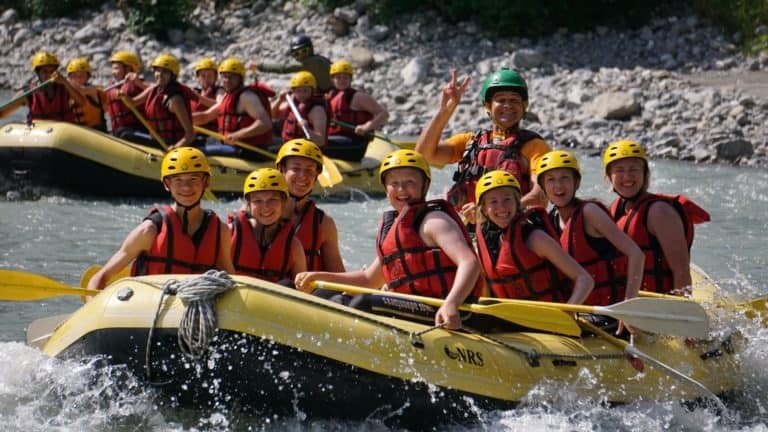 Ride a Scooter on Mount Niederhorn
Action-packed scooter fun beckons on Mount Niederhorn. Weave your way downhill on a scooter against the unrivalled backdrop of the Eiger, Mönch and Jungfrau. Scooters are available for hire during the summer months at the Vorsass middle station of the Niederhorn cable car. Two varied routes descend over unsurfaced and surfaced roads through the most beautiful landscape to the station in Beatenberg. The sweeping views of the surrounding mountains and glistening Lake Thun are breathtaking. Along the way, scenic barbecue and picnic spots invite you to linger. Savour an exhilarating family outing with the wind in your hair and sun on your face. 
The Niederhorn funicular and cableway run daily from mid-April to mid-November.
Find out more: https://www.niederhorn.ch/en/summer/marvel/acitve-enjoy/trotti-biking.php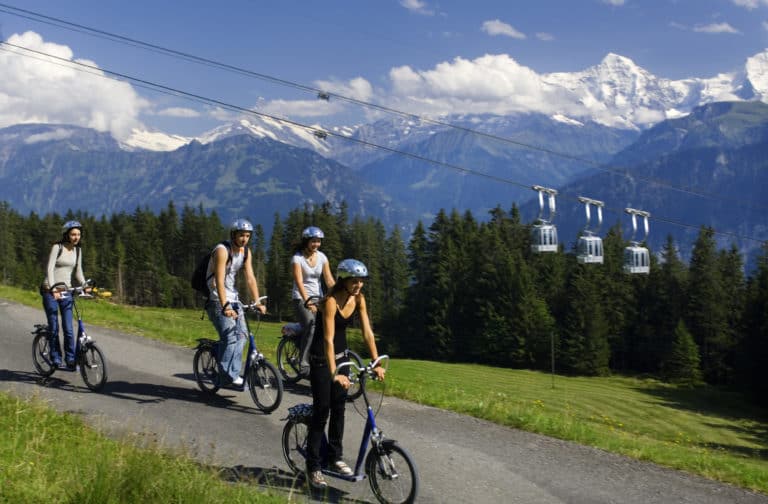 Interlaken Rope Park
At Interlaken Rope Park, you can unleash your inner Tarzan (or Jane) and swing from tree to tree or whizz down a zip line at top speed. From a beginners' course near ground level to tricky tasks at 23 metres' height, 9 courses and over 160 challenges await you and your family. Secured with nets on both sides, the Butterfly Walk lets the littlest adventurers enjoy climbing without a harness. You will be equipped with everything you need before you start exploring on your own. Allow around 2.5 to 3 hours for this all-weather activity. Interlaken Rope Park is open daily from April to October. 
Find out more: www.seilpark-interlaken.ch
Tube & Banana Ride on Lake Thun
Maximum fun for all ages: whizz over Lake Thun on an inflatable Tube or Banana. Do you prefer a leisurely cruise or a full-throttle ride for that ultimate adrenaline kick? Fast or slow – the speed is up to you. Fun for young and old guaranteed. This activity is suitable for children over the age of 4 and can be booked daily between May and September, good weather permitting.
Find out more: https://www.mountainsurf.ch/en/wakethelake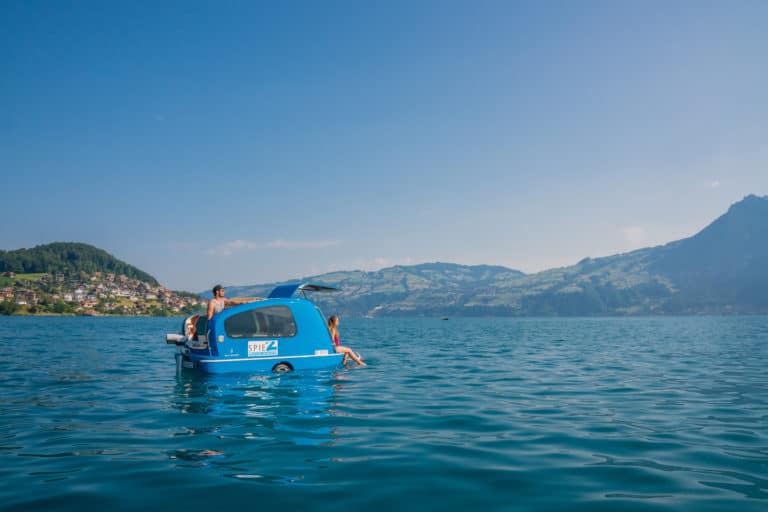 Water Fun in Spiez and Faulensee
An infectious holiday mood characterizes summertime in the idyllic Spiez Bay. Deep blue Lake Thun invites you and your family to enjoy memorable moments on the water. Hire a stand-up paddle board or canoe and paddle along the canoe trail. This scenic route stretches from Gwatt near Thun to the fishing village of Leissigen. Spiez is the most popular starting point for your waterborne adventure. Located at the information point in Spiez Bay, the water sports rental station is open from mid-April to October. The one-of-a-kind Sealander craft is a particular highlight. A quirky combination of electric boat and caravan, this amphibious trailer is equally at home in water and on the road. It makes navigating Lake Thun easy and doesn't require a driving licence. An outing with the Sealander is truly in a class of its own. Refresh yourself in the cool water and admire the amazing alpine panorama. Seen from the water, your natural surroundings appear even more awe-inspiring. How about a bathing or camping excursion with this state-of-the-art vessel? On request, you can even book a fondue package and savour a tasty fondue on the water with your family. The Sealander can be booked all year round. 
Find out more: www.kanuwegthunersee.ch und www.spiez.ch/sealander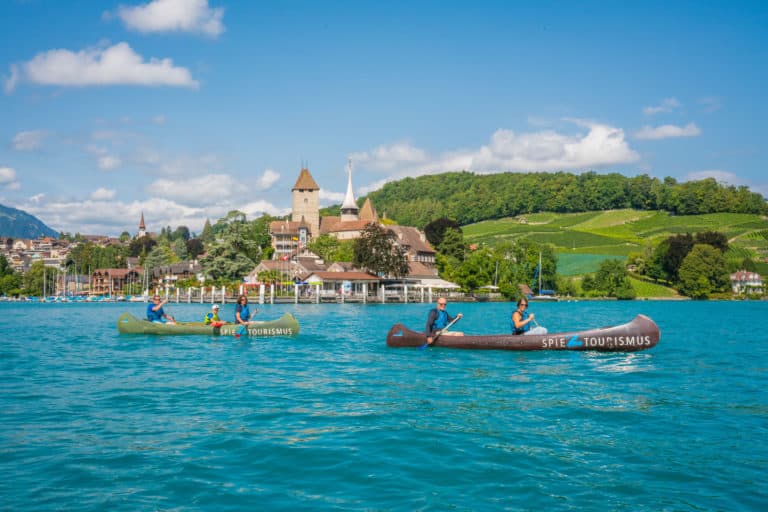 Kayaking for Families on Lake Brienz
Learn the kayaking basics while you enjoy a fun-filled day with the whole family on turquoise Lake Brienz. Be the captain of your own ship and spend two entertaining and action-packed hours on the water. The course features various games and sporting challenges: Balance on the kayak, go head to head in a family paddle race or practise your Eskimo roll. This splashy adventure will test your sea legs and leave the whole family rolling with laughter. If you love water-based activities and have swimming skills, this experience guarantees fun and games galore. Kayaking tours can be booked daily from May to October. 
Find out more: https://hightide.ch/course/family-fun/
Family Rafting on the River Lütschine
A rafting experience on the Lütschine is a great opportunity for the family to let off steam. Fun and safety are assured amidst the gentle rapids and waves on the lower section of the Lütschine, which makes this tour suitable for the entire family. After everyone has donned a lifejacket and helmet, the dinghy glides smoothly over the rushing mountain creek. Help your guide paddle or simply relax and enjoy the white-water ride. Dare to leap into the turquoise waters of Lake Brienz at the end of your trip! The tour is led by a qualified guide and includes all equipment (incl. neoprene wetsuit), transport and something to drink. This excursion can be booked daily from May to mid-September.
Find out more: https://www.outdoor-interlaken.ch/en/activity/40/familien-rafting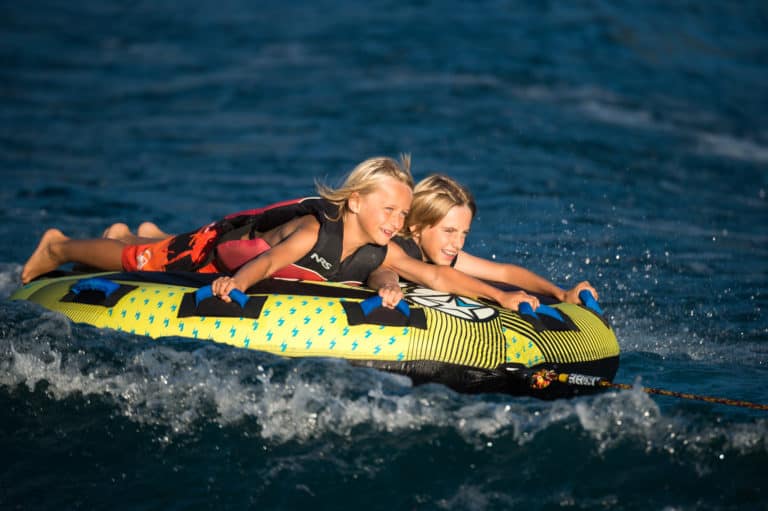 Interlaken is Europe's No. 1 Adventure Destination, offering a wide range of activities that are guaranteed to get your heart pumping. Discover exciting family-friendly activities that combine sport, fun and adventure. Fancy raising the thrill level even further? There are more adrenaline kicks to be had between the mountains, glaciers and lakes.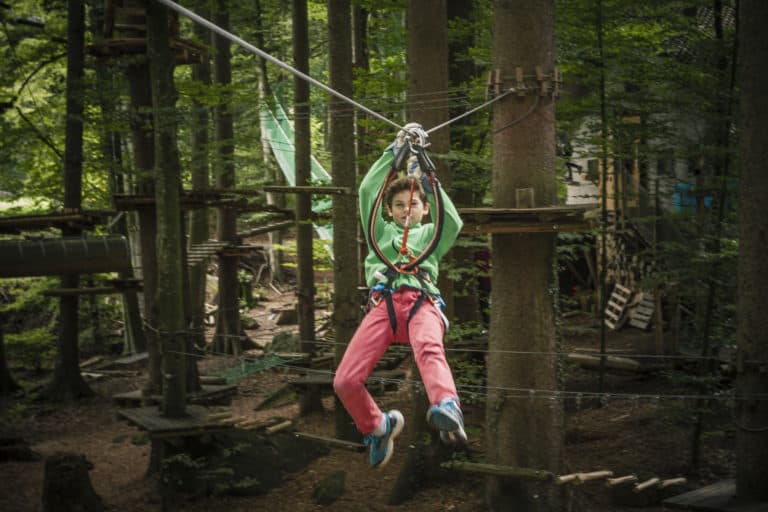 Find out more: www.interlaken.ch/adventure