Article
Meet the Headteachers – John Kelly – El Colegio Británico de Cartagena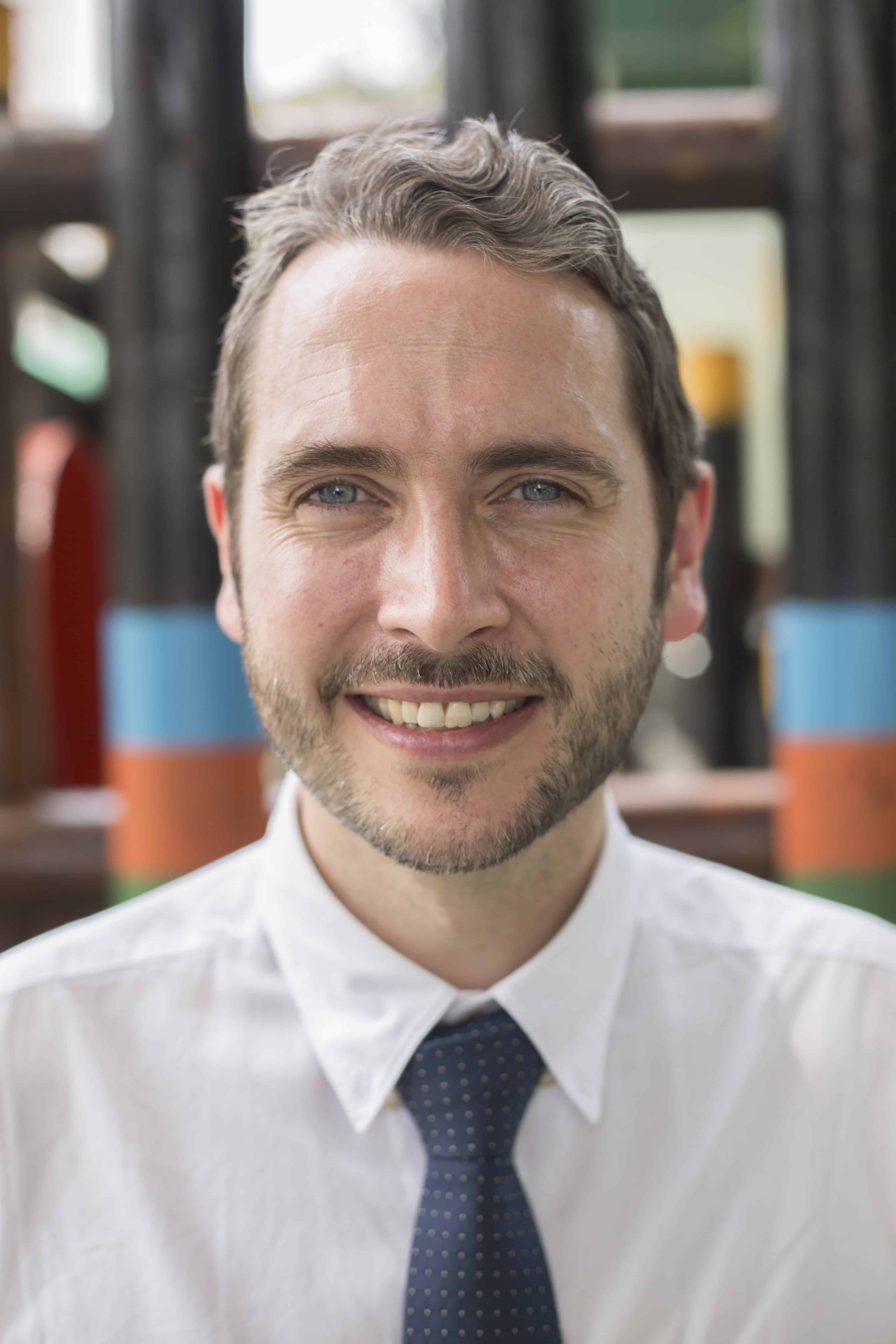 By International School Parent Magazine Editorial Team
John Kelly has been the Head of School at CBC in Cartagena since July 2016. A CIE Cambridge accredited school, CBC is a private international bilingual school which provides education at all levels: Pre-school, Basic Primary, Secondary Basic and Academic Media. It offers its students high-level academic training framed with social and environmental responsibility. Before his time in Cartagena, Mr Kelly taught in Mexico and China. He is a qualified teacher, journalist and is currently studying an MA in educational leadership. He is passionate about advancing literacy and critical thinking skills in students.
Tell us about your background and what inspired your career in education?
I'm a third generation teacher. My mum was a teacher, and my grandfather was a teacher. I grew up in North Manchester in the UK in the 1990s, and there was quite a bit of social upheaval – the Miners' Strike and this type of social unrest. I went to an excellent public school, but it was a state school. Those formative experiences had an impact on me. I got into teaching because my family were teachers, and I wanted to continue that tradition on. I also wanted to change the shape and the direction of the future – to help shape the world in the way I wanted it to be seen.
What led you to international teaching?
Initially, I was only interested in working in England, so it was a stroke of luck. I'd been for many interviews in the UK and hadn't managed to get a job. I was doing my PGCE at Durham University in 2001, was out with friends one night, and I got talking to a guy who was in my course. He said to me, "Why don't you think about working in China? I've just come back from an international school in Shanghai; I had a great time. You're perfect for it, here are the contact details." So, I got in touch with Mr Ju in China, and he gave me a job. I hadn't done my NQT yet, but I just hopped on the plane and started my career working at The Shanghai Middle School, a K-12 school IB world school.
After spending three years in China, I applied for a whole range of different jobs around the world. I got offered a job in Mexico City and went to work for The Lancaster School, a bicultural, bilingual, British Mexican school. During my seven years there, I worked my way up to become the Head of English. After that, I decided to stay in Mexico because my wife and my son are Mexican.
Then, I became the academic coordinator of The Edron Academy in Mexico City. We had joined at just the right time to take on the challenge of raising educational standards. The standards went up, and we entered COBIS as the only Latin American school at the time. That raised my profile a little bit, and two years ago, I became headmaster of my school in Cartagena, El Colegio Británico de Cartagena, or CBC.
What have you learned from the perspective of being a head teacher?
It's been a fantastic opportunity to grow professionally. You need to be quite courageous if you're a headmaster – it's a requirement for the job. You're dealing with the families, the problems, and the issues of the school. I've learned a lot about self-discipline, self-control, and self-management. Those things have become essential. I've learned a lot about making decisions and the speed of my decision-making, and I've learned a lot about community relations.
I've learned a lot about the finances of a school, how it really works. The school I work for is a business. A lot of my responsibility is driving the business forward –  understanding how you make a cafeteria profitable, how you make the transport profitable, and these sorts of things. I've learned a lot about more about the IB because we are in the second phase of IB accreditation. A major thing I've learned is the process of building a brand new school. I've had to deal with building contractors, disgruntled local people who don't want a new school in their area, lawyers, and school design.
Tell us about CBC and what makes it unique in Cartagena.
Cartagena has a population of about one million people. The division between rich and poor in Cartagena is extreme, as you have a very, very small elite group of very wealthy people; and everyone else who has no money whatsoever. We're one of six significant schools in Cartagena and one of the three best. Our school attract the elites of Cartagena, and of course the international market as well. The school has about 720 students in it, but we are looking to grow the school to about 1,200 in the next five years.
CBC is 37 years old and was started by four ladies in Cartagena who wanted a British-style education for their children. They started with one small kindergarten, and 35 years later they had a large school on their hands. They then sold the school to a company called Redcoat, which is a Colombian company that owns 12 schools across the country. Two and a half years ago, the school went from being small, family, and quite intimate to being a corporate school with corporate ideas. Every year they're growing and developing at the same time, which has been interesting to go through with the community.
What are the primary educational principles and philosophies that you promote at CDC?
The school was previously quite traditional, placing heavy emphasis on the math results, the English results, and the scorecard coming home at the end of the year. This year we've changed our philosophy to make it much more holistic, and more based on the needs and the wants of the students. We're looking at global trends and introducing elements of project-based learning. Our profile is now similar to the pattern of the IB, but with a few differences. More choice in the curriculum is a significant motivating factor for the students. We focus on communication skills, both listening and being able to present your ideas coherently, and we place a high emphasis on bilingualism.
Childhood development
As I see children developing these days, the big things that I want them to understand our social responsibility and empathy towards others. Our children are so privileged, and five minutes away from our school some communities have absolutely nothing. I think creating understanding is extremely important. We have a significant social program in the school and something that is actively pushed to work in the local community.
Conflict Resolution
A fantastic thing we have in our school that is unique to Colombia is something called mediación escolar. This is a meditation centre which promotes coaching and conflict resolution. This is an initiative introduced by the government to help Colombia as it goes into the post-war phase. Just recently, Colombia signed a peace agreement to end the longest-running civil war in the history of the world. As part of the post-war healing process, the government is keen on finding ways to reintegrate families back into society. They started the mediación escolar program to help this, and it is flourishing in our school. We have groups of students that mediate the conflict between younger students, all the way from our older students to third grade and primary.
Our first generation of students started this three years ago. Among the older students now, it's almost semi-autonomous, but it does have input, and we are managing and monitoring it regularly. The students have become very adept at conflict management. When we have, say, a dispute in the playground or a falling out between friends, I tend to use the older children to mediate the younger children's problems, and it works well.
This kind of complementary skill set that we sometimes put into the term "Twenty-First Century Education", is very important to the school. We want to become an IB World School, so academic standards are essential, and we've introduced a whole range of projects.  At the heart of our plans, we've also got different sports that are important. I think games are fantastic at creating leadership and productive relationships. I'm trying to develop all these elements in the students, so they can be successful when they leave the school, and find themselves in a workplace environment and world entirely different than the one we found ourselves in after school.
How do you international parents and students adapt to Cartagena and settle in?
Cartagena itself is undergoing a real boom time in many different industries at the moment. Over 90,000 new homes are being built so, as you can imagine, this is attracting overseas students. We find that the process of adaptation to Colombia and Cartagena is reasonably challenging for our international children and parents. As a result, we have a process of adjustment for the students. We have a day where they come into school and take a test at class, monitored by tutors. We're all quite aware of those children, but to be honest, it's usually more challenging for our parents. Our psychologist meets with the parents to see how they're doing every two weeks for the first six weeks.
We're learning about how to deal with cross-cultural issues that weren't necessarily present five years ago in Cartagena. We have 20 different nationalities represented in the school. This is a relatively new thing for the school and poses some interesting questions. For example, we have a Turkish family in the school. How do we help a Turkish family settle into a culture that's quite radically different from Turkey? It's been a learning process. We try to stay intent and have as much communication as possible with the children. We have a coach and a mentoring service in the school, which helps them settle in. I'm quite available to meet with parents and answer their questions, which, with international parents, are often about cross-cultural issues with Cartagena and their children.
Can you tell us more about your social program? Considering your families and the children of the school are living entirely different lives, how you approach communities and bridge that gap?
We've got a few different programs. One of the programs I'm keen on furthering this year is with one of the building contractors in the local area called Mega Projects. When a company comes in and decides they're going to build a hotel or condominiums, they tend to have well-developed programs for creating jobs and awareness in the local community. The active social projects that they have are our ways into the local community.
Around the local area, we have a robust Christian faith. The church is solid there, and the school is a faith-based school. I usually have good access networking to those communities through the priests. Some of these communities are incredibly challenging, with levels of poverty that I've never seen before.  We can bring in children safely, and do activities and things like that.
We're working with a company that is building 20,000 different homes. With the support of the local government, they're in the process of creating a school for 800 children. But, they have no idea what to do with the school once it's built. Our first big project is going to be helping them develop and run the school together.
What are the main challenges for education as a whole in the future?
I'm optimistic about the future, and the way I see education. Sometimes challenge can be a synonym for opportunity, and I'm noticing that around the world now. I think it is going to be an excellent opportunity for communities such as those here in Colombia. The big challenge is to work out how not to monetise ed-tech to the point where it becomes exclusive. The whole idea behind technology and education is that it should be helping to promote more equity in the world. More social justice, and better levels of education for the children who have not had an education.
Education's got everything going for it at the moment. If you want better resources, they're available online, and so much of it is for free. I can only see the resources and the way that we teach getting better, and improving literacy and mathematics skills around the world. I'd also say this idea of civilisation changing away from academics is going to become a more significant conversation. What I mean by that is, moving away from traditional math and English-based classrooms towards classrooms that don't have subjects. This kind of idea is going to become more and more critical.
Is there anything that you would like to add about the school or your experiences?
I've worked for four international schools. I was 35 when I was made headmaster, and am coming up to my 38th birthday soon. It's been an incredible journey so far. A leadership journey, travelling around the world, meeting my wife, having my child, and having a bilingual, bicultural family at home. Learning about the world wasn't at all the bit that was expected in my life. I was hoping to stay in Manchester, but instead, I went a completely different path. It's a great time to be in international schools as a young school leader. It's a great time to be working in education because I think I can only see amazing opportunities. I'm enjoying the job.
To find out more about El Colegio Británico de Cartagena, please visit their website: www.colbritanico.edu.co
International School Parent Magazine is an Online and Print Magazine for International School Parents and Teachers alike. Our mission and message to readers is to highlight the excellent opportunities that an international school education offers and to help provide them with the information they need at critical points in a child's education. For schools and educators, our goal is to be a platform where they can communicate with parents and others about news, updates, and expertise.
Find more articles like this here: www.internationalschoolparent.com/articles/
Want to write for us? You can submit an article for consideration here: www.internationalschoolparent.submittable.com