Article
Get-out and be adventurous with your children this spring!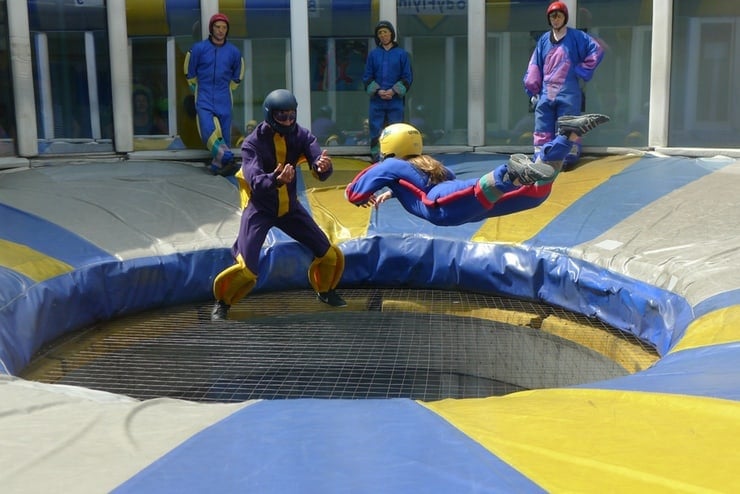 Over the years, our little family has become familiar with many different corners of Switzerland for a variety of reasons, though often not necessarily due to the need to find activities to fill in the holiday weeks. However, we've selected a mixed taster of just a few adventures that took us out of the house, all of which were available within spring, spanning from some common to some much less usual activities that may surprise you to hear were done together with children.
1.   Bärlauch picking
Very early in the spring season, there's Bärlauch picking. Bärlauch is a leafy green wild garlic plant that grows in abundance throughout the forests floors in Switzerland immediately at the end of the winter snow. It fills the forests with a light but highly distinct garlic aroma. It's ideal to find some untrodden areas just along the Waldwege (forest hiking trails) to pick the freshly sprouted green Bärlauch leaves collecting enough to take home to cook up in a delicious creamy soup or even fresh pesto. It is important to wash or cook the Bärlauch after picking it.
Suggested link: https://www.zuerich.com/de/besuchen/baerlauch-saison
2.   Rödelbahn (toboggan run)
These are loads of fun regardless of whether you're a speed demon type or prefer to go down with more cautious speeds, as you have control of your toboggan brake you can choose as much adrenaline as you dare. Since the best toboggan runs are some of the longest ones (in our opinion), it means that you'll be likely to take a scenic chairlift or cable car ride up a mountain to have a long winding exhilarating ride down the mountainside.
The Rodelbahn at Pilatus has a particularly nifty return hauling system in which riders are towed backwards up the hill which grants them a particularly scenic ground-level ride at a leisurely pace conveniently back up to the start point.
Suggested link: http://www.rodelbahn.ch/
3.   Gleitschirmfliegen Schnupperkurs
(Paragliding Taster Course) – Ordinarily paragliding would be for just the grownups, but at 11 years old we were in the St Gallen region where our daughter was allowed to join the action. We spent the day getting a taste of what it's like being fully geared up and running down a practice slope solo at full pelt pulling a paraglider aloft to become airborne, though it was nothing much higher than safely skimming a several few metres above our heads parallel to the grassy incline surface. The instructors assured us that the fabric of the old mini paraglider that my daughter was pulling was so porous that there was no realistic chance of her becoming airborne enough to soar up into the sky. In an introductory course, typically the first day is spent on a gentle grass incline, there are no actual cliffs or heights involved.
4.   Husky dog sledging
You may have thought sledging was only for winter, but not so. The seasons for Husky Dog Sledging are winter and also spring. Some years ago it was possible to book husky dog sledging rides which took place on the outskirts of Zürich. Though when we went, there was no snow, we were nevertheless indeed pulled through the forest by a full team of husky dogs that were trained for sledging, albeit we were riding in a "wheeled-dogsled." Enjoy the experience of seeing a team of dogs working in harmony and find respect in how much each of the dogs plays a defined role in the pack.
5.   Downhill gravity scooter tour
Even if you've never spent time riding scooters before, it's an incredibly pleasant cruise to ride downhill on long slow winding paved roads on a scooter bike. With no pedals to worry about, there's no exertion required, and you are in control of your speed with the brake. Downhill bike-scootering is a splendid panoramic alternative to taking the gondola down the mountain, and it's suitable for anyone with basic biking skills including smaller children who can ride standing in tandem with adults.
Suggested link: https://www.titlis.ch/en/activities/summer-activities/scooter-bike
6.   St. Beatus Höhlen (Caves)
Many caves in Switzerland are open to the public for visiting, with St. Beatus being just one of them which is reachable from Thun by ferry or bus. If you happen to choose to go there on a beautiful day, the bus ride has such stunning views of the Thunersee (lake) that you may be tempted to hop off the bus early and come back on a more dreary day for the caves. However, you would miss out on a beautiful view from the up on the side of the mountain where the cave visiting centre & cafe is perched. For those with buggies, be warned that there is a steep winding walk to reach the entrance from the road including several steps, so this is not recommended for the faint-hearted. There is also no wheelchair nor stroller access for touring the caves, so everyone needs to be prepared to either walk or be carried throughout the cave tour as there are steps and steep stairways throughout the caves. It is also cold inside the caves being a constant 8-9ºC all year round, so it's important to bring something warm to wear.
Suggested link: http://www.beatushoehlen.swiss/
7.   CERN
This is the European Organisation for Nuclear Research just outside of Geneva where the largest particle accelerator in the world exists, in fact, it is so large that it crosses the border into France. CERN is the biggest physics laboratory in the world where thousands of scientists from around the globe are busy working together researching questions about the origins of matter and the universe. It is possible to take a free tour of CERN that includes descending 100 metres beneath the ground where the 27km long accelerator ring resides. In our amusement, my teenage daughter and I watched the Ron Howard film "Angels & Demons" that featured a heavily dramatised antimatter creation scene which we delighted in comparing to the real-life environment at CERN. In comparison to the film, we found ourselves standing in a remote computer room where there was not a single white lab coat seen, rather instead we met some casually dressed friendly-looking scientists who were happy to answer any questions we could think up. Also curiously, at random intervals, a sound bite of Queen's "Another one bites the dust" played aloud which signified whenever another collision particle was momentarily detected, which barely raised an eyebrow of the scientist anymore. CERN is also famous for being the birthplace of the World Wide Web.
Suggested link: https://visit.cern/
8.   Seilpark (ropes park)
Although heights are not for everyone, there's a range of rope parks across Switzerland that cater for a wide variety of participants. Seilparks are adventure parks that have high-rope obstacle course which can include climbing, balancing elements, rope and cable bridges, high-lines, zip-lines, rope swings, and even sometimes free-fall jumping off platforms from the top of the tree canopies. They give visitors a chance to experience many different courses and creative challenges, at varying heights and skill levels, without needing any prior specialised climbing experience. Some Seilparks offer low-level (and even some ground-based) obstacle courses ideal for small children, while others range up to the most challenging courses suitable for adventurous adrenaline junkies. Safety is always paramount, and every Seilpark that we visited ensured that the safety equipment and instructions are clearly understood. Most Seilparks are situated outdoors amongst nature, so even if you are only accompanying your family or friend without joining the action, you're likely to find yourself in an attractive place for a picnic.
Suggested link:  http://www.seilpark-rigi.ch/
Suggested link:  https://www.pilatus.ch/en/discover/pilatus-rope-park/
9.   Bodyflying
Also known as indoor skydiving, bodyflying is where skydivers hover on a cushion of air in a vertical wind tunnel. Up until recent years, there was an original open-air Bodyflying wind tunnel in Rümlang, just outside of Zürich, but nowadays the newer wind tunnels for indoor skydiving are all enclosed in plexiglass. You don't need to be athletic to enjoy your first experience in bodyflying because first-timers are all accompanied by trained instructors who are skilful in doing all the balance-work so that you can truly enjoy the feeling of flying in the air with nothing more than a jumpsuit and crash helmet. Surprisingly, the most challenging thing you may face is allowing your body to remain relaxed and pliable while in a flying position, however, the instructors help guide you with this in your flight so long as you can follow quite simple instructions. Bodyflying is undoubtedly an unforgettable and thrilling experience, and it's open to children as young as five years old and upward.
Suggested link: http://www.bodyflying.ch/
10.   Geocaching
Hidden throughout all of Switzerland are over thirty thousand discreet treasure caches, better known as geocaches, which are locatable by using either a GPS or mobile device. The real joy in hunting for geocaches comes in heading outdoors to find new places and to solve clues to reveal where each cache has been placed. In fact, around the globe, there are millions of geocaches, secretly hidden in almost every country, and you may be surprised to find out how many are located near you, no matter where you live. Geocaches come in a variety of sizes and shapes, and can often be custom designed to fit snuggly camouflaged in plain sight which means you're not likely to encounter them unless you are looking for one. Every cache is unique, and with varying degrees of difficulty to find them, some are very easy to find while others may challenge you to your absolute limits. All caches contain a logbook so that finders can log their visit, and depending on the size it may also hold some non-perishable goodies inside that can be traded. If you're looking for an activity that can be enjoyed together with the whole family that inspires a sense of natural adventure, geocaching is highly recommended and full of surprises.
Suggested link: https://www.geocaching.com/
Some other suggested activities in spring, also possible with children, include:
---
About the Author
Miki grew up in Australia, but after pursuing her engineering career and doing business in several different countries, she ended up landing herself in Switzerland where she continues finding the life of Swiss bliss still so irresistible. Miki credits her eldest daughter for getting her involved in performing aerial silks and youngest baby daughter for melting hearts. She is a co-founder of Zurich Salon and former founder/organiser of Ignite Zürich.
In partnership with Newly Swissed
Newly Swissed is the online magazine about Switzerland, founded in 2010. We are experts at making brands and stories come alive through content marketing. We cover the latest trends in Swiss culture, design, events, oddities and tourism, as well as tips on how to settle in Switzerland.
More from International School Parent
Find more articles like this here: www.internationalschoolparent.com/articles/
Want to write for us? If so, you can submit an article here: www.internationalschoolparent.submittable.com