Article
The Future of Education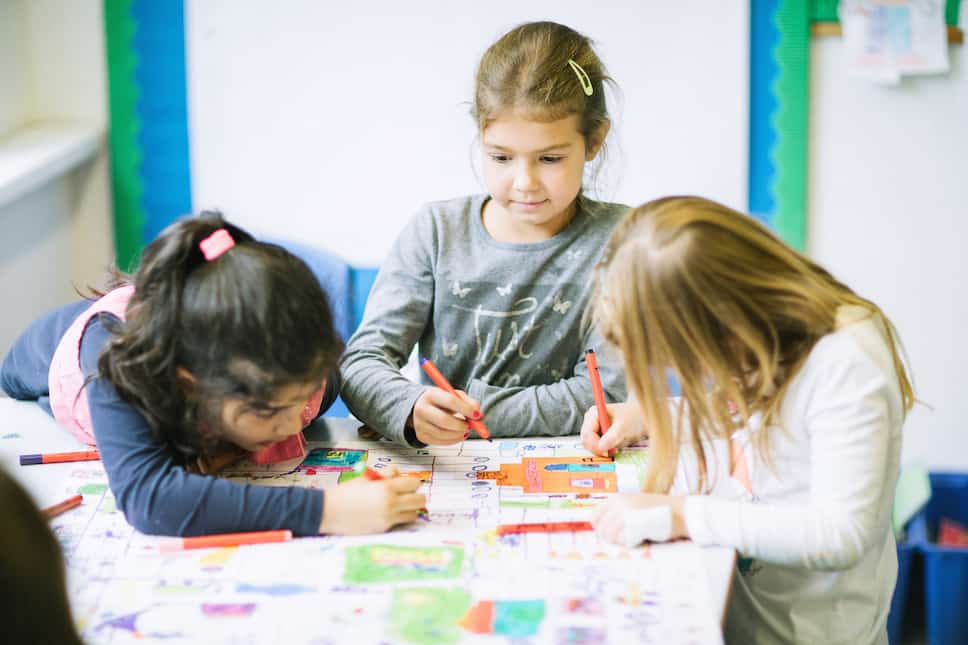 By Barry Dequanne, Director of the International School of Zug & Luzern (ISZL)
In a recent conversation with an International School of Zug & Luzern (ISZL) parent, he commented on how much he values ISZL's approach to education and the school's learning process. When pressed for specifics, he highlighted an appreciation of the achievements associated with academic success, such as impressive International Baccalaureate (IB) test scores, but, even more importantly, he values the focus on holistic development. He further elaborated by sharing how much he holds in high regard ISZL's emphasis on social development, emotional intelligence, confidence levels, independent thinking, and communication skills, among others. I share these sentiments, both from my personal and professional perspectives but also based on the feedback I have received from staff, parents, and students. One of ISZL's greatest strengths is our teachers' abilities to personalise learning in a manner that enables our students to realise their potentials in individual and unique ways. ​
This approach to teaching and learning also corresponds with the Organisation for Economic Co-operation and Development's (OECD) recent report on The Future of Education and Skills 2030. The document is guided by a shared vision stating, "We are committed to helping every learner develop as a whole person, fulfil his or her potential and help shape a shared future built on the well-being of individuals, communities and the planet." With a broad focus on global challenges that are economic, social, and environmental in nature, the 2030 vision maps out an educational view that is framed by five distinct but related approaches.
The first frame is a belief in the need for broader education goals that encompass individual and collective well-being. The concept of well-being goes beyond material resources to include quality of life as defined by, for example, health, civic engagement, social connections, education, security, and life satisfaction.
The second frame is related to learner agency and the ability of our students to navigate through a complex and uncertain world. This focus involves both the building of a solid academic foundation and an approach to personalised learning.
The third frame is the ability to apply a broad set of knowledge, skills, attitudes, and values. This focus is about students' abilities to mobilise their learning to meet complex demands.
The fourth frame is about taking responsibility for our society and future, in addition to the corresponding and necessary student competencies. These competencies will require that students be innovative, committed, and aware with respect to creating new value, reconciling tensions and dilemmas, and taking responsibility.
The fifth frame is about the design principles needed to move toward an eco-system in which a students' different competencies are inter-related in nature and application.
While the challenges for schools to adapt to this philosophical shift are not insignificant, it is encouraging to see a movement among schools to embrace these design principles. ISZL has made important progress in these areas, though the fifth frame is, perhaps, the most challenging as the inherent structures of schools, including our physical spaces, do not necessarily lend themselves well to the concept of inter-related, cross-curricular learning and the application of competencies in a holistic manner. As with any change, this is a process that takes time and commitment, which will also continue to build on past developments while furthering current initiatives and implementing future strategies.
Fortunately, the OECD provides a framework to guide learning programme development through concept, content, and topic design that includes a focus on student agency, rigour, coherence, alignment, transferability, and choice. This framework also relies on process design and the related importance of teacher agency in which teachers are empowered to use their professional knowledge, skills, and expertise to develop an authentic, inter-related, flexible, and engaging learning programme. It is these design principles that ISZL embraces as we continue our work to ensure our students are benefiting from the most relevant and meaningful learning programme possible.
Reference: Organization for Economic Co-Operation and Development (OECD). (2018). The Future of Education and Skills 2030. Retrieved from http://www.oecd.org/education/2030/oecd-education-2030-position-paper.pdf
Author Bio:
Barry Dequanne is the Director of the International School of Zug and Luzern. Prior to Switzerland, he worked at schools in Brasilia, São Paulo, Buenos Aires, and Swaziland.
Originally from Chelmsford, Ontario, Canada, Barry has since lived in the Canadian cities of Toronto, Calgary, Ottawa, and Waterloo, in addition to living overseas working in the field of International Education for over twenty years.
Barry's academic background is in Mathematics and Computer Science. Shortly after graduation, he realized where his professional passion was to be found. He is currently working on his PhD in Educational Policy and Administration at the University of Minnesota.
In addition to his work at ISZL, Barry also served or is serving in the following roles:
President, Board of Directors – Association of American Schools of South America (AASSA)
President, Association of American Schools in Brazil (AASB)
Advisory Council – AdvancED International School Accreditation
Board Member – Kohinoor International School
Board Member – The International Educator (TIE)
The International School of Zug and Luzern is an independent co-educational, non-profit day school, from Pre-School to Grade 12 serving the international community of Central Switzerland. www.iszl.ch