Article
This Month at TASIS: October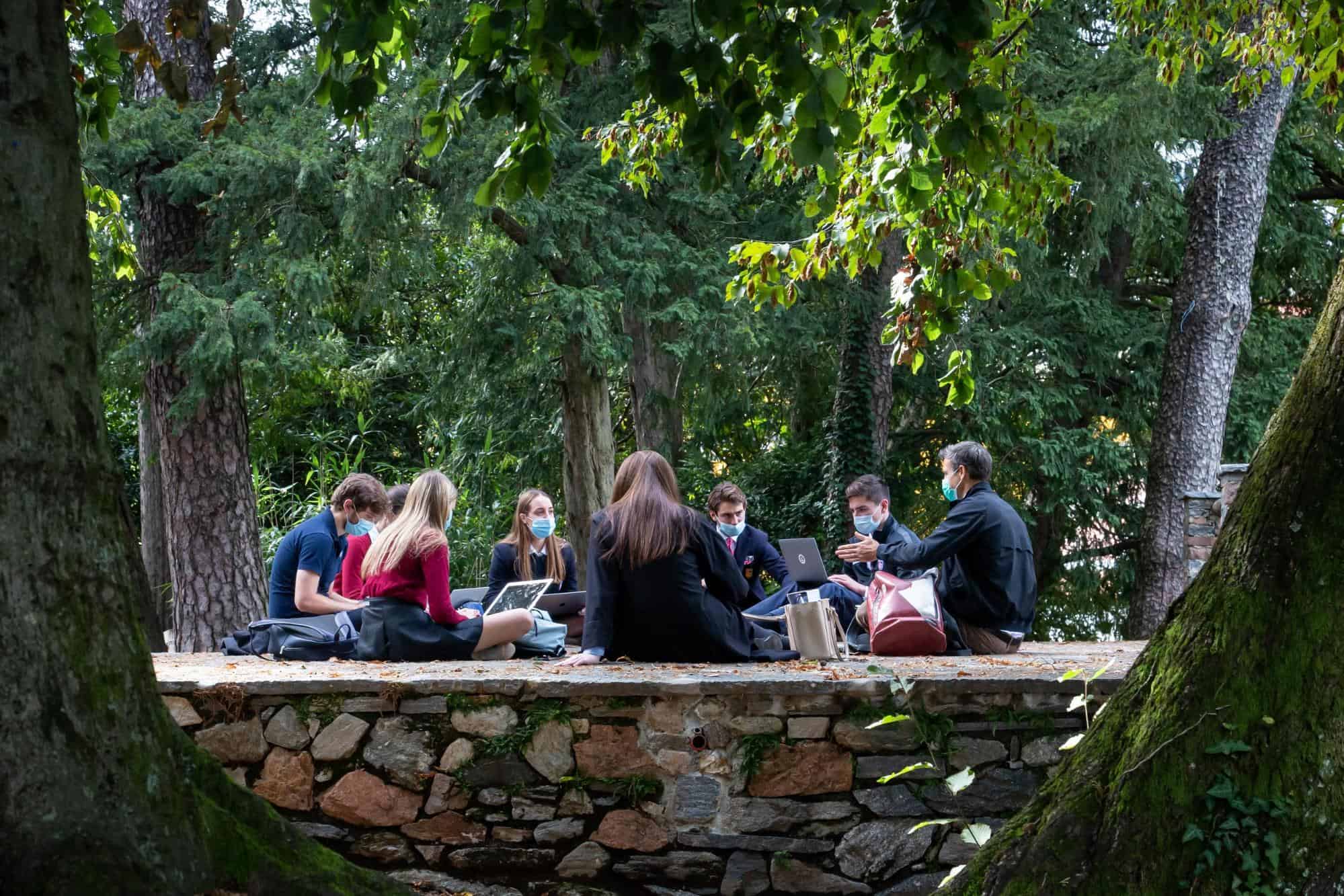 This Month at TASIS: October 2020
From a lively volleyball tournament in the Palestra to spin class on the M. Crist Fleming Piazza and Academic Travel trips to northern Switzerland, we take a photo-driven look at this past month at TASIS.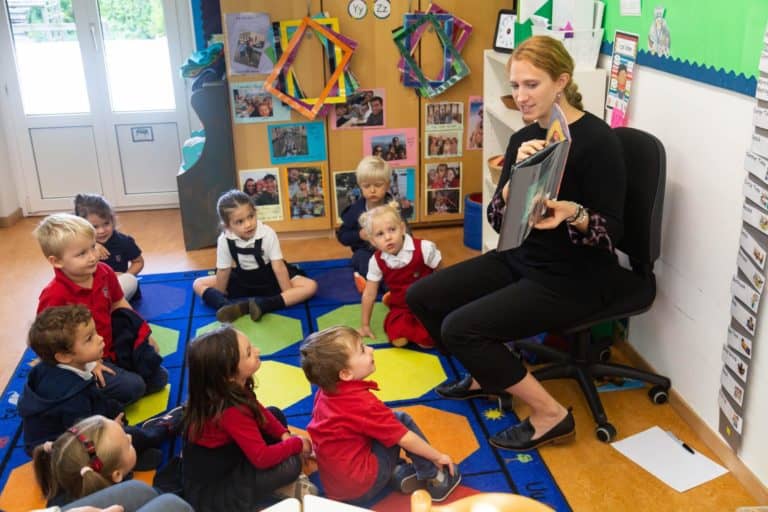 Storytime at Al Focolare
Before continuing a lesson on trash and recycling, Ms. Colleen Lataille engaged her Pre-Kindergarten students with a story about a "hungry" garbage truck.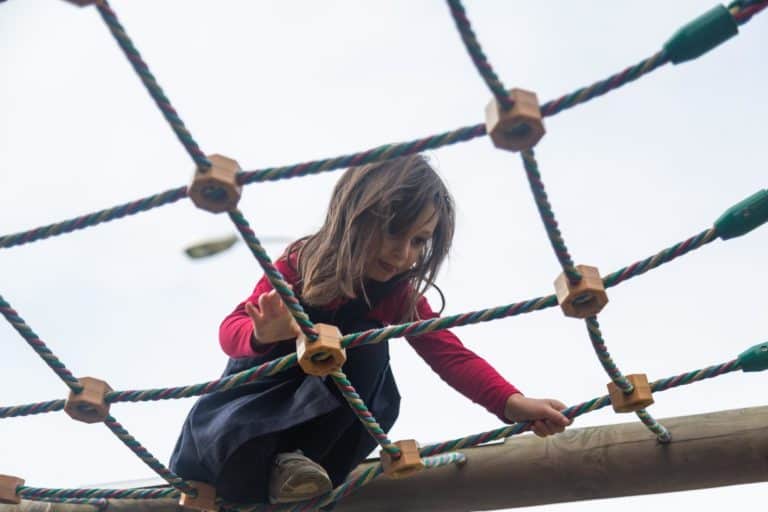 Playground Adventures
Children took a break from their studies to run, swing, build, and climb one morning at Al Focolare. Click here to see more photos from a typical day in the TASIS Early Childhood Program (ages 3-7).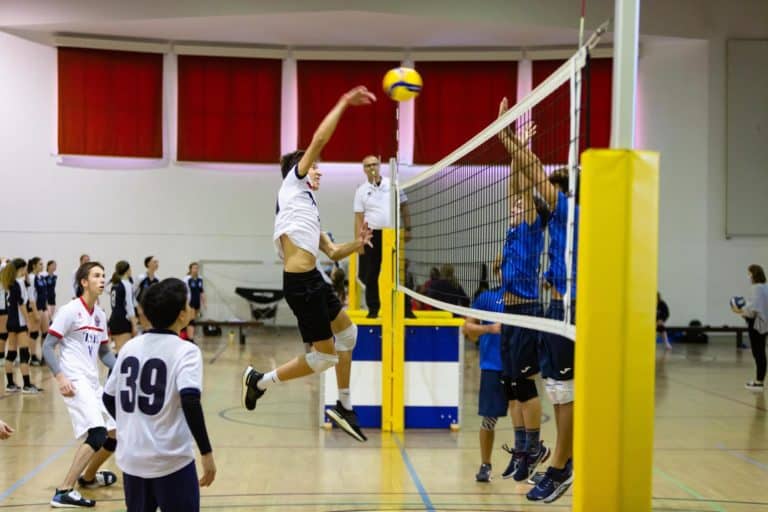 Bump, Set, SPIKE!
Cheers of celebration could be heard across campus as the Palestra hosted a lively volleyball tournament on October 3. Click the following links to browse photos of the Boys Varsity, Girls Varsity, Boys JV, and Girls JV teams in action.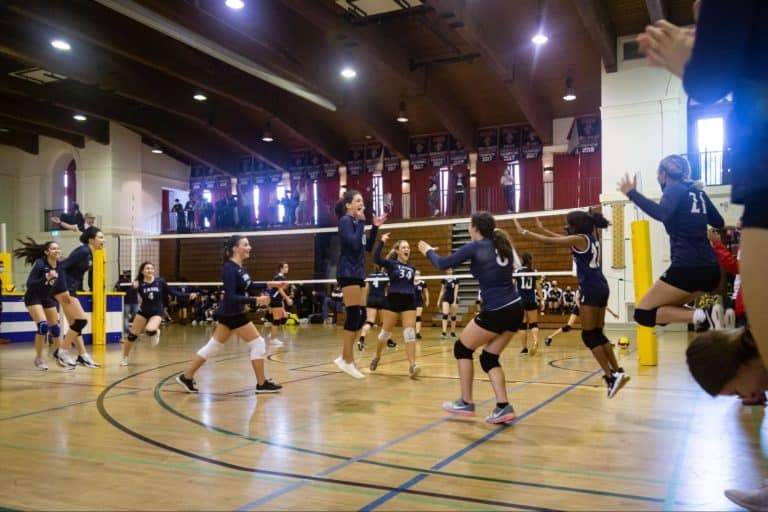 Elation in the Palestra
The JV Girls Volleyball team erupted in celebration after securing the final point in a fiercely contested match against Black Forest Academy to remain undefeated on the season.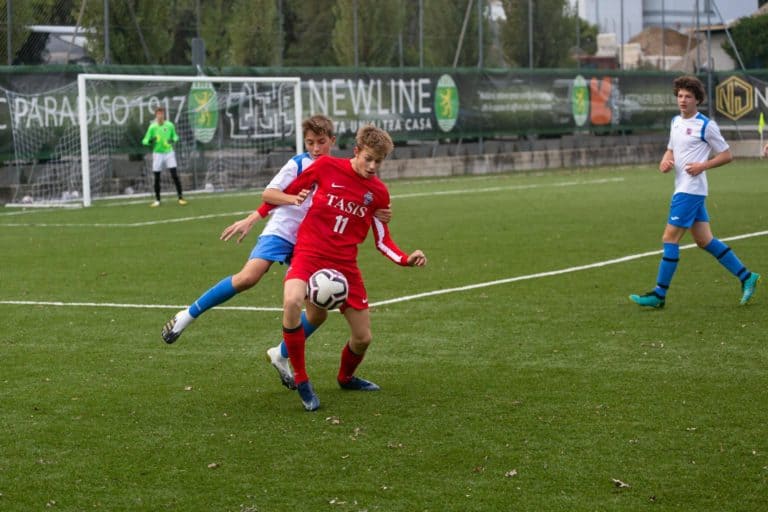 Winning the Battle for the Ball
The Varsity Boys Soccer team hosted American School of Milan in a friendly match to open the 2020 season. See more photos.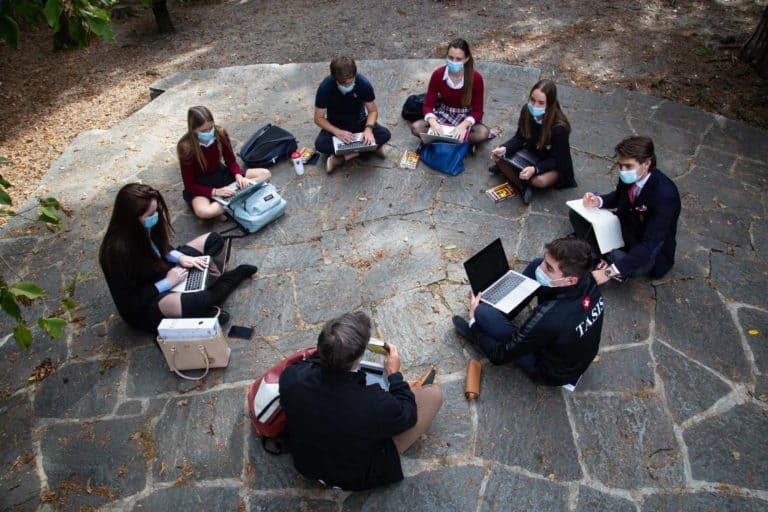 Comparative Analysis in the Outdoor Theater
Dr. Chris Love's IB English Literature 2 class took advantage of some beautiful fall weather to discuss Kamila Shamsie's Home Fire, a reimagining of Sophocles' Antigone, in the outdoor theater by Villa de Nobili.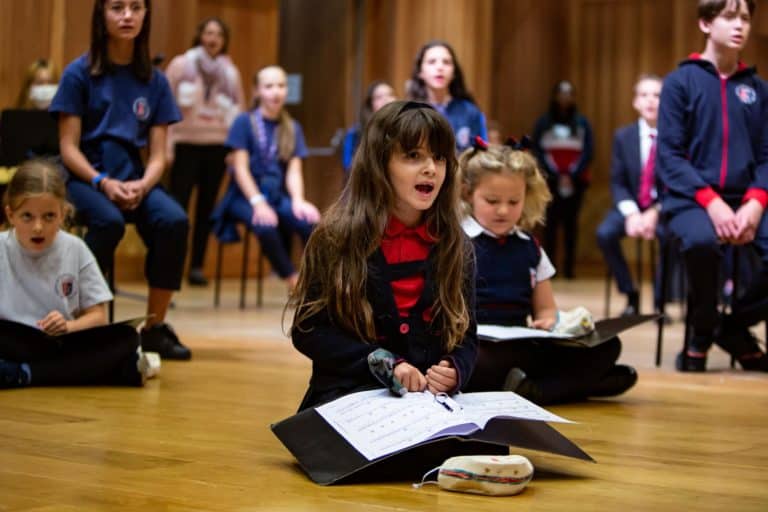 All-School Music Collaboration
The Elementary, Middle, and High School Choirs collaborated to record a beautiful rendition of "Somewhere Over the Rainbow / What a Wonderful World." Click here to view their performance in addition to remarks from Headmaster Christopher Nikoloff, a solo piano performance by Alexia Dochnal '22, and a slide show featuring images from the start of the school year.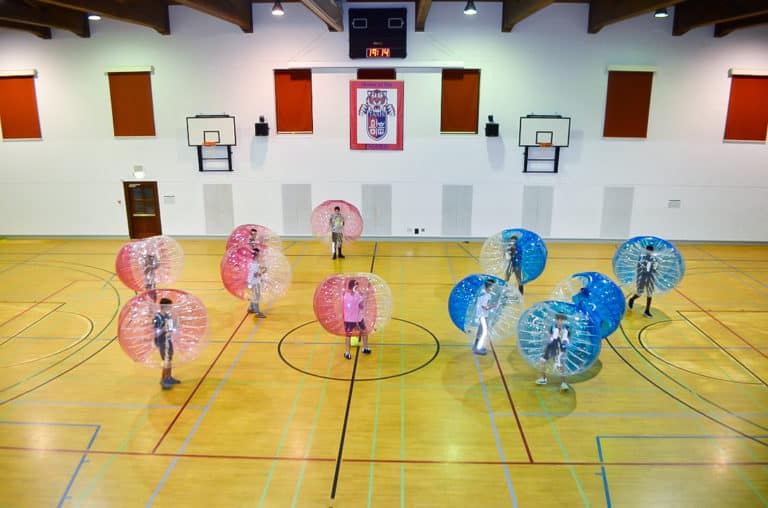 Bubble Soccer
The boys of Villa de Nobili dormitory gathered in the Palestra for an evening of bubble soccer.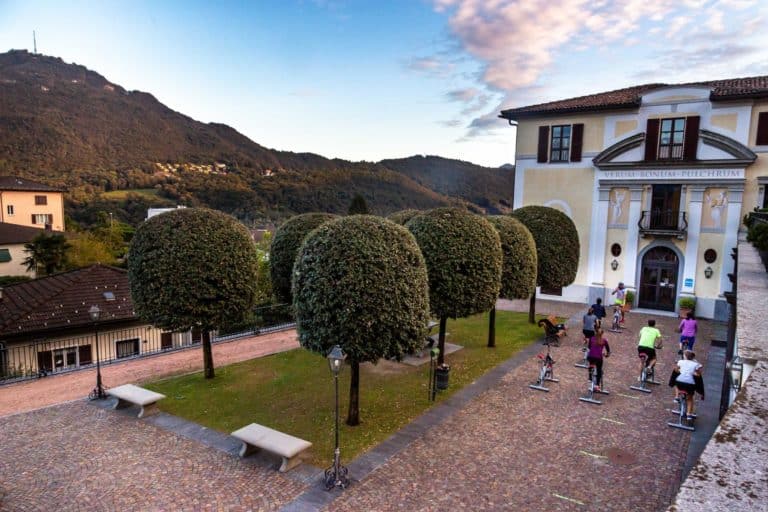 Spin Class with a View
The M. Crist Fleming Piazza—not a bad venue for faculty spin class with Mr. Daniel Schiff.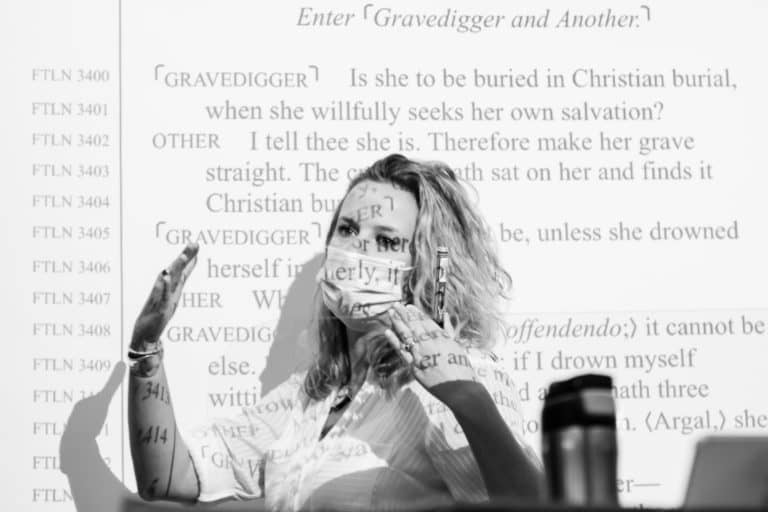 Shakespeare: Act V, Scene I
The words of William Shakespeare's Hamlet were projected on Ms. Carolyn Rosenberger as she discussed the tragedy's legendary graveyard scene with her IB English Literature 1 students on October 14.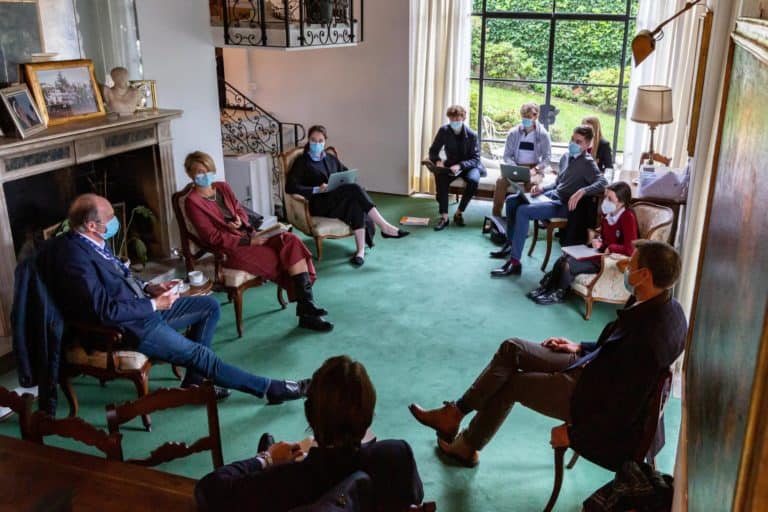 Conversing with Acclaimed Academics
The TASIS Speaker Series Committee was pleased to host John Hooper and Anna Kraczyna, who are currently collaborating on an annotated translation of Carlo Collodi's The Adventures of Pinocchio, on October 14–15. See more photos.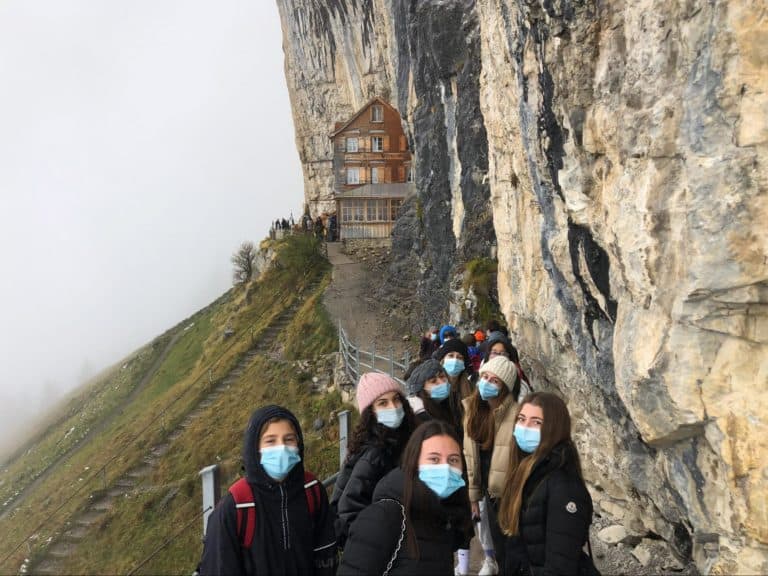 Exploring Northern Switzerland
To kick off our redesigned Academic Travel Program, 18 High School students and two faculty chaperones traveled to northern Switzerland for a weekend of Swiss adventure. The group explored Appenzell, toured the Abbey Library of St. Gallen, hiked in the Alps, admired traditional Swiss craftsmanship, and dined on local cuisine. See more photos.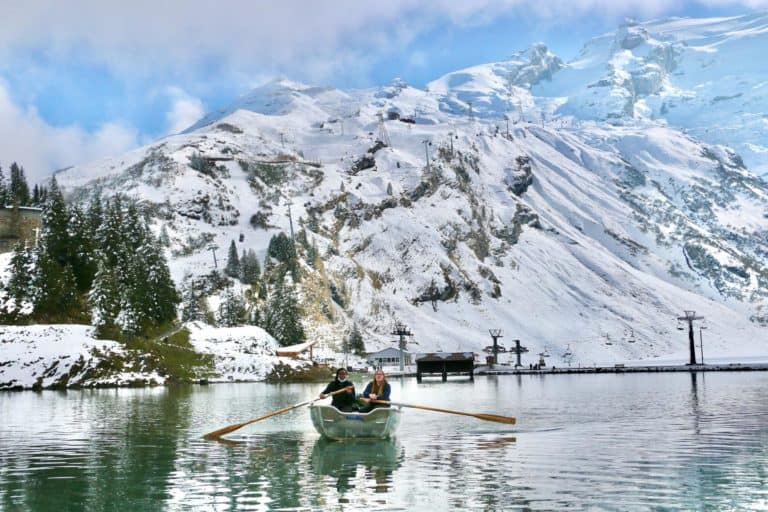 A Weekend of Swiss Adventure
Thirteen High School students and two faculty chaperones explored Engelberg on another redesigned Academic Travel trip this month. The group bundled up to hike snowy trails, row boats on a mountain lake, and explore the glacier cave and suspension bridge atop Mount Titlis, more than 3000 meters above sea level. See more photos.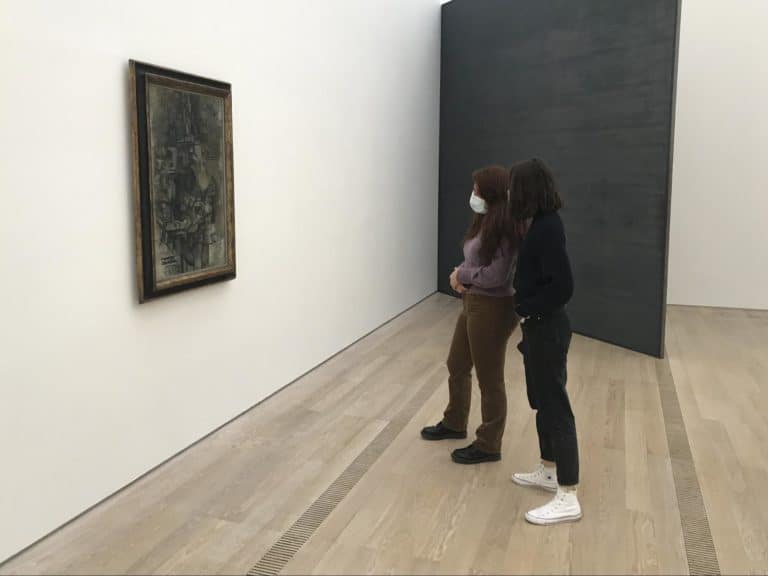 Viewing Art Firsthand
In Basel, the art and culture capital of Switzerland, a dozen High School students and two faculty chaperones visited three renowned art museums and explored Basel's Old Town.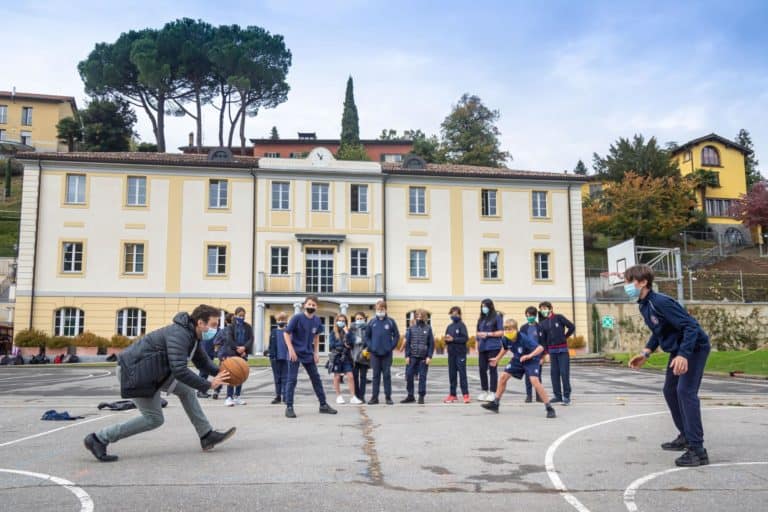 High-Stakes Four Square
Middle School students challenged Mr. Frazier-Smith to a game of four square during recess on October 16.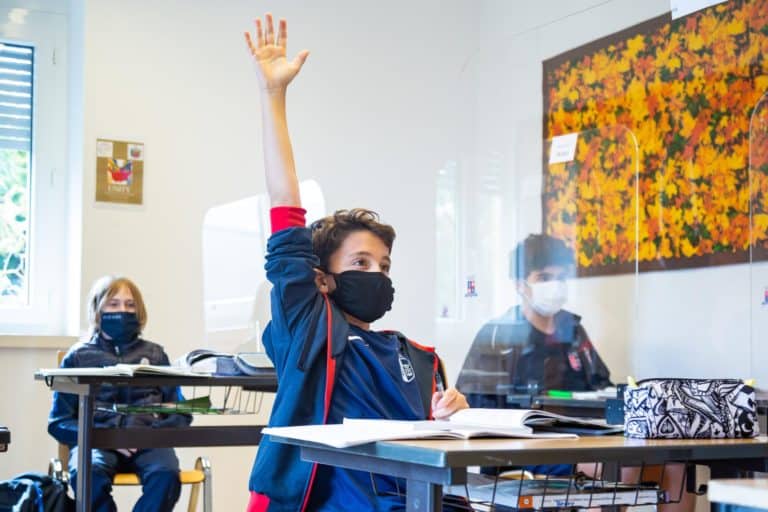 An Eagerness to Learn
A Middle School student in Ms. Perri Sartorelli's EAL class shows enthusiasm for the subject during a lesson on October 16.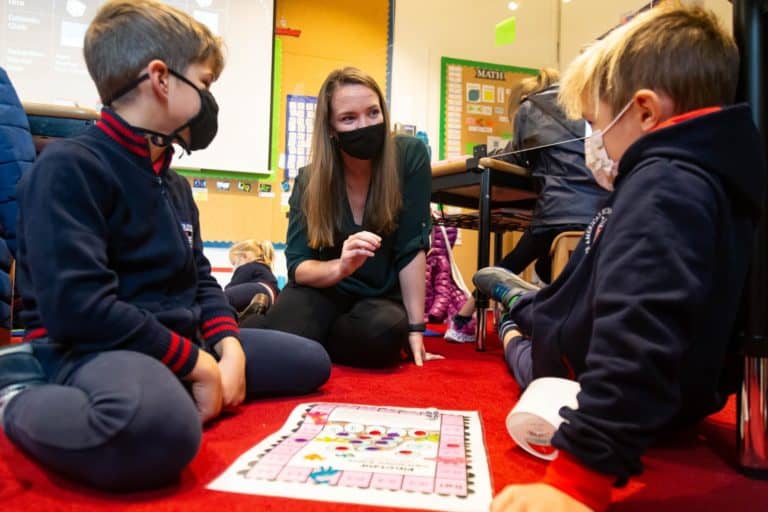 Learning Games
Second-grade students in Ms. Sarah Hertig's math class used games, workbooks, and math manipulatives to practice subtraction on October 19. See more photos.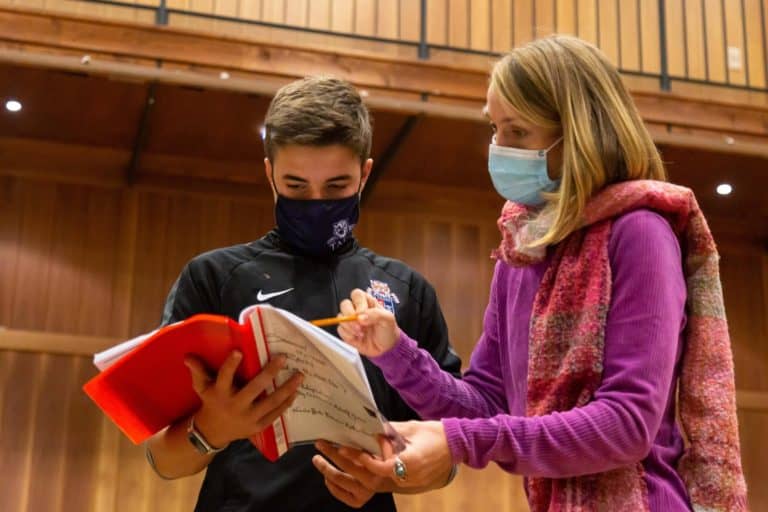 Bringing Words to Life
High School students worked on blocking during a rehearsal of Singin' in the Rain on October 19. A recording of the musical will be released in late November. See more rehearsal photos.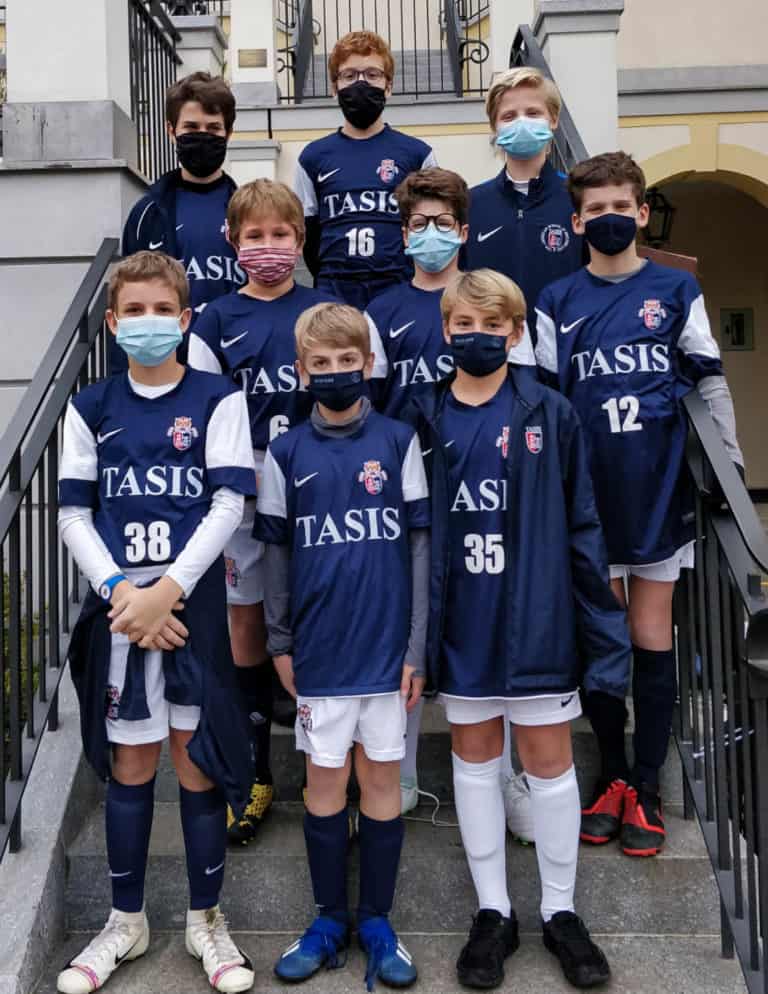 Triumphant Tigers
The TASIS Middle School Boys Soccer team bested the local Insema D2 club 4-3 in a 9-a-side friendly match on October 20. See photos of the team at practice.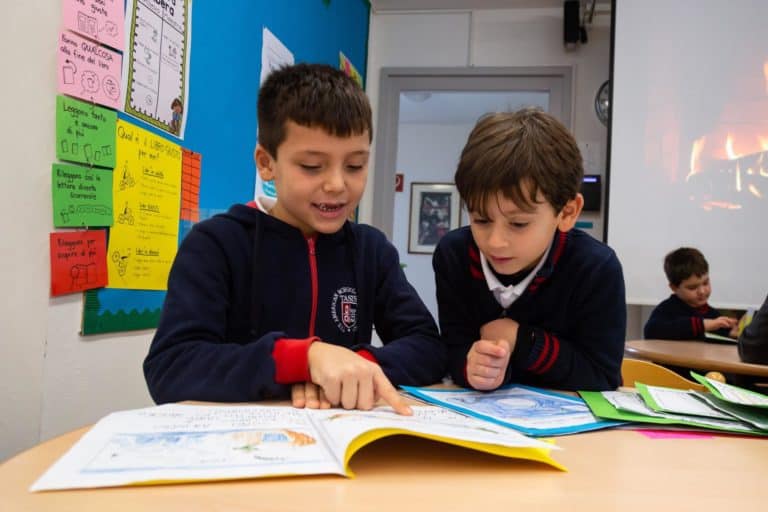 Book Publishing Party
After weeks of hard work, first-grade students proudly shared their illustrated stories during a publishing party on October 21. See more photos.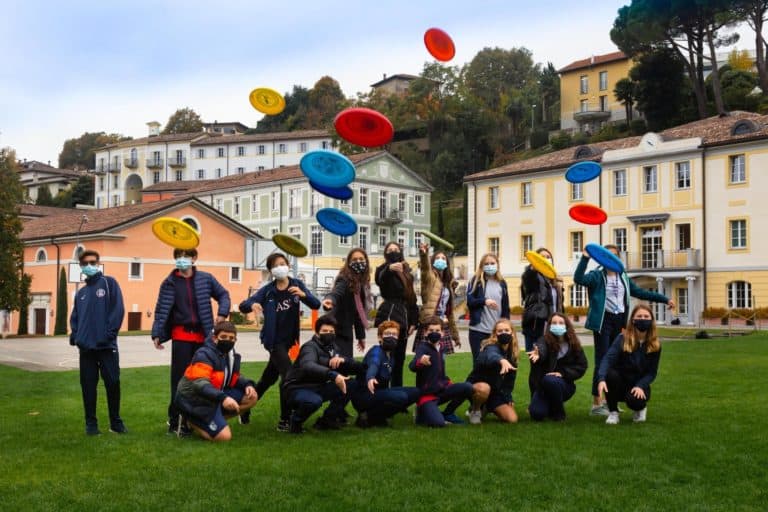 Greener Grass
Middle School students were thrilled to have Physical Education class on our new and improved grass field on October 22.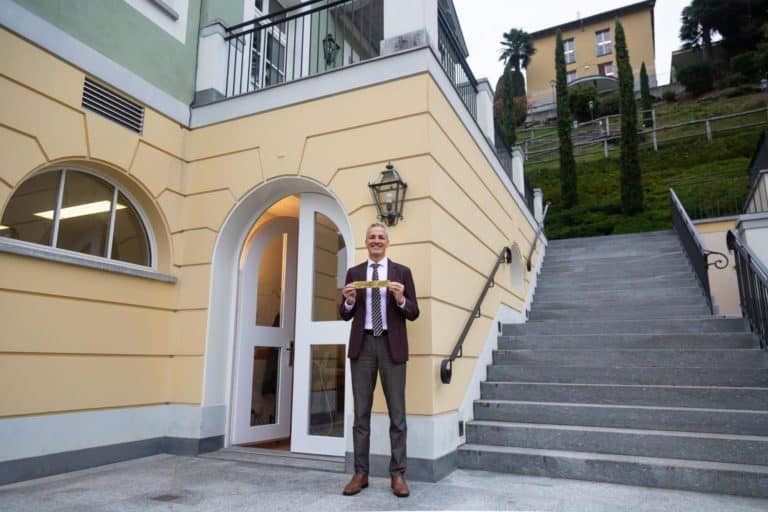 New Headmaster's Office
Headmaster Christopher Nikoloff has a new office on the Kay Hamblin Terrace, beneath the Şahenk Fine Arts Center. 
Mr. Nikoloff's move marks the first time in TASIS history that the Headmaster's Office has been situated outside of Villa De Nobili and paves the way for IB Coordinator Kathy Anderson and AP Coordinator Kerry Venchus to move into De Nobili, forming a more comprehensive High School wing in the campus's main hub.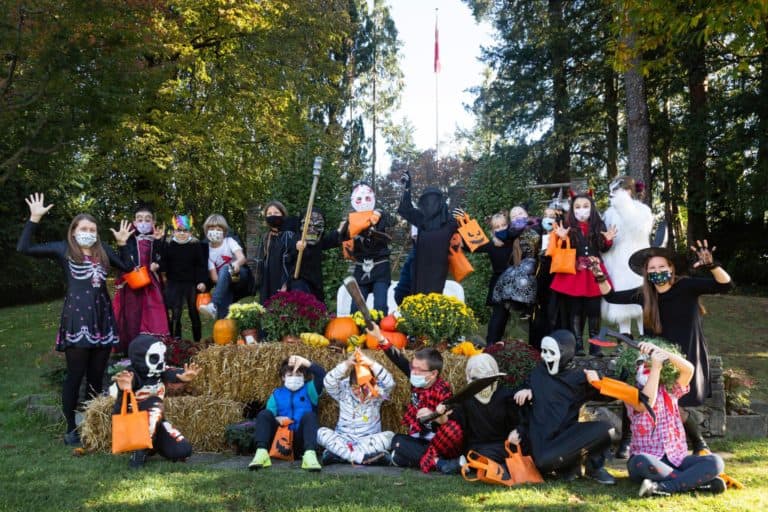 Spooky Fun Before Fall Holiday
Elementary and Middle School students headed into a four-day fall holiday with a number of fun and safe celebrations the TASIS Parent Association (TPA) helped organize, including a "trunk or treat," a "bake and treat," and costume parades. See more photos.
More from International School Parent
Find more articles like this here: www.internationalschoolparent.com/articles/
Want to write for us? If so, you can submit an article here: www.internationalschoolparent.submittable.com