Article
Up with People : combining performing arts & community service in a unique learning abroad experience.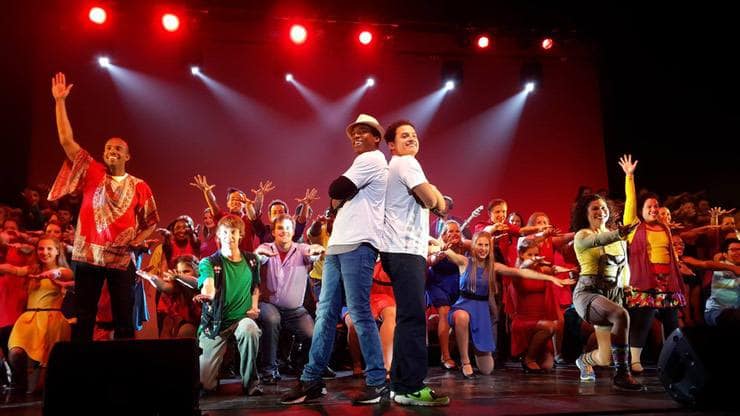 Up with People is a global education organization that empowers young people to be positive agents of change in their communities and the world. Through our unique blend of music, social action, and travel, we impact communities for the better while providing youth the knowledge and experience they need for today's complex global environment. For more than 50 years Up with People has been working to break down cultural barriers and enhance understanding to help build a more hopeful, trusting and peaceful world.
Each year, Up with People sends two touring casts made up of 100+ international young adults out into the world. Over 18 – 20 weeks, the cast will visit between 15 – 18 communities on at least two continents. Each community on our tour experiences a week-long intercultural immersion.
International Travel and Cultural Immersion
Up with People stands apart from other study abroad or gap year programs in that our cast members take part in rich intercultural experiences each and every day. Our touring cast has an extensive international travel schedule that is combined with in-home host family stays and a cast made up of members from 15 – 20 different countries. This unique structure ensures intercultural learning happens through many facets of the program, every day of the tour.
Community Action
Up with People takes the concept of service and volunteerism deeper than most. Each week, cast members volunteer with schools and non-profit organizations to meet a community need and spark action in local community members that will continue to make an impact well beyond UWP's visit.In fact, on average each cast member participates in 150 – 200 hours of service in a semester! By working directly with local citizens, together we create communities of action who understand their ability and responsibility to tend to the issues facing their cities and towns for the long term.
Examples of Community Action projects include:
School projects at elementary schools, secondary schools and universities
Community clean-ups
Visiting patients in hospitals or other care facilities
Working with special needs groups, such as those who are terminally ill, disabled, underprivileged or homeless
Painting, building, improving, etc. buildings or other structures
Outdoor projects impacting parks and trails
Performing Arts
Up with People was founded on the power of music to connect people, sparking dialogue and inspiring people and communities to action. Our musical show continues to move audiences worldwide. All cast members participate in all aspects of a live touring production. Also, our diverse Performing Arts curriculum also builds public speaking skills, confidence, leadership, teamwork and professionalism.
Experiential Education and Professional Development
Up with People is more than just a travel group, we are experiential learning at its best! Our multifaceted global education program is based on a robust curriculum that centers on key learnings that are critical for success in today's 21st century. Participants leave their tour with newly-honed leadership and interpersonal communication skills, and a deepened sense of responsibility to the world.
Students can apply to Up with People's study abroad program and earn 12 university credits (three, 4-credit classes) while traveling, and still participate in all aspects of the tour. For more information, visit:  https://upwithpeople.org/travel/earn-academic-credit/
A Week in the Life
Monday – Travel Day
After a morning departure, the cast typically travels between three and eight hours to the next city.  Travel time provides the chance for great dialogue with fellow cast members.  Upon arrival, the cast and host families meet for the first time and spend the evening getting to know each other.
Tuesday – Community Discovery Day
Community building begins as the cast and area residents explore and engage through a variety of activities such as presentations from local speakers and visiting sites of interest.  Educational workshops and discussions based on the UWP Curriculum connect the community experience to our global education instruction.
Wednesday, Thursday, Friday – Community Action Days
In each city visited, cast and community members volunteer side by side. They work with schools and non-profit organizations to meet the specific needs of the city and its people.
Saturday – Show Day
Cast members spend a day as a team preparing for the public show.  Each person supports all areas of the production, from stage set-up to costumes, cumulating with our international musical concert.
Sunday – Host Family Day
The Host Family Day provides the chance for a culture exchange between families and their cast member(s). Together they explore the city, teach each other new customs and forge a deep bond.
www.upwithpeople.org