Article
Wellness & Architecture in Switzerland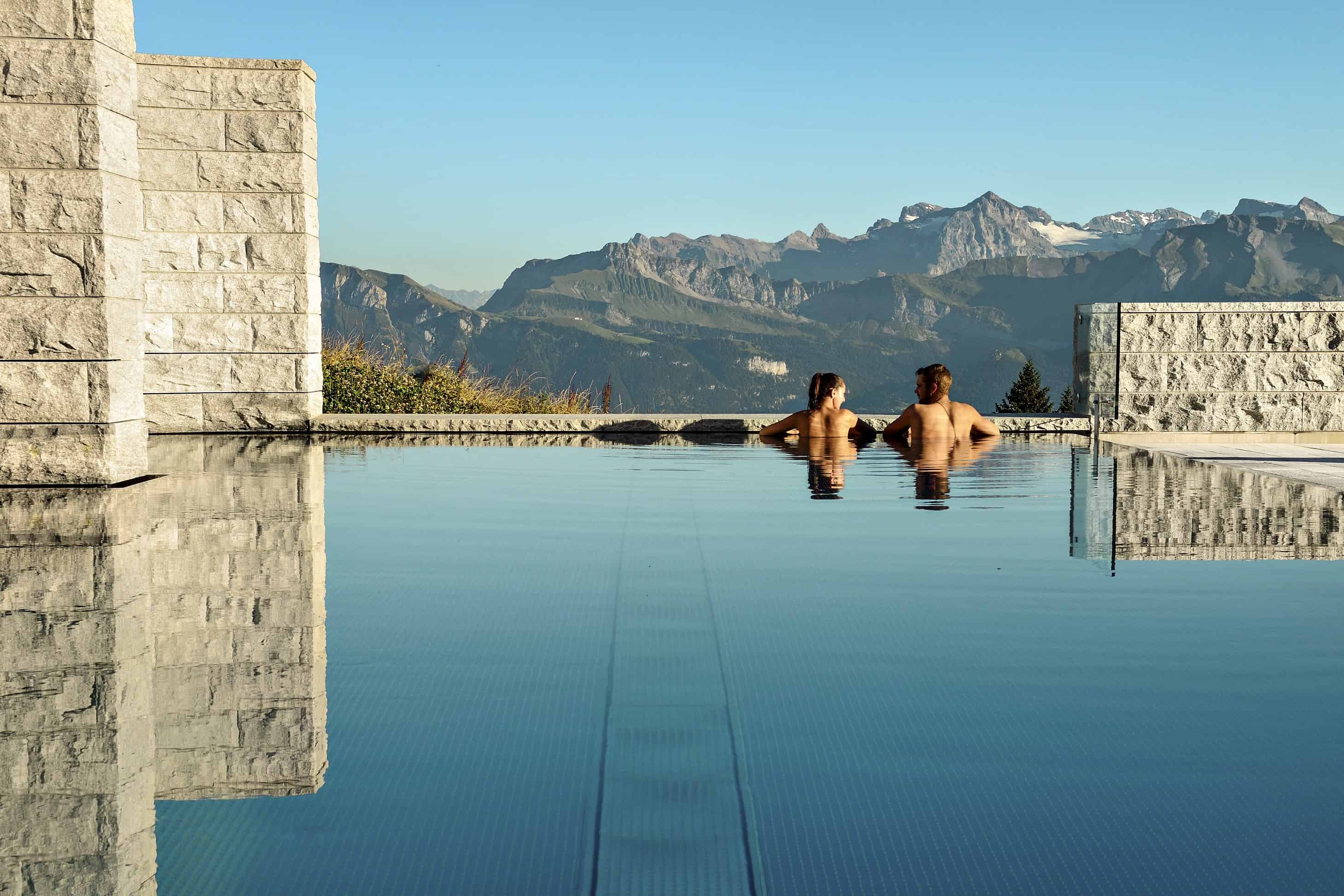 In Switzerland, a country known for its quality of life, spa breaks have been elevated to an art form. Here, wildly romantic mountain settings combine with minimalist architectures to accentuate tranquility and luxury above all else. As the weather forces more indoor focused activities, you should check out these wonderful spa options.
The Chedi Andermatt Spa (Jean-Michel Gathy)
The Chedi Andermatt Spa sits within the mountains in the stunning Urseren Valley, just 90 minutes from Zürich. As a part of the Chedi Andermatt Hotel, one can expect perfect service and world-class amenities each wrapped up in a Jean-Michel Gathy designed masterpiece that offers a sumptuous mix of Swiss modernism and Asian elegance.
One of the spa's most popular options is the Chedi Oriental Ritual that lavishes attention over each area of the body, but there are Thai, Ayurvedic and Swedish therapies available too, as well a hydrotherapy zone with Japanese Onsen, saunas and an inviting indoor pool that looks out onto the lobby of the hotel.
Visit: www.thechediandermatt.com
Mineral Baths & Spa Rigi-Kaltbad (Mario Botta)
A setting as sublime as it unique, the Mineral Baths & Spa sits on the Rigi Mountain and enjoys breathtaking views of the surrounding landscape from 1,450m above sea level. These waters have been enjoyed since the 16th century and were once a pilgrimage site for weary travellers seeking rest and revitalisation. The water is delivered, as it has always been, from the Three Sisters Spring, though today the water is heated to a pleasing 35°c.
The Mineral Baths & Spa is all wrapped up in a striking modernist façade of glass and wood, designed by renowned Swiss architect Mario Botta, and features a heated outdoor pool with phenomenal views of the mountains.
Visit: www.mineralbad-rigikaltbad.ch
Waldhotel Spa at Waldhotel Bürgenstock (Matteo Thun)
Take the ferry over lake Lucerene and board the antique wooden funicular to ascend the fir-covered mountain to the luxurious Waldhotel Spa. Treatments here are accentuated by dreamy lake views and distant sunsets.
The architect, Matteo Thun, paid particular attention to the setting, creating rooms, saunas and pools with dramatic spirit-calming views of the alps. Treatment rooms are idyllic, with natural wooden flooring, soft cuddly furnishings and huge windows that never let you forget where you are. The heated infinity pool is set into the mountains and allows for warming dips even when the snow is falling, and the state of the art treatments are enticing enough for repeat, soul replenishing visits.
Visit: www.buergenstock.ch
Tamina Therme in Bad Ragaz (Smolenicky & Partner Architecture)
The best time to visit Tamina Therme is in the winter. The exteriors are otherworldly, with large white façades broken up by giant oval windows that peer outwards to a contemporary outdoor pool. And it's all set into a lush parkland that blends into the mountain landscape and is capped with thick layers of snow in the winter.
The interiors are all monumental but pay particular attention to the Attraction Pool that feels vast and ultra modern with tall structural columns rising from perfectly clear spa waters, evoking a utopian-like sense of space – a little like being lost in a dreamworld. As one would expect from one of Europe's most popular spas, the treatments are eclectic and multi-sensory, at times completely revitalising and renewing, echoing the golden age of spa culture.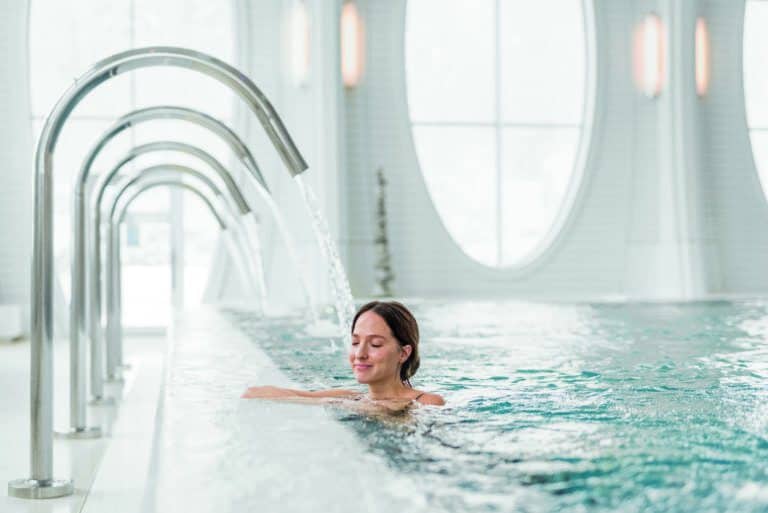 Visit: www.thaminatherme.ch
Tschuggen Grand Hotel in Arosa (Spa designed by Mario Botta)
With a private funicular designed to help guests of the hotel avoid the queues to Arosa's slopes, the Tschuggen Grand Hotel is perfect for a combination spa and ski break.
The most striking architectural feature of this Mario Botta designed spot is the mountainscape of skylights that poke out of the roof, lit in a pleasing array of muted neons in the evening. The spa rooms though are a little more grounded, dimly lit with wooden accents and clean modern lines throughout, while the treatments are spread across numerous grottos, saunas, pools and individually appointed treatment rooms.
Visit: www.tschuggen.ch
Thermalbad Zürich
This inner-city Spa is located in the former Hülimann Brewery and offers an intriguing bridge between Zurich's industrial past and its contemporary present.
The vaulted underground thermal baths with their exposed brick walls and ambient lighting, once a storage for the brewery's barrels, are a highlight alongside the rooftop pool that offers superb views over Zürich.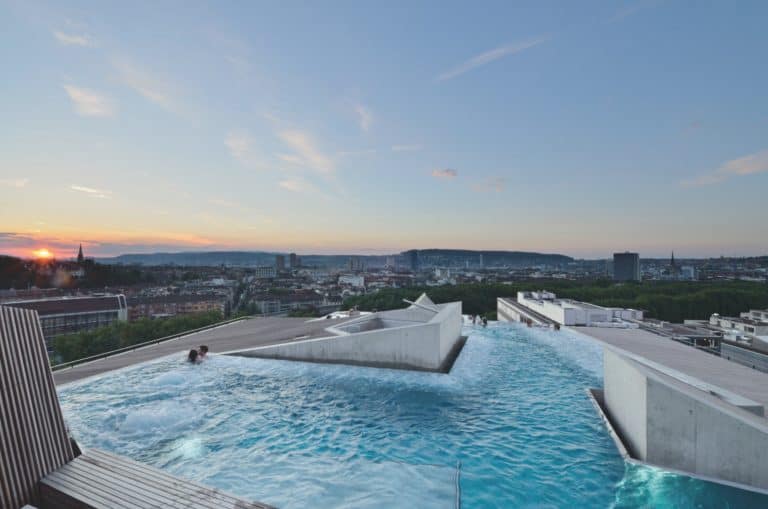 Visit: www.thermalbad-zuerich.ch Bernaqua at Westside Bern (Architecture by Daniel Libeskind)
Set within a bustling water park, Bernaqua is a perfect option for families. The spa offers a full itinerary of luxurious spa treatments alongside a waterpark and a mall, just a few kilometres from central Bern. There is an indulgent Asian Spa with numerous massage options. There is a collection of hot air saunas including a Finnish Sauna and a bio sauna, and two women only zones that includes a tranquil polar light steam bath.
Bernaqua was designed by avant-garde architect Daniel Libeskind, with an angular wooden façade with drastic windows cutting through the exterior building and flooding the spa with natural light.
Visit: https://www.bernaqua.ch
7132 Therme in Vals (Architecture by Peter Zumthor)
7132 Therme is a striking contemporary resort set into the primal landscape of Vals. It is built from 60,000 slabs of local quartz. The large outdoor pool is the architectural highlight, but the entire complex is a design lover's dream, with elegant furnishings throughout, tall windows with views to the mountains and large relaxation areas with open fires and a design that offers a welcome mix of minimalist luxury and traditional mountain comfort.
Treatments at 7132 Therme are focused on the experience of bathing, with therapies devised to relieve tension and to pamper. There are seven pools. However, the most intriguing is the sound bath resonance room. This utilises a soothing mix of water and sound to achieve a state of near nirvana.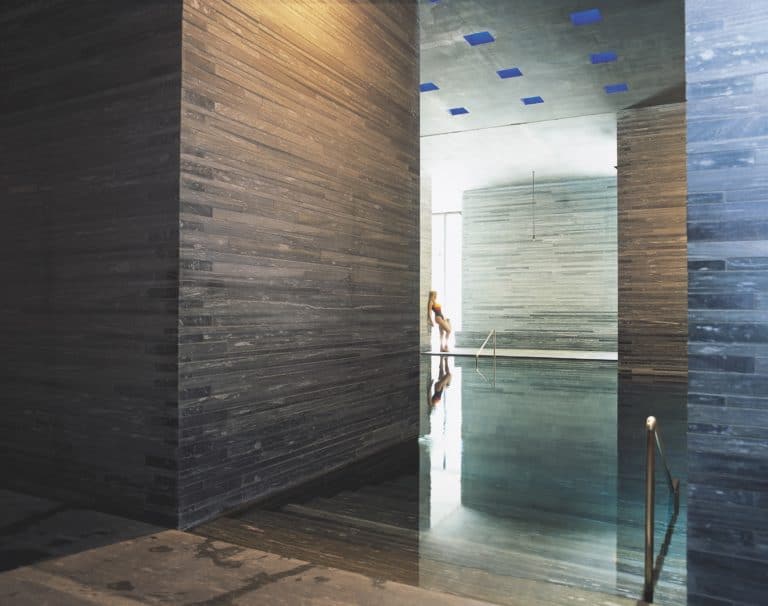 Visit: www.7132.com
Thermalbad Baden
One for the diary. Baden's new Thermalbad will open its doors in 2021 when starchitect Mario Botta has finished what promises to be an architectural highlight. There will be nine pools. These include a river pool, a steam pool and also an infinity pool located directly above the River Limmat.
Until then, you can enjoy Baden's mineral rich thermal waters at the BagnoPopolare.
Visit: www.thermalbaden.ch
More from International School Parent
Find more articles like this here: www.internationalschoolparent.com/articles/
Want to write for us? If so, you can submit an article for consideration here: www.internationalschoolparent.submittable.com