Article
Tandem IMS – Helping International and Swiss families to navigate the Swiss School System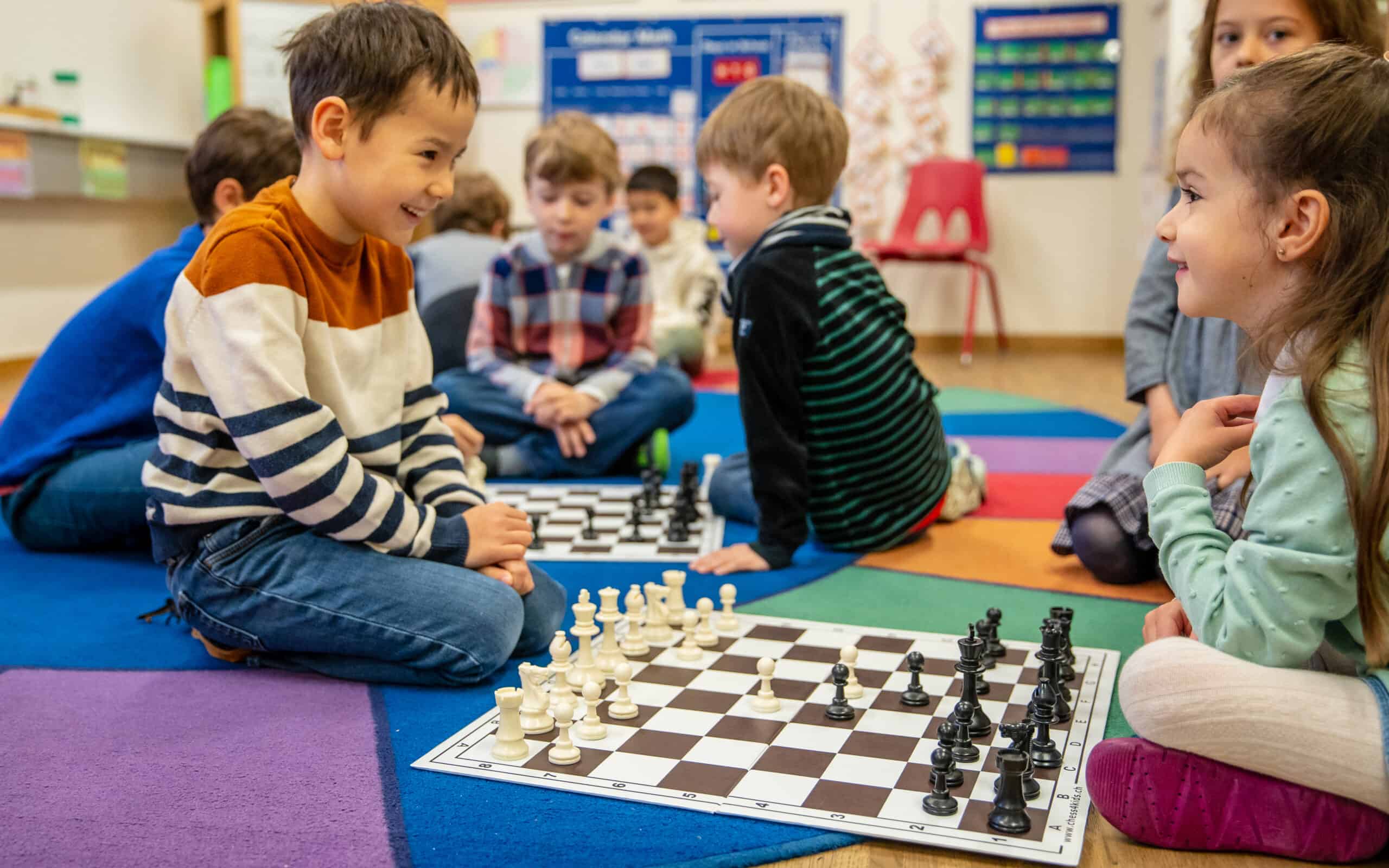 The Swiss school system can appear confusing (and even intimidating at times), especially for parents who have not gone through it themselves. The path your child can take after primary school is more like a network of branches reaching high for success. Success and the routes along the branches come in many forms, all wonderfully interconnected. Although the path to the treetop does not always appear simple and direct, many possibilities can open up along the way. The Swiss school system is more permeable than one might think at first glance.
We will show you how flexible your child's path from primary school to graduation can be and answer the most frequently asked questions that many parents ask us.
Many ways to reach the Top of the Tree
One of the first paths to reach the top of the tree is for a child to take the Gymnasium entrance examination in the 6th Grade of primary school. Passing this test means that entrance to the long-term grammar school (Langzeitgymnasium) is achieved, and the child can study here to pass the Swiss Matura (university entrance examination). This ultimately opens up the opportunities for children to study towards a bachelor's degree and perhaps even lead to further post-graduate studies such as a master's or doctorate level degree.
If a child does not pass the 'Gymi' exam or is not yet ready to take the test, many parents are afraid that they might lose the connection and have no chance for higher-level education. But we can reassure you about this – it is a misconception. The Swiss school system gives children a lot of space and opportunities to branch out and find their way. Our education 'tree chart' shows how diverse and permeable the Swiss education system can be: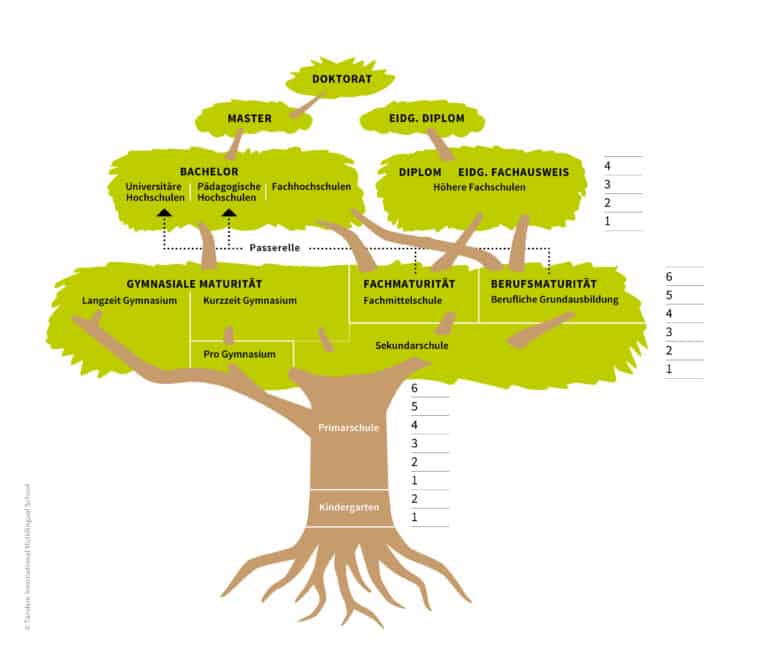 If the transfer to the long-term grammar school (Langzeitgymnasium) does not work out directly after the 6th grade of primary school, children can repeat the 'Gymi' examination after the 2nd or 3rd year of secondary schooling. By passing at this stage, the children gain entrance to the short-term grammar school (Kurzzeitgymnasium). Thus, they will gain the Swiss Matura after 4 years – just as if they had attended the long-term grammar school for 6 years.
If your child does not transfer to the short-term grammar school, they also have the option of changing to the specialised upper secondary school (Fachmittelschule), leading to the specialised baccalaureate (Fachmaturität), or they can complete a vocational education and training (VET), an apprenticeship (Berufliche Grundbildung), leading to the professional baccalaureate (Berufsmaturität).
Both the specialised and professional baccalaureate offer graduates two options: to pursue a bachelor's degree and, if desired, continue to a master's degree or a doctorate (and thus pursuing the academic path after all) or to obtain a diploma (Diplom) or a federal certificate (Eidg. Fachausweis) at a college of higher education (Höhere Fachschule), which is the prerequisite for the federal diploma (Eidg. Diplom).
Additionally, some children may transfer to an international school and study towards the International Baccalaureate (IB). This is an internationally recognised diploma that gains direct entrance to many universities, both in Switzerland and around the globe.
Frequently Asked Questions by Tandem IMS parents about the Swiss School System.
Which school can my child go to after Tandem IMS?
In a nutshell: all options remain open for your child after Tandem IMS.
We very much enjoy supporting our children (and their parents) in finding the next school that is the correct fit for each individual to continue their education. Children leaving Tandem IMS after 6th Grade have gone on to public and private grammar schools (Gymnasium – monolingual and bilingual), public and private secondary schools (Sek. A level – monolingual and bilingual) and international schools (English).
Will my child be guaranteed to go to grammar school (Gymnasium) after Tandem IMS?
Each child is accompanied throughout their educational path by their own interests and prerequisites, from which different strengths and talents develop – and so each child learns at their own pace. Therefore, we give your child a combination of guidance, support and appropriate challenges to help them decide on the appropriate path. The Swiss school system is designed for this purpose and offers many opportunities to respond to children's individual needs. Such a guarantee is therefore not necessary.
Tandem IMS is committed to supporting all children to reach their full potential and develop their own learning strategies to prepare them for the next steps in their school careers. Our goal and mission are to provide your child with the tools they need to set and achieve their own goals.
By the end of our primary school, our children will have studied at a level that matches their current ability. While some children will be ready for the 'Gymi' test in 6th Grade, others will focus on making a different transition to the next level of schooling, which is agreed upon by the child, teachers and parents. While Tandem IMS cannot guarantee to bring each child directly to a grammar school after Grade 6, we will ensure that your child is supported in being placed in the right school to support their development with the strong aim to continue towards a path of higher education.
To what extent does multilingualism benefit my child after elementary school?
Multilingualism is always an advantage. Multilingual communication skills enable every child to expand their linguistic repertoire, strengthen academic and cognitive skills and deepen social and global understanding.
Another important factor to consider is that if a child continues in the public system after Tandem IMS, having such a strong foundation in English and French, and German allows for a significantly easier transition to secondary school. This is due to Tandem IMS children already achieving at an advanced level in these subjects and can therefore allow a child to focus, with less stress, on other subjects which may require further development.
Room for personal and individual development
To sum up: In the Swiss school system, there are many ways to reach your child's goal, and there is room for many reorientations, and above all, for individual growth and development. We would be happy to explain the many possibilities to you personally. Please feel free to contact us!
If you would like to learn more about Tandem IMS, you can read the 'Meet the Headteacher' Interview by clicking here.