Article
5 reasons why studying in a family size school is beneficial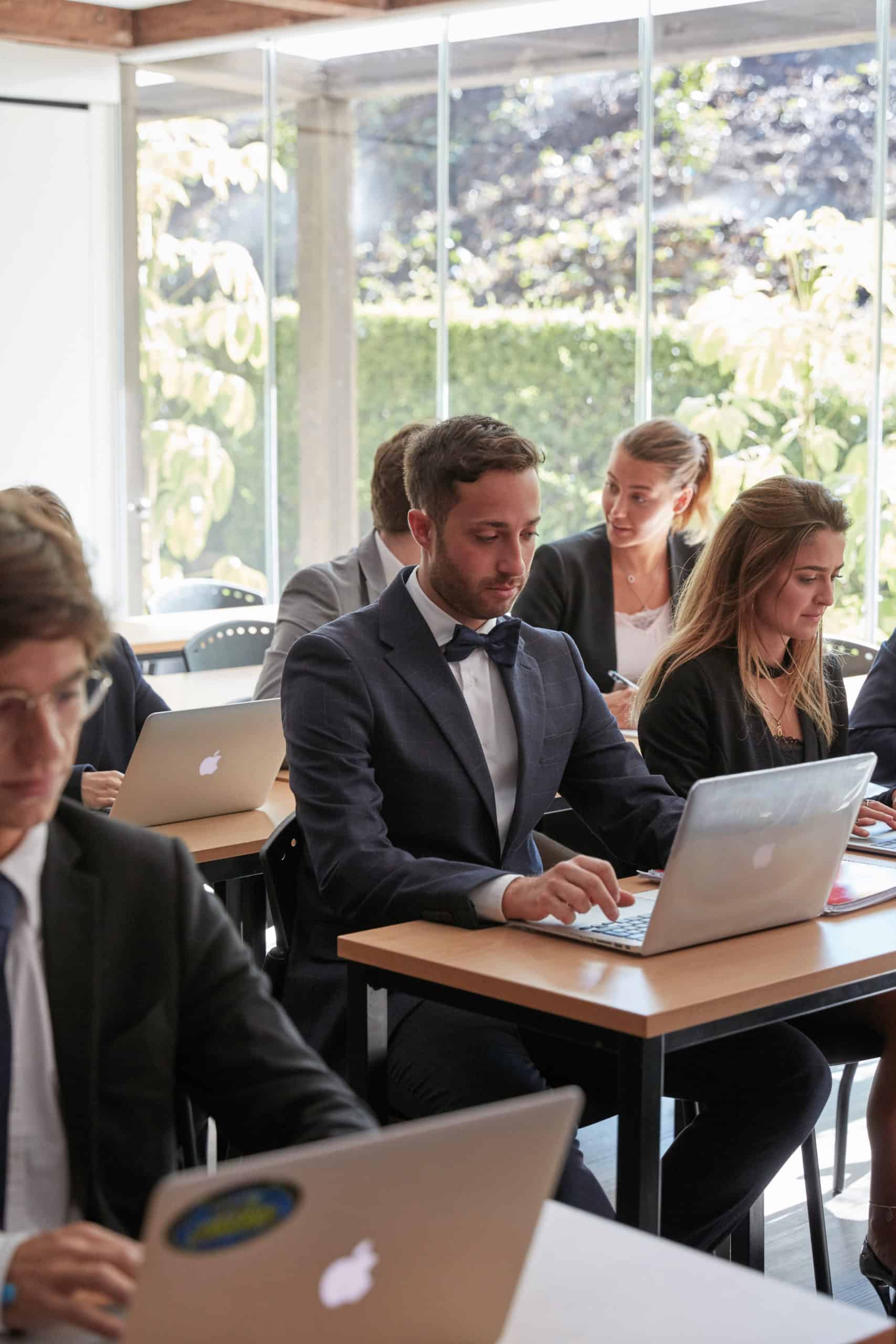 Fewer students equals smaller class sizes and a better education. That's the obvious one, but are any there more benefits to studying at a family size school? We look at the impact on learning, soft skills and professional life. Also, we speak to Andrea Chakravartti, Dean of Students at Les Roches Crans Montana, to discover how small makes a difference.
With just over 6,000 students on average at any given university in the US, it's fair to say you'd be one of many on campus. But if you're wanting a more personalised learning experience, there is an option. 'Family size' schools typically have much lower student  numbers, but retain many of the campus features of their larger institutions, plus there's additional benefits. Here's 5 big ones:
1. Focused faculty attention
With fewer students on campus, the family size learning model can give students enviable access to a personalised teaching experience. This brings both academic and wellbeing benefits. Smaller class sizes allow faculty much more visibility of everyone, enabling them to notice early on when somebody is struggling, either academically or personally.
"We have on average around 800 to 1,000 students on campus", Andrea says. "The majority of our classrooms are designed for small group interactions. The average class size for academic classes is around 30-35 students, for electives as little as 15-20 students. That's the benefit from a learning perspective, especially with Practical Arts where the classes are very small, sometimes 4 – 6 students to an instructor."
With more time and energy to dedicate to students, faculty in smaller colleges are also often able to better support professional development through extra-curricular activities outside the classroom.
"At Les Roches Crans-Montana, if there's something you're passionate about, you can create a club, find like-minded friends and be mentored by a member of faculty. It's another way they can support development beyond the classroom."
2. A transformative education
Smaller institutions tend to have closer-knit relationships, between students, faculty, staff and alumni. The result can be a stronger commitment to individual progression, experienced through unique aspects such as close interaction with senior students, more exposure to different cultures and perspectives, and subsequent soft skills that develop.
"Transformation is not unidirectional. It's co-creation. We're also getting transformed as an institution by the demands of the industry and feedback from the students"
A transformative education is, of course, in no small part down to curriculum design, impacted heavily by the prominence of internships and real-world experience. It's during these experiences that an individual can develop key life skills such as resilience, adaptability and the confidence to tackle any kind of challenge. But smaller universities do have a greater opportunity to influence the development of students in a holistic manner too. For Andrea, this transformation works both ways.
"Transformation is not unidirectional, it's not us transforming the students, it's co-creation, we're also getting transformed as an institution by the demands of the industry, by the feedback from the students. Otherwise we would be very quick in becoming redundant and outdated in the way we are actually delivering.
"After all, it's not just the knowledge we're giving to students, it's actually the ability to continue to transform themselves, because the only way to actually be successful and remain successful is having the soft skills, such as resilience and remaining adaptable no matter what comes."
3. A 'glocal' experience
If sustainability and keeping it local are important to you, then family size schools often have a more sympathetic and integrated relationship with their neighbors. They are typically a part of the community. Working closely with local associations and authorities, striking a blend between cosmopolitan international cultures on campus and local traditions and attitudes.
From a learning point of view, this integration can mean more immersive experiences through local businesses, as well as the greater likelihood of local produce being used at campus eateries. A lower carbon footprint education is an increasingly important deciding factor for many parents and students.
"They get a sense of the origin and develop feelings of connection, belonging and pride"
"We connect the student as much as possible to this local experience", says Andrea, "Roots is a nice example of how we build it into the learning, because it's a restaurant that's open to the public where students can start practicing practical arts and sourcing local products. We take them to the vineries and farms where the ingredients are coming from and they get a sense of the origin and develop feelings of connection, belonging and pride."
4. A powerful network
Though smaller than most institutions, family size schools actually offer students the opportunity to build a disproportionately powerful network. The small size and closer student community create an 'in it together' environment. This makes the whole school a network, including students, faculty, guest speakers and industry partners.
In a typical larger campus, you might hang out with the people on your program, go to the same building, eat at the same spot, and probably never mingle with anyone outside of your clique. At smaller schools, students across cohorts often interact and this has long term benefits, as Andrea explains.
"This closeness between students and faculty can form a lifelong bond. From the moment someone joins the community they feel an emotional attachment and belonging that lasts beyond graduation and throughout their professional life. Alumni tell us that they can travel anywhere in the world and if they mention Les Roches, doors open. There's an instantaneous connection, a level of trust and shared values."
5. You'll feel part of a family
"We have global values, we welcome diversity of nationalities, of languages, backgrounds and perspectives"
Ultimately, a smaller student body creates a feeling of being part of a family. Everybody is very different, but differences are welcome and you have shared values that you celebrate together each day.
"We're a global community of 97% international students from all across the world. We welcome diversity of nationalities, of languages, backgrounds and perspectives, and that's what's really important. You're finding your place, you have a sense of belonging as part of this family."
So there you have it. 5 reasons why choosing a family size school could result in you gaining more than just a degree.
More from International School Parent
Find more articles like this here: www.internationalschoolparent.com/articles/
Want to write for us? If so, you can submit an article here: www.internationalschoolparent.submittable.com