Article
Interview with Rebecca Lau, student at the Swiss School of Tourism and Hospitality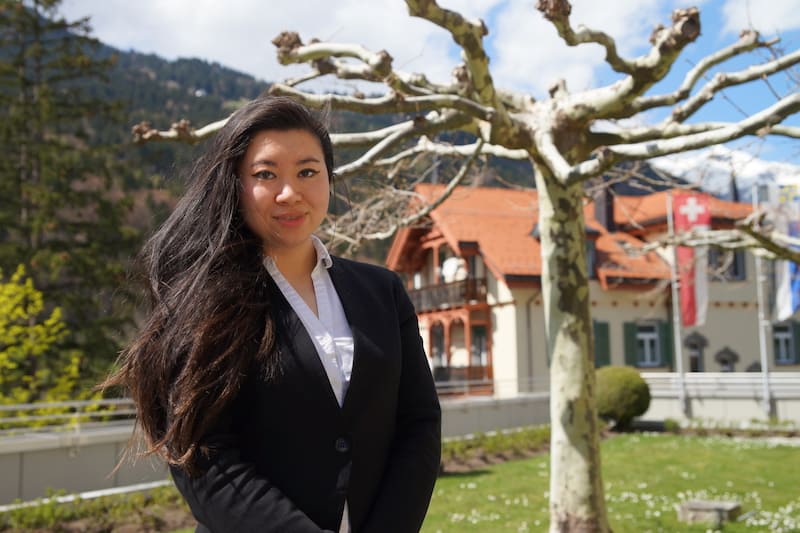 Set in the heart of Graubünden, the Swiss School of Tourism and Hospitality (SSTH), part of the Ecole hôtelière de Lausanne (EHL) Group and Swiss Hotel Association, is a College of Applied Sciences with an international student population.
One of their unique selling points is that they not only offer a high level of academic education but there is a real focus on the students acquiring a high level of practical experience as well. This is achieved not only through the internships woven into the curriculum, but also with the introduction of real-life projects and events.
https://www.youtube.com/watch?v=gXQrPEdCKZQ
Aged 22, Rebecca Lau, currently in the 2nd year (4th semester) in the English Division at SSTH, talks about her experience at SSTH and some of the projects she has been involved in. From Luxembourg, she left high school with 4 A' Levels.
What made you choose to study a professional degree?
During 6th Form, Rebecca remembers the difficulty she had in choosing what she would do after her A' Levels. Her school was very academic and she was not sure whether an academic degree was the best route for her. Rebecca's focus became less about what degree she would study and more towards what career she could pursue. Her family were already established in the industry, both in Luxemburg and China. This means that she had first-hand information about the vast array of career opportunities.
"Even though I am quite academic and speak 6 languages I need an element of creativity. I specifically chose SSTH because its degree programs are accredited by the Swiss federal government and are both academic and practical. I also have the option to study two degrees."
http://www.ssth.ch/en/programs
Will you continue at SSTH and study the Bachelor of Science in International Hospitality Management?
"Most definitely! The benefits of having two degrees, one professional and the other academic and research based will only enhance my career opportunities in the market."
How important are the internships and project-based work in finding a career after graduation?
"Internships and real-life projects are invaluable. They transform the theory into reality. More and more employers are looking for graduates with experience, who know how to do the job. Having so much work experience gives SSTH graduates a competitive edge."
Rebecca did her first internship in Abu Dhabi where she worked in reception for 3 months and then in the pastry section in a well-known hotel chain.
What projects are you involved in at SSTH?
"We work on real case studies, events and projects. For example, the business plan project. My team chose to develop a 5 year business plan. Our concept was to introduce a Korean BBQ restaurant in St Moritz, a famous tourist destination in the East of Switzerland, close to SSTH actually. We had to present to a panel of external industry professionals, who then graded us.
Korean BBQ dining is so popular at the moment that the challenge was to prove that this type of restaurant concept would not only work but exist for many years to come. We had to conduct extensive research, including interviews with restaurateurs around the world, in order to develop the concept, menus and business plan."
For more information on Korean BBQ dining, read further:  Koran Barbecue 101: How to Order Grilled Meats and Booze Like a Pro.
What is the Food Festival at SSTH?
One of the most memorable experiences Rebecca had in terms of real-life work experience was when she was involved as a member of the Food Festival Project team.
Every year SSTH hosts a Food Festival on campus where 2-3,000 members of the public celebrate international food and beverage. It is a substantially large student-run event. All the students work together to deliver a culinary and atmospheric experience for the guests. There is a variety of delicious mouth-watering dishes from at least 20 different countries. There is also a selection of beverages, alcoholic, non-alcoholic and some simply exotic! This year, is of course special, as SSTH is celebrating its 50th anniversary!
http://www.ssth.ch/en/campus-life/projects
More from International School Parent
Find more articles like this here: www.internationalschoolparent.com/articles/
Would you also like to write for us? If so, you can submit an article for consideration here: www.internationalschoolparent.submittable.com