Article
Hiking in Switzerland: the national pastime done right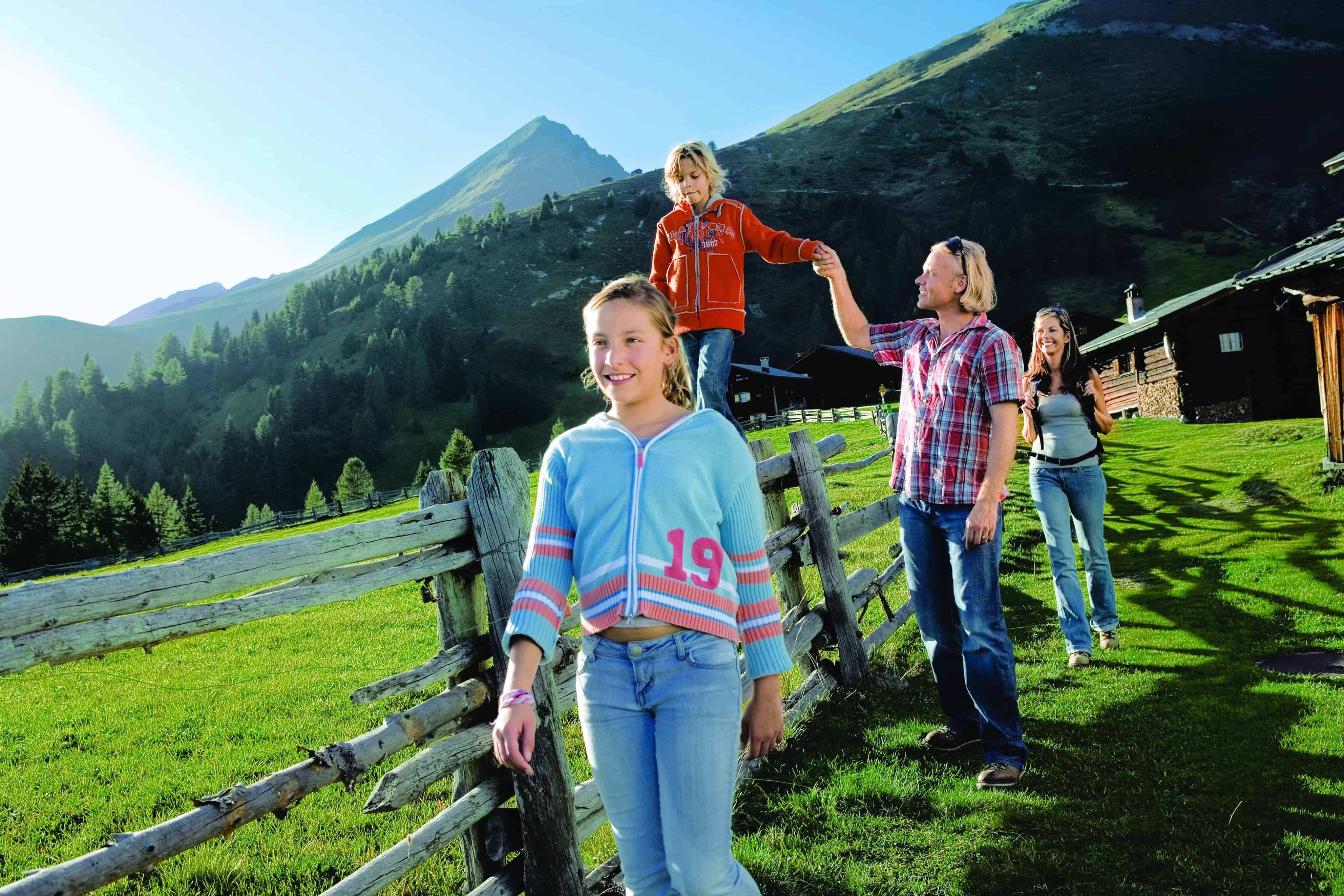 Switzerland boasts some of the longest, most varied and best-kept hiking trails in the world. A staggering network of 65,000 km of waymarked trails winding their way into every corner of the Swiss countryside means that there's something for everyone. Whether you're looking for the thrill of an alpine peak or a gentle family forest stroll, we're giving you our top tips to make it easy to explore this breathtaking landscape safely on foot. 
Before you go…
There's nothing more liberating than setting out into the countryside with your hiking boots and a map, but the Swiss landscape can be dangerous without the proper consideration and preparation. 
Plan: Hiking is physically demanding, and careful preparation can protect against any unpleasant surprises. Preparing your route and having a realistic understanding of how long it will take you is a great first step, but be sure to take unforeseen circumstances into account, like route conditions and the weather, and give yourself some extra time. It's also important to tell someone else about your trip, particularly if you are setting off by yourself. 
Assess: Overstretching yourself or those you are hiking with increases the risk of an accident and reduces your enjoyment of the route. Mountain hiking trails are marked white-red-white on the trail signs, and are at times steep, narrow and exposed to the elements. Set yourself a challenge but be realistic and assess your actual abilities when you are planning your route. Do not undertake challenging trips by yourself. 
Equip: Mountain hiking trails can be slippery and uneven, so it's important to wear sturdy hiking shoes with a treaded sole. Wherever you're hiking, make sure you take protection against the sun and rain as well as warm clothing with you; the weather can quickly change. An up-to-date map will help you orient yourself or can be used as a back-up if you're relying on an app. Consider bringing along a first-aid kit and an emergency blanket, just in case. 
Evaluate: Being tired can impair your judgment. Make sure you stay hydrated and regularly stop to eat and rest. Keep an eye on the time and any changes in the weather that could affect your hike. If you get stuck and need rescuing, call 112 (emergency services) or 1414 for Rega (mountain rescue emergency). More information
Safety signals en route
All designated hiking routes in Switzerland adhere to a signage system, so you can be sure that you're on the right route.
Sign: Yellow sign with green information stickers 
Means: Most attractive hiking trails 
The most picturesque hiking trails in the country are marked with a green sticker; those with a single digit are national routes, two digits are regional routes or three digits or a logo are local routes. Additional signposts designate these with green route information.
Sign: Yellow sign with diamond-shaped blazes and direction arrows 
Means: Safe hiking trails 
These hiking trails are mostly wide but may have some uneven surfaces or steep sections, but safety rails and steps are provided to cater to this. General need for care and attention, but no need for special equipment or clothing on these routes.
Sign: Yellow sign with white-red-white pointers and white-red-white blazes
Means: Mountain hiking trail 
These trails may cross some steep, narrow or rough terrain and have some exposed points, but these more challenging sections are made safe with ropes or chains. Users on these trails must be sure-footed, have a good head for heights and be in very good physical condition, as well as having an awareness of common mountain hazards, such as rocks falling and rapid changes in weather.
Sign: blue sign with white-blue-white pointers and white-blue-white blazes
Means: Alpine hiking trails
These routes may include glaciers, scree slopes and snowfields, where the pathways may be unclear, and there may not be any safety constructs in place. These routes require the same preconditions as mountain hiking trails; users must be sure-footed, have a good head for heights and be in very good physical condition, as well as having an awareness of common mountain hazards, such as rocks falling and rapid changes in weather. Depending on the route, they may also need some mountaineering equipment like rope, an ice pick and crampons.
Sign: pink signposts and pole 
Means: Winter hiking trails
These routes are only signposted in the winter season when the path may not be visible. While there are no particular requirements, the snowy or icy conditions may present hazards for users. You can find out more information at  MySwitzerland.com/hiking

Where to go?
The choice of route is almost endless, so we've put together some of our favourites to suit all preferences, ages and abilities. 
Family-friendly hiking trails
One of the most family-friendly routes in Switzerland is the historic Water Route in Nendaz, which offers 98 km of trails following the routes of the largest network of ancient irrigation channels still in use for the growing of apricots and raspberries. The trails (or 'bisses') are free of long ascents or descents, as the channels were built on a level plane. Make sure you stop for local delicacies at the Auberge Les Bisses. 
For some magical routes, try heading north-west to Ajoie, where a charming hike leads from the village of Réclère to the magical underworld of the Réclère grottos and on to a dinosaur park situated in the Jura forest. As the weather warms up, go on the hunt for Switzerland's oldest dwarf at the Adventure Dwarf Trail in Muggenstutz. The 5 km route is ideal for children between the ages of 4 and 10 and includes adventure stations like dwarfs' houses, a cableway and a suspension bridge for you to enjoy along the route. MySwitzerland.com/family
Circular hiking routes
in Switzerland
There's something satisfying about finding a route that takes you right back to where you started, cutting out the need to retrace your steps or organise your transport back. In Switzerland, the lakes particularly make for some logical and easy-to-follow circular routes, although these may take up more of your time than you want. 
If you want a manageable route, try the trail that takes in the moorland lakes hidden in the forest between St. Moritz, Silvaplana and Pontresina. Secluded hiking routes link these idyllic spots, which are popular bathing sites in summer, and there is a famous restaurant at Lej da Staz for a spot of lunch before you return along the edge of the St. Moritz Lake to St. Moritz Bad. 
If you're after more of a nail-biting experience, try heading across the Trift Bridge, one of the most spectacular pedestrian suspension bridges in the Alps. At 100 meters high and 170 meters long, it is poised above the Trift Glacier and offers spectacular views. MySwitzerland.com/hiking 
Going long-distance
If you're looking for a challenge, the Via Alpina should be high on your list of trails to conquer. The 390km route crosses 14 of the most beautiful Alpine passes, running across Switzerland's six cantons; there's no better way to get to know the country's diverse Alpine culture and landscape. The beauty of this route is that you can pick and choose a section, which means that it's perfect for families and all ages and abilities. It is open to walkers from mid-March onwards. MySwitzerland.com/viaalpina Highlights along the route include experiencing traditional 'Alpkultur' with a stop at one of the many Alps, or farms, some of which offer state-of-the-art showrooms and Alphütte, to see the animals and dairy processes and get a taste of the freshly-made Alpine cheese. At l'Etivaz, the cheese capital in the Pays d'Enhaut, enjoy the local hard cheese which is produced in around 130 mountain huts and was the first Swiss cheese registered in the Swiss Federal Register of Designations of Origin and Geographical Indications (AOC) in 2000.
If you'd rather limit it to two days, try the popular Ridge walk from the Bernese Emmental into Entlebuch in Lucerne canton, with an overnight stay at the highest point. The Napf ridge formation can be climbed from all directions and, while it is a challenging route, it affords some of the most spectacular views which can only be seen by those willing to make the journey on foot. Stay at the renowned Berghotel Napf at the peak point of the walk for a memorable trip. MySwitzerland.com/hiking
FUN FACTS – Hiking in Switzerland
 If all the trails in Switzerland were laid end-to-end, you could hike around the globe one-and-a-half times.
 Hiking is Switzerland's favourite sporting activity – around 50% of the population goes for hikes regularly
The country boasts some 50 000 signposts
The hiking trails are looked after by a team of 1,500 volunteers
The hiking trail network is protected by its own set of laws
Via Alpina
The Via Alpina is a classic among the long-distance hikes in Switzerland and crosses 14 of the most beautiful Alpine passes. The 390-kilometre long-distance walk starts in Vaduz, takes you through six cantons and ends in Montreux. The entire route is broken down into 20 stages, which you can cover in the form of daily or multi-day hikes. Hiking along the stages takes you through a world of ever-changing fauna and flora – just what you need to relax and recharge your batteries.
Switzerland – A hiking paradise for everybody
Switzerland's hiking trail network boasts interconnected hiking, mountain and Alpine trails, offering hikes in keeping with every level of experience and fitness. Around 50,000 signposts along the trails tell you about their difficulty, final destination and the estimated time it'll take you to get there. The routes are readily accessible by public transport, meaning that a safe and glorious hike is guaranteed provided you do some sound planning before setting off.
Typically Swiss Hotels
These hotels combine regional architecture with an authentic Swiss atmosphere and are as diverse as Switzerland itself. But all of them – from city palaces and country inns to Alpine summer houses – are characterised by their hosts, offering local specialities and an authentic Swiss experience. The perfect starting point for the next hike.
featured image credit: © Switzerland Tourism By-Line: swiss-image.ch/Christof Schuerpf