Article
Kayaking: A Home from Home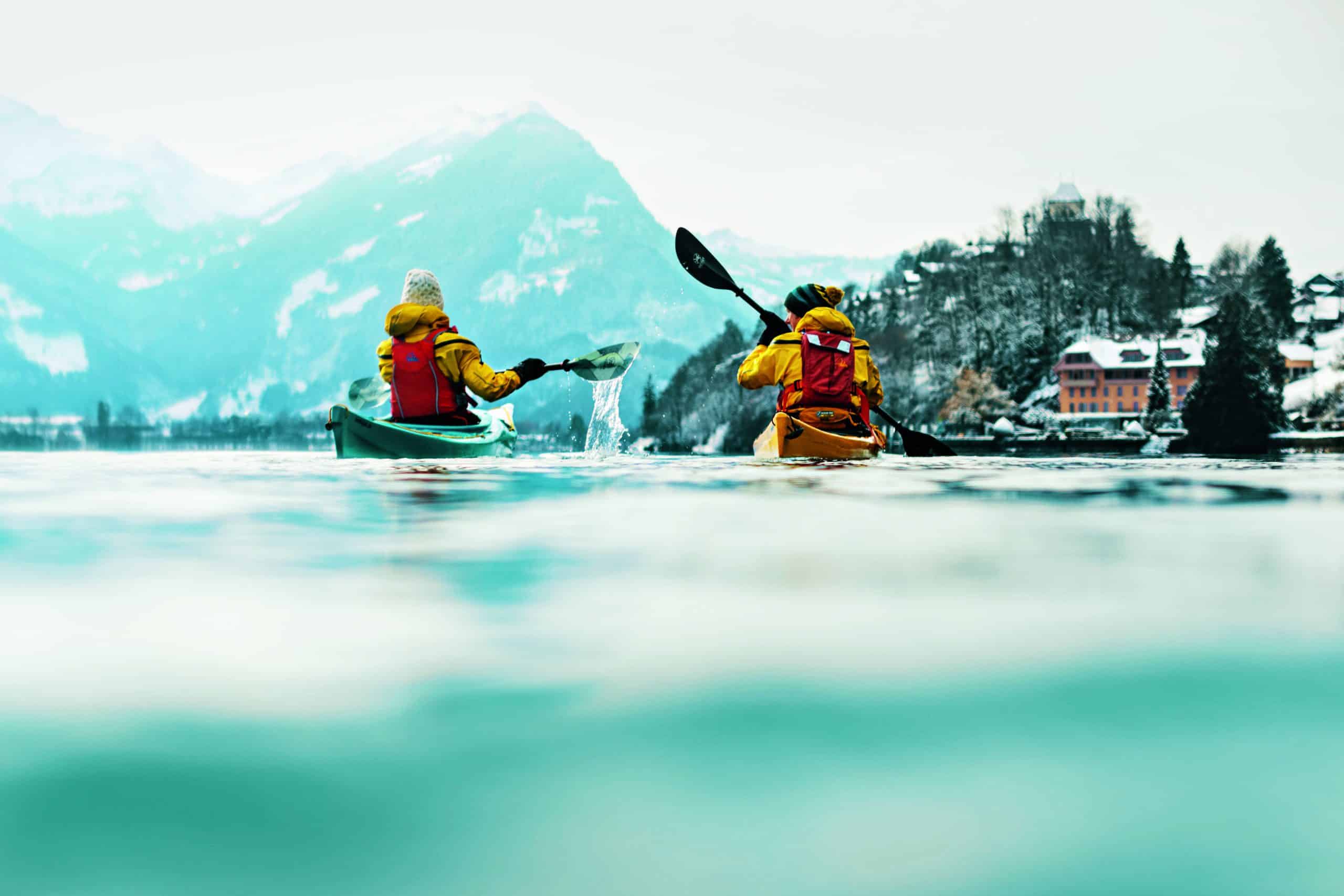 Kayaking in winter might sound like a recipe for frostbite, but with the right gear it's well worth venturing onto Switzerland's icy waters. Warming drysuits offer next-level comfort on the wintry Lake Brienz – something that local kayak instructor Dave Storey discovered for himself. His guests experience steep rock faces, mystical views and the power of nature.
Kayaking is a way of life
Dave was born and bred in Manchester. Kayaking has been his passion since childhood, and he fulfilled his lifelong dream in Switzerland, founding his own kayak school on Lake Brienz. For Dave, helping his guests to experience the magic of kayaking is as fulfilling as paddling out himself. "The moment when newbies are gripped by enthusiasm is amazing."
It doesn't matter what the weather is doing. It is always a unique experience. – Dave Storey
In the frozen morning, Dave heaves his kayak out of its frame and removes the snow and ice. Before meeting his guests, he likes to take a little time to paddle out onto the lake alone. The snow doesn't faze him: "Winter is the best time to go kayaking," he insists. "There is a unique atmosphere out on the lake." And he's right; the tranquil lake seems mystical with a surface as smooth as glass.  
Out onto icy waters
The guests are huddled together, laughing as they force excess air out of their drysuits. These will keep them warm without limiting movement. After some exercises on dry land, it's time to hit the icy water. For most, a few practice strokes suffice before they get the hang of it, and there are always helpful tips from the coach. "The boat is an extension of your body," explains Dave, as he demonstrates how to make turns. 
Paddle paradise
The water is clear and turquoise; paddling near a vertical rock face, you almost feel like you are floating. "Lake Brienz is simply unique," enthuses Dave. Lying between two mountain chains with mostly unspoiled surroundings, the lake is an extraordinary testament to all that nature can offer. It's a hidden paradise.
In love with Switzerland
Dave had originally intended to come to Switzerland for a two-week ski instructor training course – and that was over ten years ago. He met the woman of his dreams and it was love at first sight. The gregarious Englishman soon settled in, and it wasn't long until he got a job in the winter sport industry. Yet there was one thing that Dave missed: "I really wanted to spend more time outdoors again and get back into paddling." 
During an excursion to Lake Brienz, he fell for the place. "It was so tranquil and just the perfect spot for paddling," remembers Dave. "I couldn't believe that there weren't any kayak tours here yet." This gave Dave the impetus to build something of his own, an idea that he had already been entertaining for a while.
In very calm moments, you can see reflections of the mountains on the water. – Dave Storey
From a parking space to a lifelong dream
It began with five boats in a single parking space behind Hotel Oberländerhof in Bönigen. Today, Hightide Kayak School has a more permanent location by the lido in Bönigen and offers tours and courses throughout the year. "Making a living from outdoor sport is not easy," explains Dave. "I owe lot to my team." This is no everyday job; it's a passion for nature.
Bönigen by Lake Brienz
Bönigen sits between the impressive slopes of the Bernese Oberland Alps on the southern bank of Lake Brienz, in the Interlaken holiday region.
More information: https://www.myswitzerland.com/en-ch/destinations/boenigen/ 
Video: 
https://www.youtube.com/watch?time_continue=2&v=zxa3NjAvRxk 
Find more articles like this here: www.internationalschoolparent.com/articles/
Want to write for us? You can submit an article for consideration here: www.internationalschoolparent.submittable.com