Article
Iberia, a top destination for boarding students worldwide In recent years the Iberia region of Spain and Portugal has experienced growth in the boarding school sector. This has been driven in part by increased domestic enrolments. However, as we emerge from the Covid-19 pandemic, we can expect to see greater numbers of international students and their families looking to the Iberian Peninsula for quality education and world-class boarding opportunities. 
Year after year the popularity of Spain and Portugal as educational destinations increases, particularly in the boarding school sector. Applications and enrolments are on the rise across boarding schools in the region. Even before the pandemic, Brexit had resulted in a steady stream of enquiries from both domestic and international markets. 
Post Brexit accessing Britain has become more complex and expensive for European citizens. As a result, parents and caregivers are looking for high-quality alternatives. Spain and Portugal have emerged as safe, modern, affordable, and world-class European education destinations.
This is evidenced by the rapid growth in enrolments in Spanish schools. Since 2020, Sotogrande International School (Cádiz), King's College (Madrid), and International School San Patricio Toledo have seen a 45% increase in boarders. 
Portugal, like Spain, has also experienced growing demand for boarding school education. In just one year, enrolments grew by 39%. This has also seen, schools such as St. Peter's International School expand to include greater residential facilities, as well as entirely new schools developed to serve this increasingly popular corner of Europe.
One such boarding school is Kings College School Cascais, set to open in September 2023. King's College was founded in 1969 and now boasts schools in a number of international destinations. The school in Cascais, which opened this September, will also offer 50 places for borders in their impressive residence next year.
Boarding schools are an attractive option for local and expatriate families alike. The quality of education offered, sports facilities, social and cultural activities, and international outlook ensure the very best educational experience. 
Within this, week boarding has also become very popular, as it allows students to access top tuition whilst maintaining family time at weekends and holidays. 
Foreign students enrolled in Iberian boarding schools cover a diverse and interesting cross-section of countries and cultures. These include China, Russia, Bulgaria, and Germany.
Leading the way is Inspired Education Group. Inspired is dedicated to maintaining the highest standards of education and student care its 70 schools located across five continents. Their boarding schools in Spain and Portugal are setting the standard for boarding in the region. Each of the Inspired boarding schools has its own unique character and approach: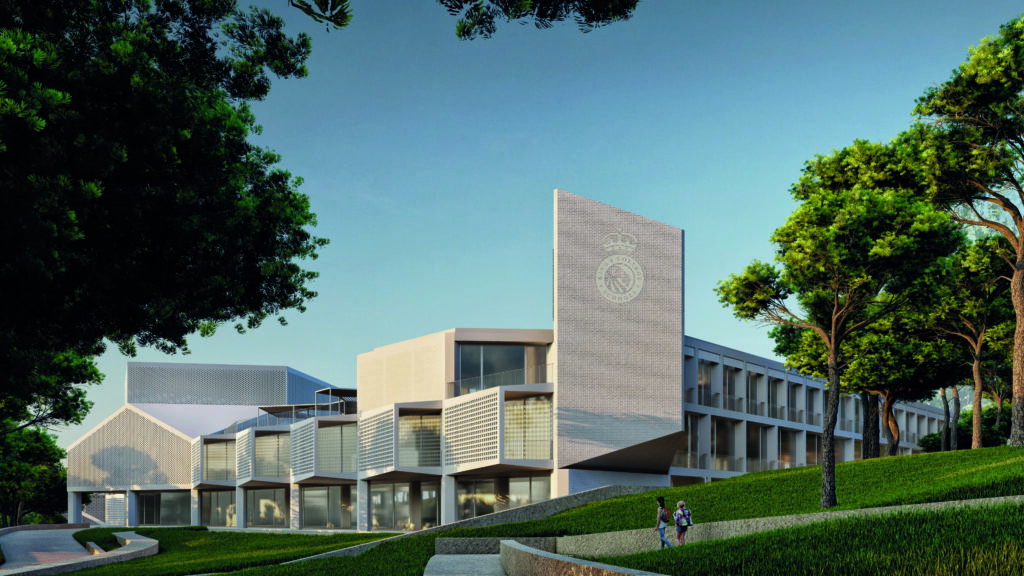 Sotogrande International School (Cádiz, Spain)
Sotogrande is known for its elite sports programme. In this programme, student-athletes benefit from tailor-made education designed to fit in with and support their sporting development.
Charles Debenham, Head of Boarding, and a teacher in the IB programme said: "Keeping students enthused with phenomenal activities decreases screen time and develops important interpersonal skills which take them from the 'me' to the 'we'. This leads to motivated, empathetic, and academic students who develop international friendships and connections for life".
Kings College (Madrid, Spain)
Academically rigorous, Kings College offers both the International Baccalaureate Diploma and A-Level courses. Students and their families work with the school to choose the most appropriate educational track for their goals. When asked about their boarding programme, Hanan Nazha, Director of Boarding said: "Our school is considered to be one of the best boarding schools in Europe. We have been designated 'outstanding' in all fields in the last 5 consecutive ISI inspections. We provide a second home for our boarders who represent 21 different nationalities. Our dedicated staff work tirelessly to provide wrap-around care for our boarders, ensuring that they thrive academically and develop into confident, organised, and fun-loving people".
San Patricio Toledo (Spain)
San Patricio is situated in a very unique location. Toledo provides a relaxed, secure environment a short distance from the bustle of Madrid. The school offers International Baccalaureate programmes and is an ideal location for week boarders with family in Madrid.
"Our international and domestic boarders enjoy our world-class residential facilities, in one of the safest areas in Spain which is why we are seeing huge growth in numbers. As well as an outstanding opportunity to live among students of other nationalities, our boarding students develop strong communication and social skills as well as a premium bilingual education (Spanish & English). Our IB world school is founded on generations of excellence combined with a progressive educational model that provides an excellent pathway to university and life beyond be it Spain or globally." said Declan Ennis, Director of Internationalisation.
St Peters International School (Lisbon, Portugal)
St Peters is an iconic institution in the Portuguese educational landscape. Boasting brand new, state-of-the-art boarding facilities, St Peters is an incredible destination for domestic and international students. Alex Callow, Headteacher of St Peter's said: "Boarding at St. Peter's provides a home-away-from-home environment for our growing cohort of Portuguese and international students. Experienced international teaching staff ensure a rigorous programme of pastoral care and extra-curricular activities to make sure that every aspect of their health and well-being is considered. Boarders are involved in community outreach, sports activities, cultural excursions, and a whole range of in-house and external initiatives (including shopping trips, karaoke, and even pizza and movie nights) every week."
Kings College School Cascais (Portugal)
Anyone familiar with Portugal knows what a special place Cascais is – nestled along the coast and surrounded by beautiful nature. King's College School Cascais will offer students state-of-the-art facilities, as well as long-proven educational excellence to both day and boarding students. Nadim M Nsouli, Founder and CEO of Inspired, said: "We are delighted to bring the first King's College School to Portugal. King's College Schools are renowned for their academic excellence and their ability to immerse students in environments where they can develop global competencies. Our aim is to encourage innovation, build confidence and help young minds learn and grow, so they can thrive in the world today and in the future."
The increasing popularity of Iberian boarding schools' rests very firmly on the provision of world-class education and extracurricular activities. Inspired Education Group ensures that this demand for quality is not only met but exceeded. If you have not considered educational opportunities in Spain and Portugal before, now is definitely the time to do so.