Article
Interview: Tanja Florenthal – Academic Director at César Ritz Colleges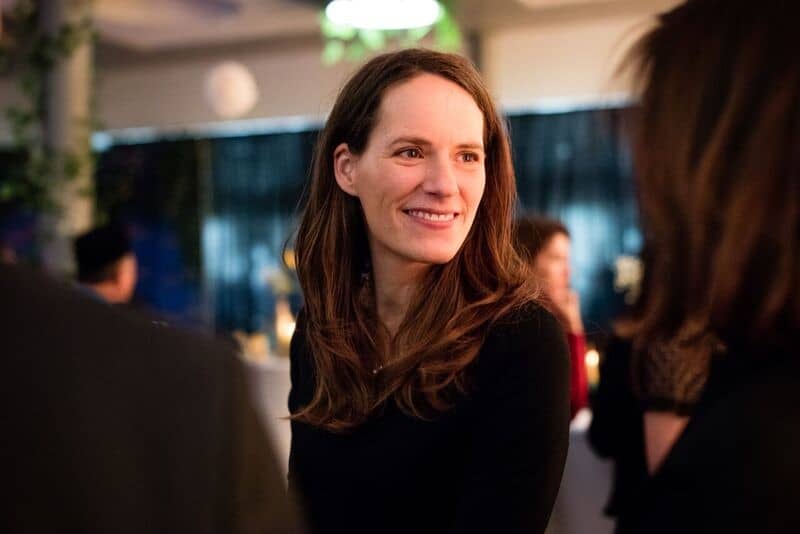 Sitting in a wonderful replica of Claude Nob's kitchen at the prestigious César Ritz Colleges in Le Bouveret, Tanja Florenthal takes an hour out of her day to talk to us about what makes a hospitality education special. Tanja joined César Ritz Colleges in 2007 as a lecturer before taking on the role of Programme Manager, Assistant Dean and Academic Dean in 2012. As a graduate of Cornell University, Tanja has extensive international experience in hospitality but also in education. She has worked in the USA, Thailand, India, United Arab Emirates and Israel both in hotel schools and hotels. She is a member of the Cornell Hotel Society.
How did you come into hospitality education?
It has pretty much been my whole life since I was a child! I was born in a hotel in Manila in the Philippines, and we lived abroad for many years whilst my parents worked in the hospitality industry. The idea of making people happy through travelling and their holidays has been in our family culture forever, so I think it was just a given that I would enter the world of hospitality.
After I graduated I started working in Hotels throughout the world. I have worked in Thailand, India, Abu Dhabi, Israel and Switzerland. Before moving to Switzerland, I was a director of a hotel school in Abu Dhabi.
I think that travelling and living abroad makes us smarter humans. Understanding how people work and taking the best out of every culture makes life more interesting.
What characterises a Cesar Ritz Colleges Switzerland student?
They are globally minded people. Many of our students have travelled a lot and stayed in hotels, flown on many airlines, and already understand travel and hospitality. They are here because they enjoy the environment of international travel, and making people feel comfortable. Many of our students have parents or family in the hospitality industry and they want to continue the family tradition.
It's quite hands on, the education here…
It's very hands on. My personal philosophy is that you can learn something academically, but you also need to practice it to make it perfect and really understand how it works. We do a lot of theory on our courses but we always include a practical component. One example is our housekeeping class. We don't expect our students to become housekeepers, but it is good that you have cleaned a room so that you know how it feels.
It shows them about housekeeping management, and the process of defining your rooms. It sounds very simple but even the type of soap can define your hotel. If your soap comes from the local artisan, you are setting a background for your hotel as being local, sustainable, etc, so we go to a nearby soap producer and we make our own soap with the students. We learn flower arrangements with the students. Again, we aren't expecting them to be making flower arrangements in the future but if, as a student, you understand that this creates a package then it is easier to implement later in your career.
What makes the learning environment so special for the students?
We have 61 different nationalities on campus, we have students who study hotel and tourism and we have students who study culinary. Those go together. Your roommate may want to be a chef, or work in events, and so it is possible to make a lot of connections here for the future. Then obviously we have these fantastic facilities, the work we do in the classroom brings everyone together. And then outside the classroom, we provide an incredible learning environment. Our masterclasses, weekend activities, it's very enriching as an experience.
Do you have a settling in programme for foreign students?
It's not an extended period but yes, we have an induction weekend. Our student ambassadors join in with this to make sure that students arrive safely from the airport, that they find their rooms, and then they make sure that people get involved and don't just sit in their room once they get here!
Once the induction weekend is over, it is straight to class. Students get to know each other well at school, in class, over lunch, and the nature in which we study actively encourages participation and friendship.
Which features do the students value most about this college?
It's a family atmosphere, a lot of our students see their colleagues here as their family in Switzerland. Our students are young, even though they are 18+ they still need a feeling of being at home. I also think it is the care of the people who work here, from the housekeeper, the program manager, to the F&B director, we are really a private school and we want our students to make it. In fact, it's a failure if we have a student that has to leave or wants to leave. That care comes from all sides, is natural, and not forced. I think that says a lot about the college.
What are the main principles and philosophies that you like to promote at César Ritz Colleges Switzerland?
Excellence in tourism, hospitality, and gastronomy. Attention to detail in everything that you do, whether this is writing a report for your ethics exam, or making lunch, it is to always make sure that you are really doing the best that you can possibly do.
We also promote the idea of enjoying what you are doing and being happy doing it, and we always say that happy employees make happy customers.
How do you get your students to do their best academically?
A lot of care and encouragement, a lot of patience, and also a personalised approach to their learning. If something doesn't work for a student in a certain way, we work to find a way in which it will work. Our teachers are encouraged to recognise when something is not working and are empowered to find different methods.
There are 61 different nationalities here, how do you encourage an understanding between the cultures?
We have a deep respect for other cultures, and I think that filters down to the students. It's the wrong place to be if you don't understand cultures!
Switzerland has a tradition of excellent hospitality. What is the best thing about this hotel school being in Switzerland?
The history of hospitality in Switzerland, the "Savoir-faire", and I think the high regard in which Swiss hospitality is held. To be able to learn how to do things properly is important. Switzerland is the perfect place for that and I think people come here for that Swiss quality standard.
When they graduate, some of our students stay in Switzerland for job opportunities so that's also a good reason to come. All our students graduate with two internships, some of which are in Switzerland, and this is a really valuable asset on a CV. Whether you stay in Switzerland or leave for work abroad after graduating, those opportunities with a Swiss degree from Switzerland, and professional experience are excellent.
There is also the lifestyle, which is fabulous. There is plenty to do in Switzerland, but at the weekends you are an hour away by plane, train, or car, from most European cities, so this is really the centre of Europe.
On a personal side, what do you do to make the most of Switzerland?
We moved back to Switzerland for the stability and benefits it offers when it comes to family life! This summer we decided not to go on holiday and we stayed in Switzerland for two weeks. We told our children that every day we will do a different activity, a sort of "staycation" if you like.
Switzerland has so much to offer, and from here, you also have France right next door. We went to an Eagle Sanctuary and saw a breeding program for a species with only 6 left in the world. You can go hiking and camp outside, you can use the lake, you can drive for an hour and you are in a completely different environment. I think Switzerland in terms of leisure is world class.
What are the challenges for your students when they graduate?
I think the challenge for our students is to decide which career path they want to take. This is an industry with many different options, locations, and career paths. Trends come and go, so we always remind our students that they need to be constantly on top of things, read and always be learning!
Find out more about becoming a student at César Ritz Colleges Switzerland here
More from International School Parent
Find more articles like this here: www.internationalschoolparent.com/articles/
Want to write for us? If so, you can submit an article here: www.internationalschoolparent.submittable.com