Article
On top of Mt. Titlis (3020 metres above sea level)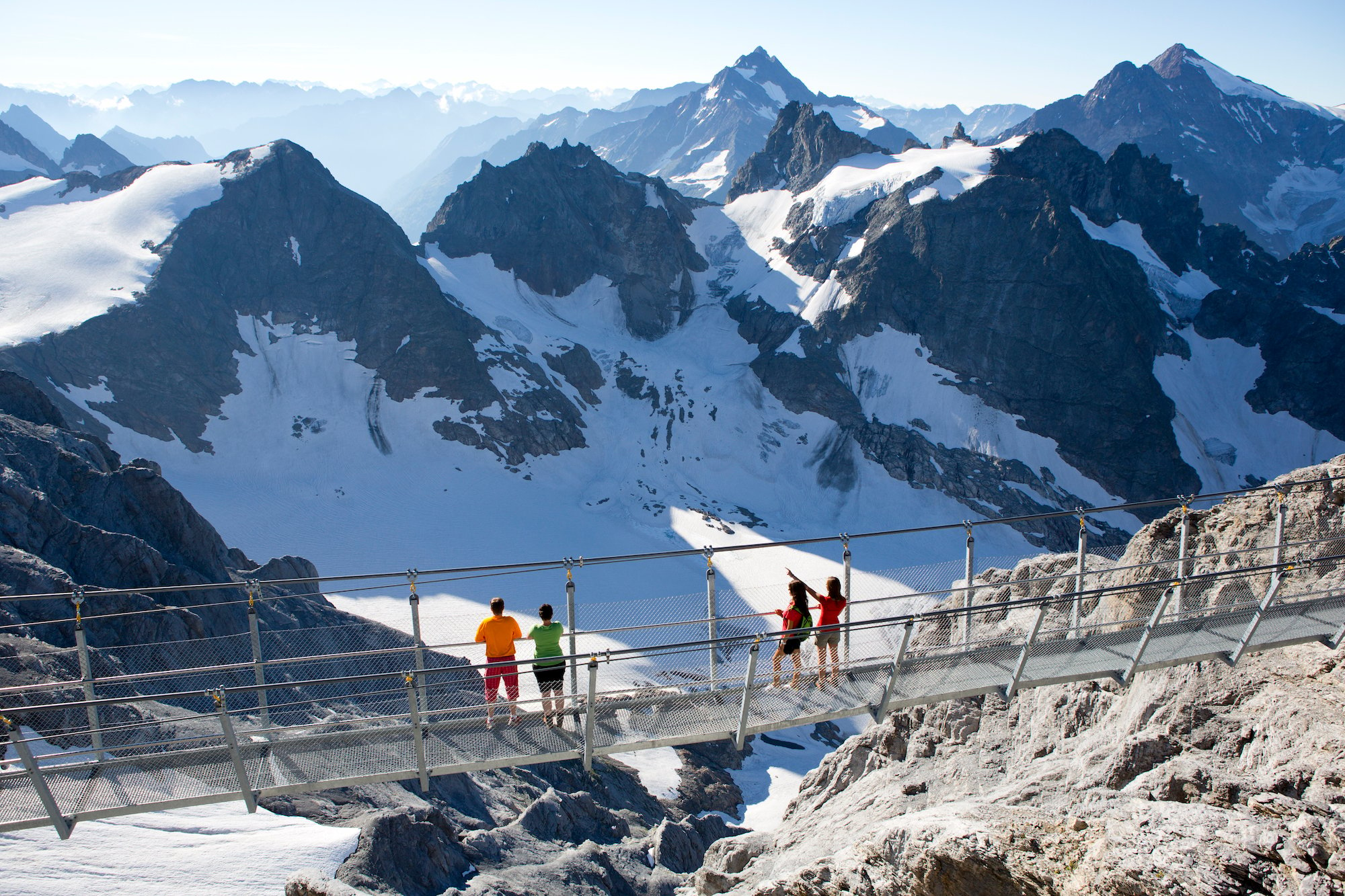 Experience new glacial heights and spectacular panoramic views from the top of Mt.Titlis, 3,020 metres above sea level. Take the Titlis Xpress cable car from Engelberg to Stand station in around 25 minutes, and from Strand, you can then hop on the Titlis Rotair, which will carry you up to the top of Titlis in a matter of minutes.
TITLIS Cliff Walk
The Titlis Cliff Walk is an experience like no other. This spectacular suspension bridge high on the summit is 3,041 metres above sea level, 500 metres off the ground and 150 heart-pounding steps long, making it the highest suspension bridge in Europe.
A route leads you through the glacier cave via an underground tunnel and onto the viewing platform at the south wall window when you reach the summit. The one-metre-wide suspension bridge then stretches to the Ice Flyer glacier chair lift station. Gaze into the abyss below and soak up the breathtaking views! An adventure you will never forget.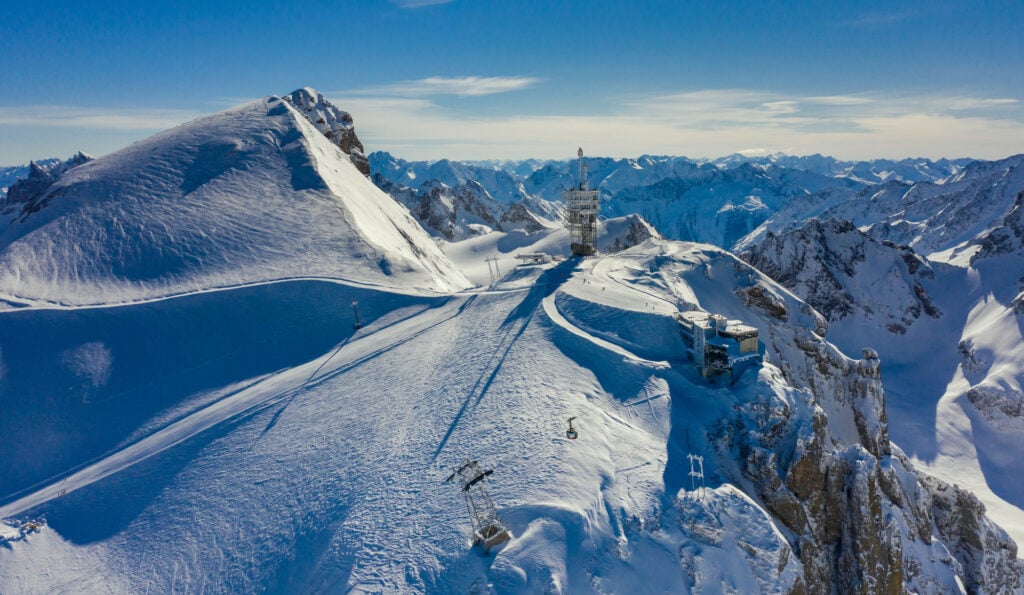 Glacier Cave
A magical world of ice awaits you in the glacier cave. Basked in a subtle turquoise light, the air here is so cold you will see tiny white clouds from your breath. This mystical 5,000-year-old cave is what forms the frosty heart of Titlis, with a 150-metre long walkway that descends 10 metres below the glacier's surface.
With easy access from the Titlis Mountain Station, this is an incredible experience not to miss.
Find out more here.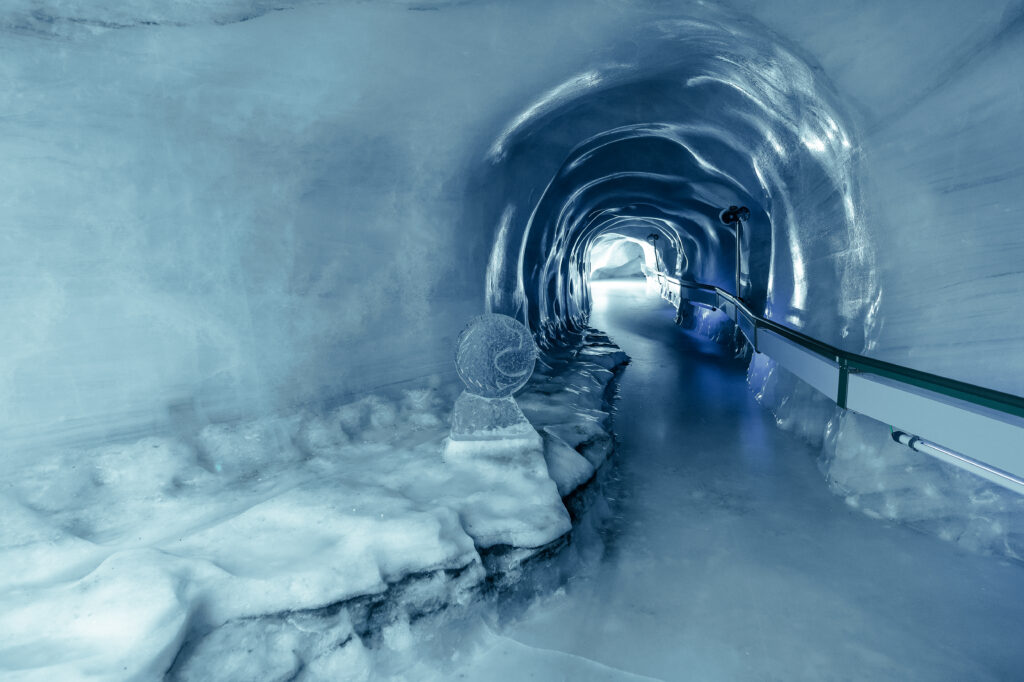 Trübsee (middle station 1800 metres above sea level)
Many years ago, a muleteer called Engelbert and his pack mule Schmuggli would often undertake the strenuous route from Engelberg over the Jochpass to Engstlenalp. They would hide their smuggled goods in different places around Trübsee, which you can now hunt for on the trail of Schmuggli. At each of the six stations around Trübsee lake, you will find an object with a letter, try and solve the puzzle to win a prize!
Trübsee Adventure Playground
The Titlis Adventure Park will make all superhero's dreams come true. There are many adventures to enjoy from the BagJump Tower, Trampoline2Bag or slackline, all with guided supervision. Perfect for all ages to practice balance, concentration and coordination.
Discover more activities here.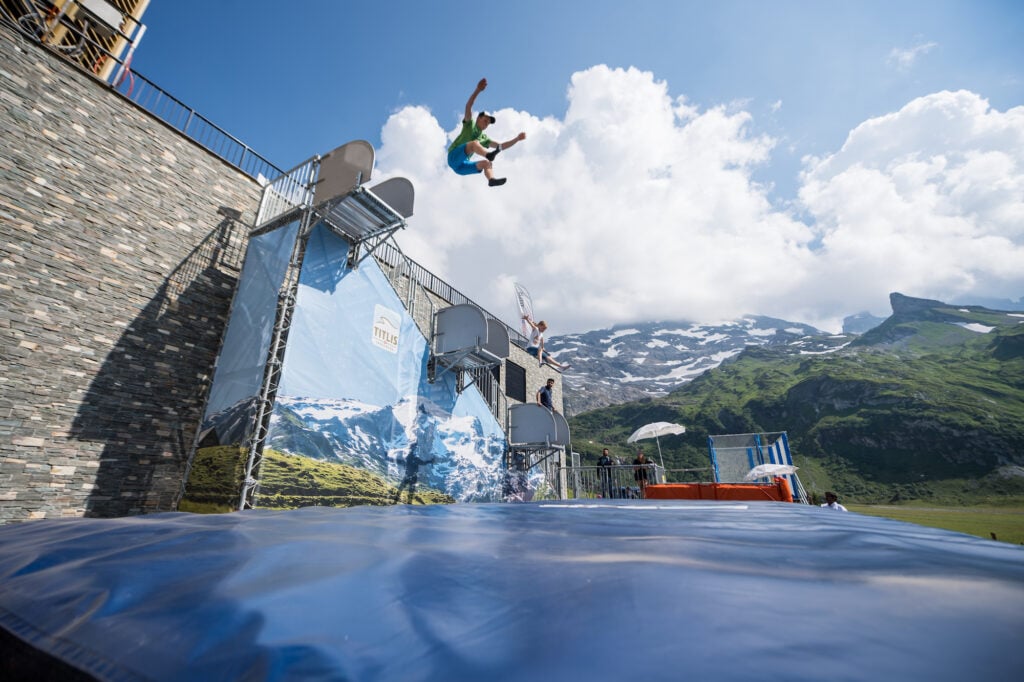 Schmuggli's world of adventure
July 2022 will see the opening of the new Schmuggli's Sbrinz Trail. A puzzle trail on the mountain hike from the Hüethütte to the Untertrübsee alpine cheese dairy. Here you can solve tricky riddles during a 1.5-hour hike and, with a bit of luck, uncover Schmuggli's secret writing.
Trübsee Flyer Zipline
Buckle up and take to the air down the 500m Trübsee Flyer zipline. This is a thrilling way to experience panoramic views of Trübsee lake. Children aged 8+ and adults can take the ride, but just be quick to grab a photo as they fly speedily down!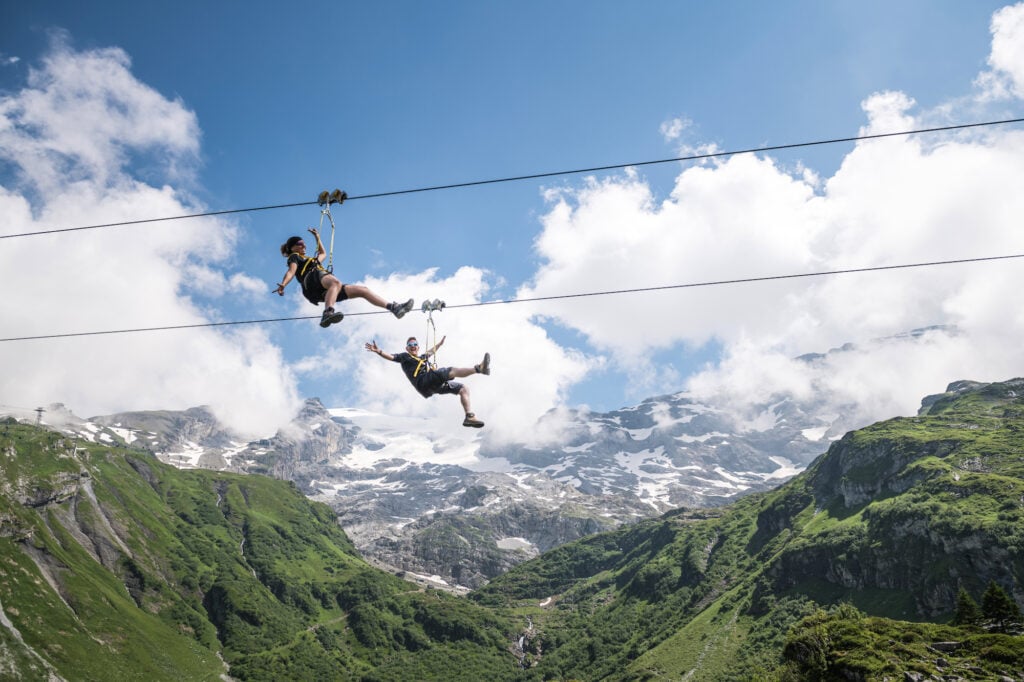 Trübsee Lake
Take a trip out onto the lake with your friends and famlly on one of the six rowing boats available to hire. Whether you're a rowing enthusiast or simply want a relaxed lake adventure, this is perfect for everyone. Each boat has space for four people and life jackets are provided.
Open daily from June to October. Find out more here.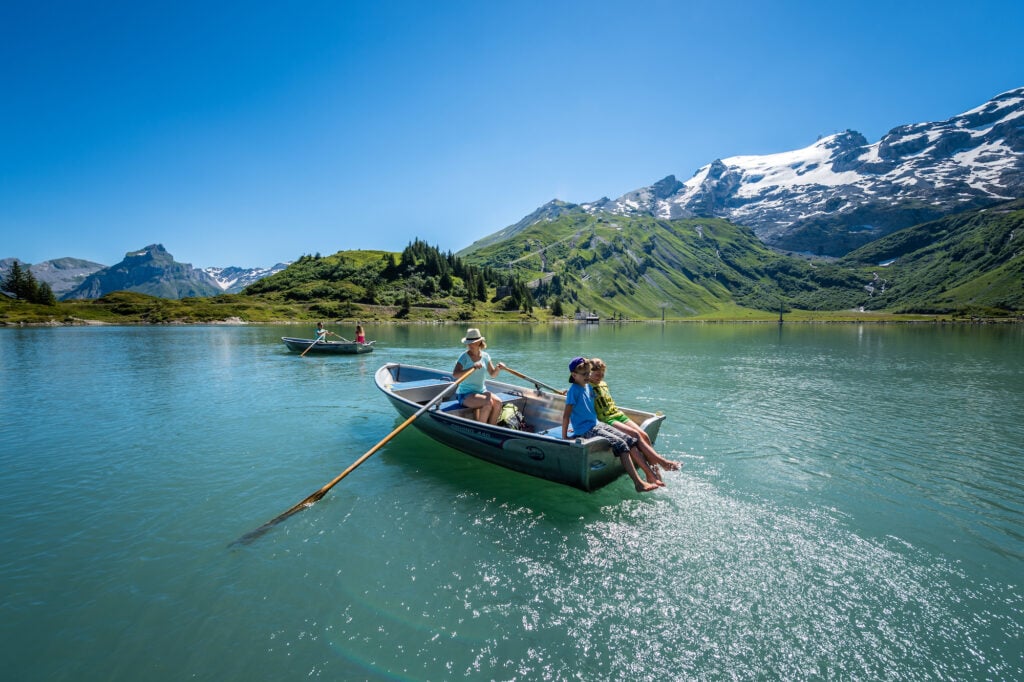 Overnight accommodation
TITLIS Resort
With all the hotel amenities a family could need, the Titlis resort, set in the heart of Engelberg, is perfect for a comfortable stay in beautiful apartments. The Resort offers a wellness oasis for all guests and has a range of apartments available with 2-5 rooms, including a unique 3-room family apartment. www.titlisresort.ch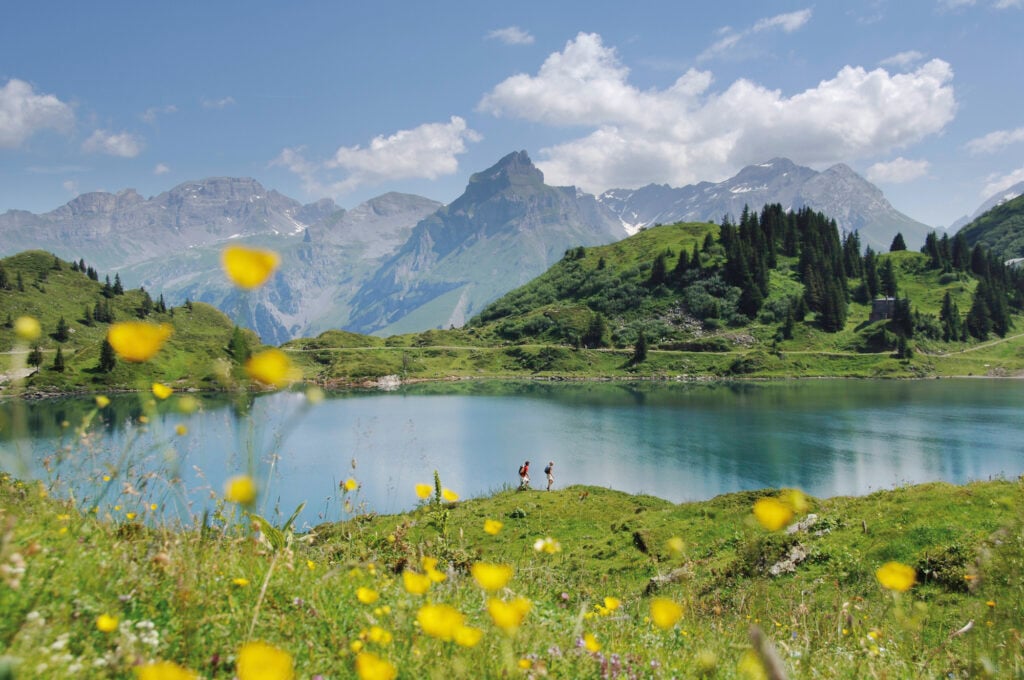 Trübsee Alpine Lodge
If a mountain view stay is something you have your heart set on, the Trübsee Alpine Lodge is the place for you. After an adventure-packed day, the cosy rooms promise a dreamy night's sleep, and delicious food options await. www.hoteltruebsee.ch
Hotel Terrace
Hotel Terrace has it covered whether you're searching for your next sporting challenge or want to relax and have a good time. The hotel is conveniently just a short lift ride from the village centre, and the bus stop has a free shuttle to the cable car station. www.terrace.ch