Article
Staycation? Summer Family Adventure Trips in Switzerland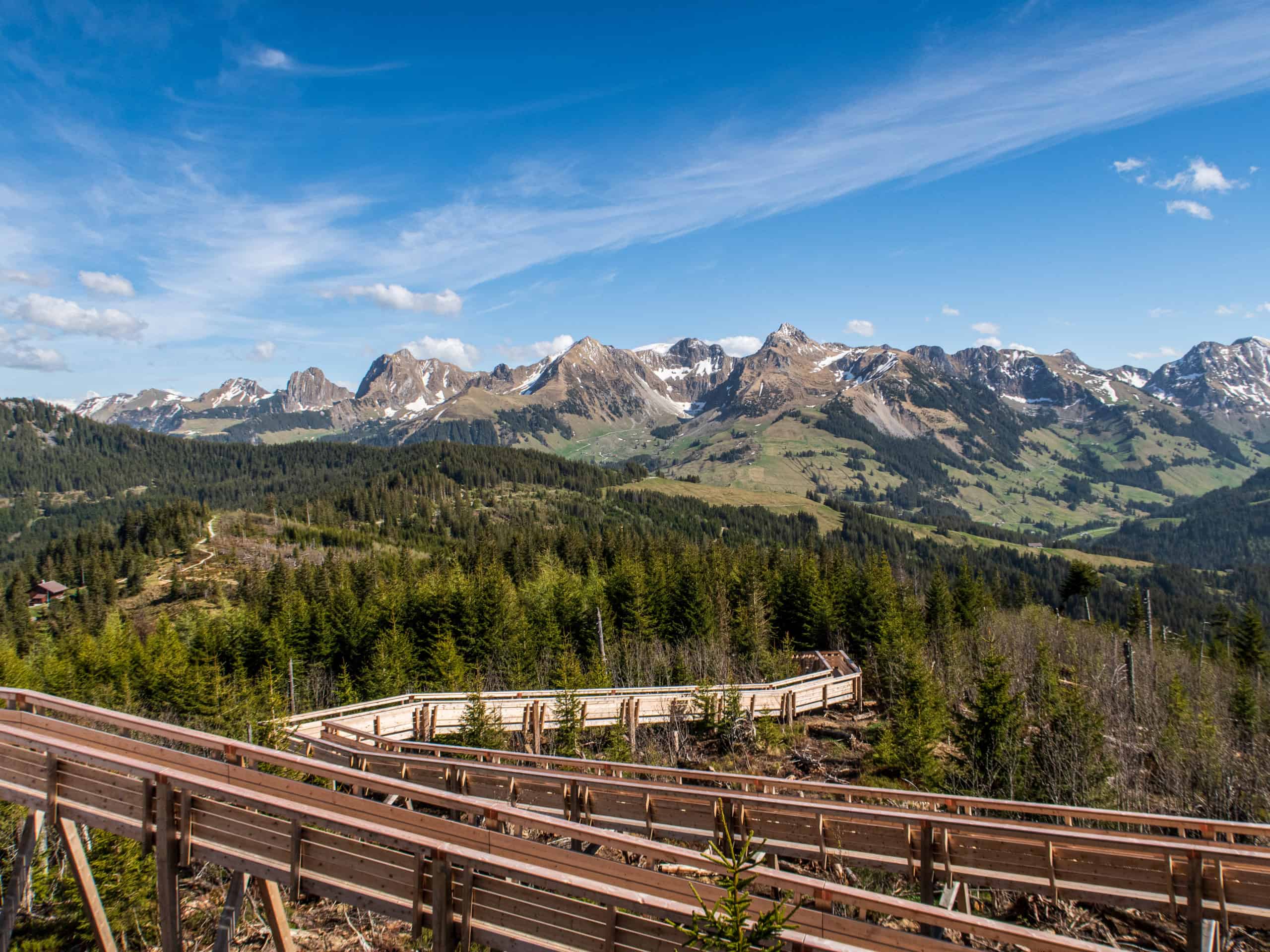 This summer is the perfect opportunity to embrace the staycation, discover your local surroundings, and experience new adventures. In partnership with Switzerland Tourism, we have searched high and low to compile some fantastic family activities nationwide. All these activities are open for your enjoyment as of the 6th June 2020.
Enjoy your summer, stay safe, and experience Switzerland!
1) Aargau – Hiking in the Aargau Jura Park
The adventures of Perimuk offers three beautiful adventure trails featuring Perimuk, the little Jura dinosaur. Solve puzzles as you follow the path, using the photo orienteering map to help you find your way. Round trip hiking trails make this activity family-friendly. Kids can run off through the woods in safety while parents enjoy the peaceful surroundings. Depending on which path you take, the activity lasts between 2 – 4 hours with trail distances between 4.5-7km. Find out more information with details on the trails here.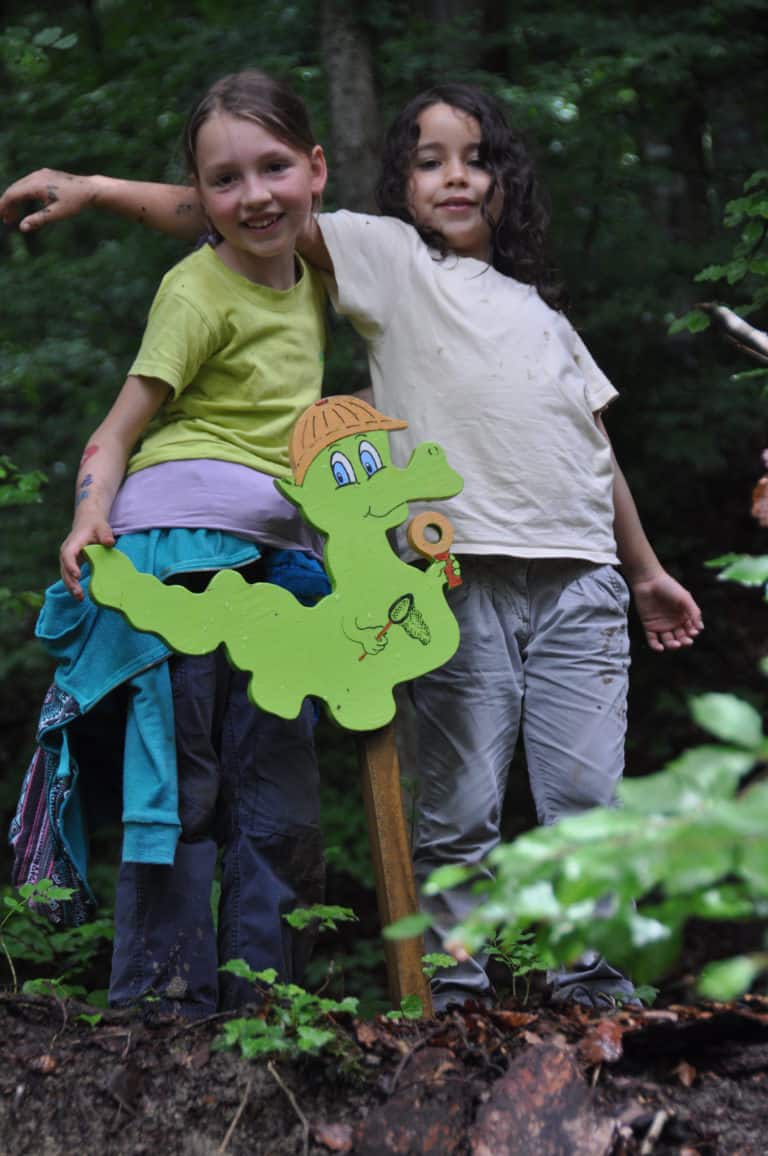 2) Bern – Gantrisch Nature Park
The Gantrisch Panoraweg Path offers a scenic pre-Alps hike with incredible panoramic viewpoints across the forest of Gägger. A massive storm destroyed most of the forest in 1999, but the forest now hosts an impressive walkway. The tour takes place on a well structured and signposted hiking path – and is a tour suitable for undertaking in stages. https://www.gantrisch.ch/gaeggersteg-eroeffnung/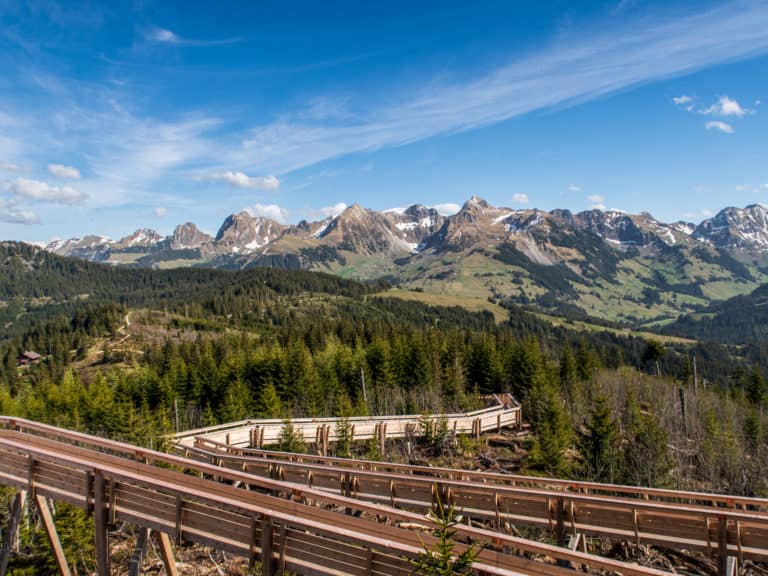 3) Fribourg – Romont "Vitroparcours" Educational Trail
Romont is a small medieval town on top of a hill, rich in history and art. Its castle, with a beautiful courtyard, is home to the Swiss Stained Glass Museum. Suitable for all ages, the "Vitroparcours" takes you into the world of glass, how it's made and recycled while walking along the old town walls of Romont. Find out more information with details here.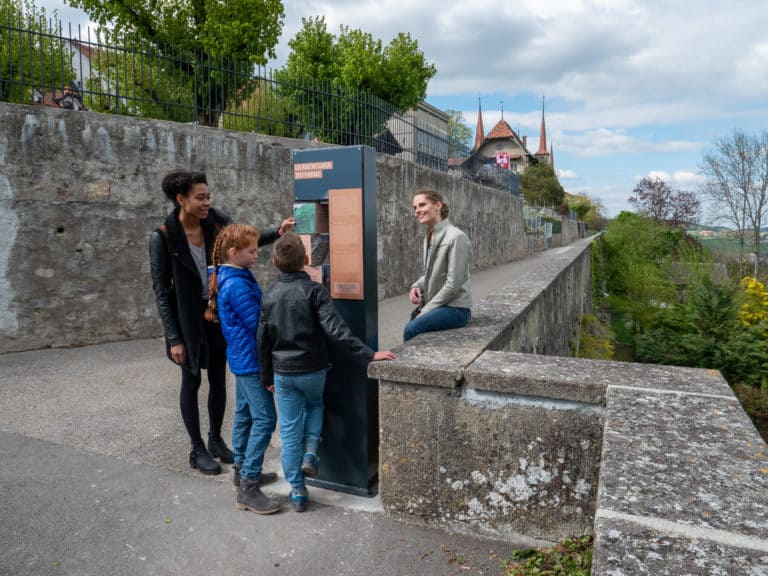 4) Jura & Three-Lakes – Doubs Nature Park
Franches-Montagnes or Freiberger is a breed of semi-feral horses unique to Switzerland. They live in the heart of the wooded pastures of the Jura. The herds are easy to locate using an interactive map, and there are also breeding centres where you can learn more about the horses from people passionate about raising them.
On this page, you'll find a lot of links to horse experiences and the horse-breeding farms. There is also further information on MySwitzerland.com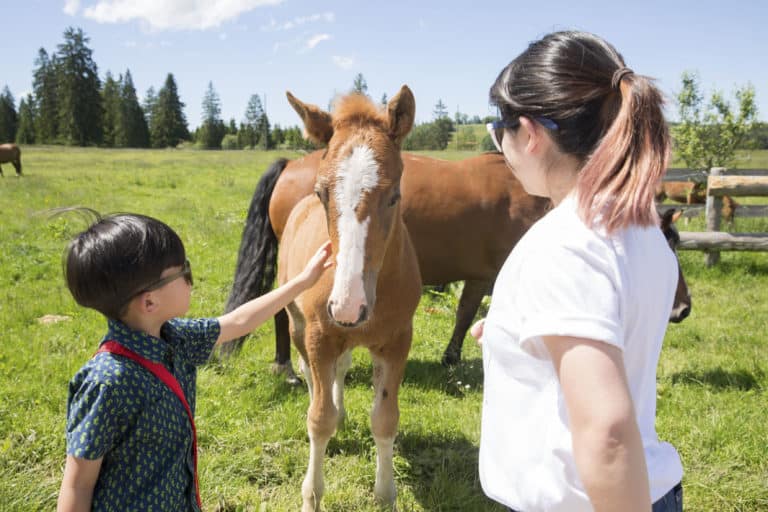 5) Lucerne-Lake Lucerne Region – UNESCO Biosphere Entlebuch, Mooraculum
This moorland-experience is a natural fun park in the Alps. Children aged 0-14 can splash through ponds with water game equipment, games of skill, small and large adventures, while parents can relax in the beautiful picnic spots.
Mooraculum is accessible by gondola train from Sörenberg or from the Reka Sörenberg Holiday Village, which lies just a few meters away. You can also stay here in one of the 54-holiday apartments located at the heart of the village. The apartments have a large water playground and brand-new indoor experience pool close-by. More information here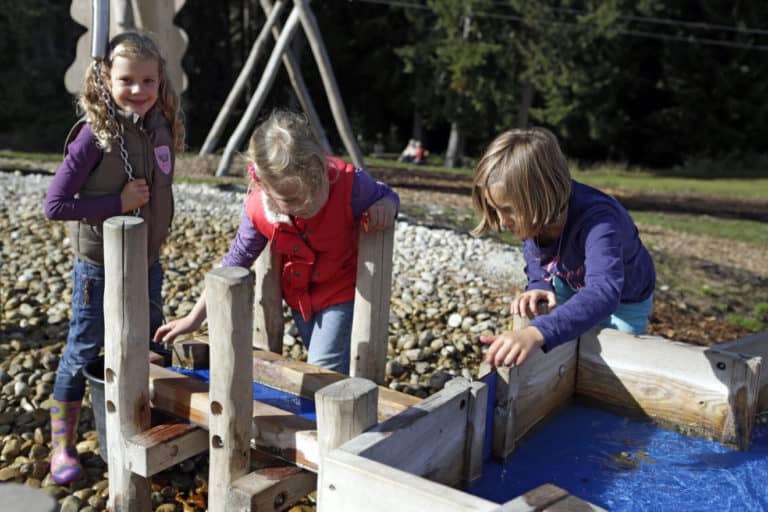 6) Lake Geneva Region – Swiss National Stud
Located near Avenches, south of Lake Murten, the Swiss National Stud welcomes members of the public for guided tours, horse-drawn carriage rides and regular events. Since its founding in 1899, the stud has three roles today: Training, research and development of horse breeding. It also promotes and supports the Freiberger horse. MySwitzerland.com has information about how to arrange a visit.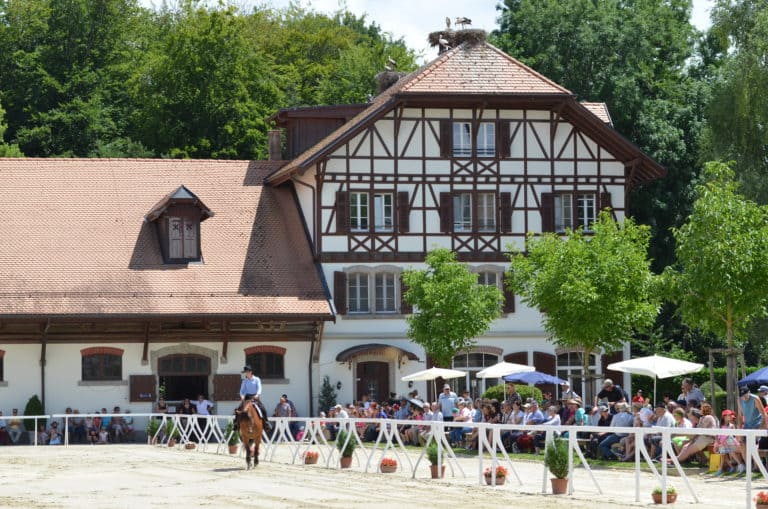 7) Ticino – Mendrisio – Archaeological Park
Since archaeologists started excavations in 2000, the small village of Tremona has revealed well-preserved remains of a hilltop settlement. The excavations provide unique insights into the past of the region. They have shown how the villagers lived, how they build their houses, and what conditions were like for both peasants and lord.
The archaeological park offers a detailed reconstruction of the daily life of a rural village, through a route illustrated by panels in both English and Italian. Also, using AR and 3D glasses, available from the info point, you can fully immerse yourself and experience the Swiss Middle Ages. Visit Tremona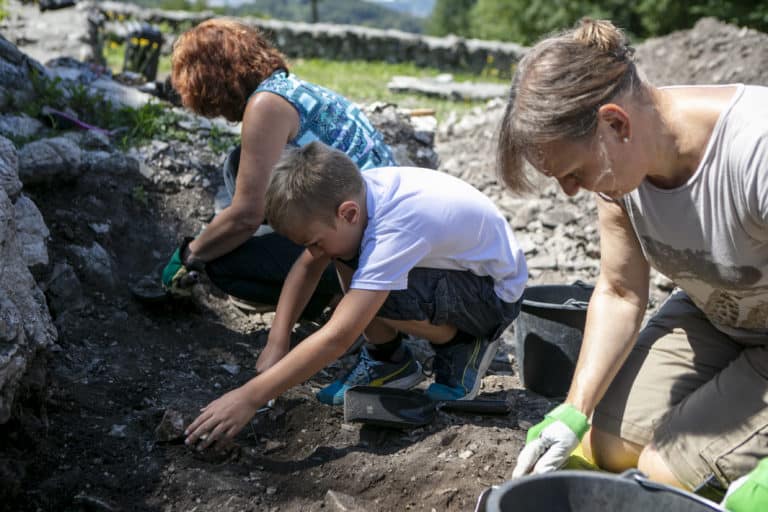 8) Valais – Binntal Nature Park – Magical forest of Wasen
In the Zauberwald Auf dem Wasen (the magic forest on the wet meadow) there is an excellent adventure trail with around 20 different activities for children aged 3 to 10. You can make a day of it and bring a picnic and meat for the barbecue. A fir-cone lift, tree swing, suspended bridge, gorge trails, and a barbecue area is available for use by families with children. Plan your trip here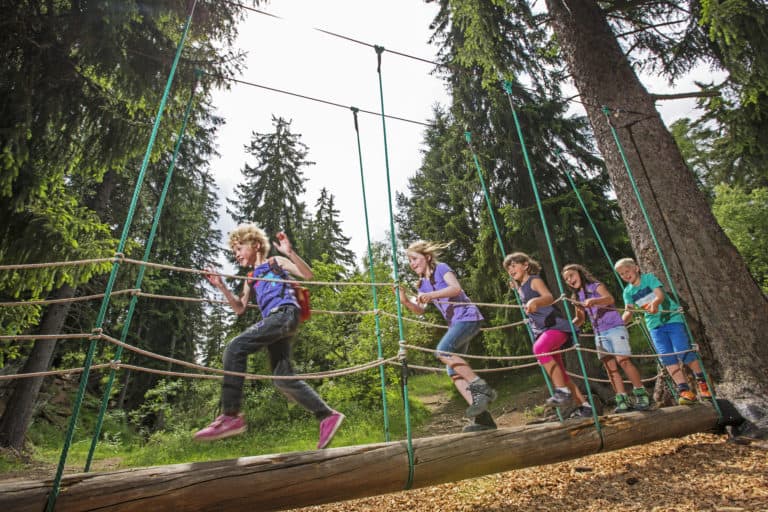 9) Zürich – Langenberg Wildlife park
The oldest zoo in Switzerland, Langenberg keeps wild animals in expansive, near-natural enclosures. The park aims to ensure that the animals as naturally as possible. Therefore, animals rear their young and, in the case of social species, live together in groups. You can learn about the natural fauna of Switzerland as Langenberg is home to 20 native and formerly native species of mammals, fish, and crustaceans. Website
If you need more activities!
Graubünden: Swiss National Park, Children path Champlönch
Eastern Switzerland: St. Gallen, Fox trail
Aargau: Thal Nature Park, Wood adventure trail
Graubünden: Biosfera Val Müstair, Chatscha Culinarica
More from International School Parent
Find more articles like this here: www.internationalschoolparent.com/articles/
Want to write for us? If so, you can submit an article for consideration here: www.internationalschoolparent.submittable.com