Article
Switzerland's international schools flex their muscles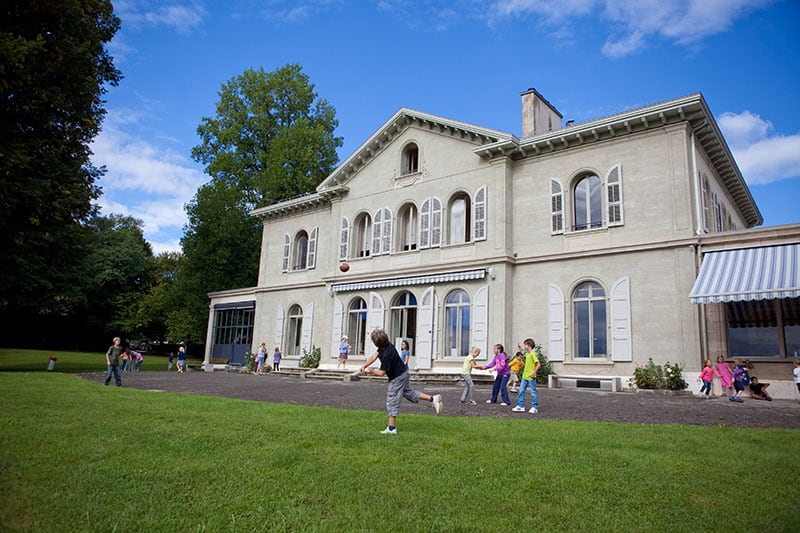 Switzerland has experienced very few new international school developments in recent years. According to data by The International School Consultancy (including ISC Research) which tracks what is happening within the world's international schools market, between the academic years 2013-2014 and 2014-2015 enrolment in English-medium international schools in Switzerland rose by over 2,000 students despite the fact that just one new school opened in that time. This means there are now 105 English-medium international schools in Switzerland, teaching a total of 73,631 students.
Some international school closures in Switzerland last year caused expatriate parents as well as educators and mobility professionals some concerns. However Marc Ott, a committee member within the Swiss Group of International Schools (SGIS) and Head at the Leysin American School, gives families reassurance: "Parents of school age children coming in to Switzerland and those looking for schools shouldn't be concerned about a lack of availability of international schools," he says. "The government initiative proposing quotas on the number of immigrants entering Switzerland remains an uncertainty and that is why some businesses right now are not investing in Switzerland. As a result, the natural outflow of expatriates is higher than inflow which is why some international schools have been hurting."
However, three of Switzerland's international schools are showing their confidence in the demand for student places with new school buildings and expansions.
A new secondary for Geneva
One of the most populated areas for international schools in Switzerland is Geneva which will be seeing the expansion of the Geneva English School in 2016. After more than fifty years as a school for primary and early years children, the Geneva English School will be accepting a year 7 intake from this September (2016). It will open a brand new secondary campus for years 7, 8 and 9 in September 2017, growing year on year from that point. The school insists that its small community ethos, which has allowed it to focus on the academic and personal development of each individual learner and which has helped it to forge a considerable reputation, will continue with this expansion.
"It is certainly our deliberate objective to be a smaller educational establishment," says Headteacher of Geneva English School, Stephen Baird. "We believe it allows us to do things that would not be easily possible in schools where there are several thousand pupils, such as focusing on the personal development of every child. All of our staff know most of our pupils and vice versa. This makes everyone feel very secure and part of a supportive community."
The small school ethos will provide an alternative secondary choice for expatriate families amidst the many expansive international schools within the Geneva area, several of which have student populations well over 1,000 students.
According to Stephen, for many years families involved in the school have wanted a secondary school reflecting the primary school ethos and orientation. "What our parents particularly like is the fact that, because of our size, we can provide a wide range of experiences to encourage every student to become an 'all-rounder' within a school community that's the right size for confidence-building," he explains. "I believe the addition of a secondary school will allow us to continue this and make us stronger."
Geneva English Secondary School will offer IGCSEs at Year 11 and will make a decision about whether to offer A-Levels or the International Baccalaureate Diploma Programme at Sixth Form level at a later stage pending more investigation.
New learning environment for the International School of Berne
Also preparing for a new opening is the International School of Berne (ISBerne). The school which has, until now, adapted its original building space as it has expanded, is investing in a new purpose-built campus designed to bring all years within the school together. The new campus will officially open in March 2017.
Richard Swart, the Director of the International School of Berne says "Schools work much better when they are coordinated and things work from Kindergarten to Grade 12. So the new building is a single space with all our grade levels on one floor separated by dedicated corridors and coming together in an open atrium where everyone meets."
Richard says the single space will be beneficial to both students and staff. "Students react better to each other in mixed age groups," he explains. "Older students are more aware when they are around younger students about the responsibility that they carry as young adults. This opportunity for a social message is at the heart of our school". As for benefitting the staff, Richard says the chance to share teaching and learning experiences and best practice will be a focus in the purpose-designed space.
ISBerne's new school building will include adaptive learning spaces to allow for all possible learning opportunities. Science labs, for example, will include mobile science benches and retractable utility pods so that teachers can create the best learning environments for demonstrations, practical experiments and collaborative sessions. Achieving the highest standards for sustainability, the new building will boast such features as smart lighting and solar energy.
The school is also investing in additional expertise to respond to the new learning environment, including a technology coach. "His sole role will be to teach our staff how to teach in this new world of technology," explains Richard. "We believe that's really important. Schools now have access to technologies that allow collaboration 24/7, that allow teachers to differentiate for every student's need , that enable students to learn anywhere and anytime, so freeing up classroom time for more learning interaction between students and their peers, or between subjects; between maths and science for example, or between different grades. As a school with the right technologies in place, we will be able to take advantage of these opportunities if we have the right expert support available to us."
New Campus
The new campus, which will continue to be located in Gümligen, will allow for expansion from 300 to 400 students with land space for possible future boarding facilities. Buses will be added to allow easier access to families in surrounding Neuchâtel and Solothurn.
As the only internationally accredited English language school in the canton, and the only one to offer all three International Baccalaureate programmes (Primary Years Programme, Middle Years Programme and Diploma Programme), school leadership is confident the additional capacity will be filled quickly. "Our accreditation is hugely important for us," says Richard. "The school is accredited by three different accreditation programmes; the International Baccalaureate (IB), the Council of International Schools (CIS) and by the New England Association of Schools and Colleges (NEASC). Our accreditation gives parents the guarantee that we do what we say we do. They also provide confidence that we are continually striving to do even better!"
State of the art learning at new Lausanne campus
This academic year has already seen the opening of a new campus for the International School of Lausanne (ISL). Director Lyn Cheetham explains the motivation behind ISL's new school building: "We thought carefully about what a world-class education would look like for our students who learn, study and who will eventually work in an ever-changing global society," she says. "After working with parents, students, staff and the Board, it became evident that in order to achieve this, we would have to broaden the curriculum and choice of subjects, improve the facilities, and increase and diversify the student cohort".
As a result, two years after the ground-breaking for the CHF 46 million school expansion, ISL began its 2015-2016 year in the state-of-the-art campus, offering five new International Baccalaureate Diploma subjects, and delivering learning to 820 students from 66 different nationalities.
The custom-designed campus has open and non-traditional learning spaces. These are used to facilitate the development of such skills as collaboration, creativity, critical thinking and communication. The school now boasts a 400 seat auditorium, high-tech science, technology and math labs, a multimedia broadcasting and recording studio, drama studios, sound-proofed music spaces, specialist art and science exploratory rooms and labs, a triple-sized Olympic gym, expansive playground and outdoor sports facilities, and also an early childhood centre designed to give three to four year olds a range of multi-sensory learning environments, both inside and out.
Demand for international school education
Unlike the majority of the world where international school intake is now dominated by local children, demand for places at Switzerland's international schools comes mostly from the expatriate population. However, the high quality, English-medium learning offered at many of the international schools in Switzerland is attracting an increasing number of local families. At the inauguration ceremony for the new International School of Lausanne campus, the State Councilor and Head of the Education Department, Youth and Culture of the canton of Vaud, Anne-Catherine Lyon said "Switzerland is home to some of the best international schools in the world. An IB education in English language is increasingly of interest to local students. They want to have the flexibility to choose to further their education in Switzerland or abroad."
Although this is possible to Swiss nationals in the Vaud canton, this option is not accessible to all local families throughout Switzerland. Each canton has its own education policy and its own relationship with international schools. In Zurich, one of the leading cantons for international schools, a ruling put in motion in the 2012 academic year restricted local children from attending international schools in preference to the state school system.
About the Author:
Anne Keeling specialises in international school media relations and has been writing about the international schools market for 10 years.
More information about the world's English-medium international schools market is available from
www.iscresearch.com
More from International School Parent
Find more articles like this here: www.internationalschoolparent.com/articles/
Want to write for us? If so, you can submit an article here: www.internationalschoolparent.submittable.com