Article
"Where the passion and the spark ignites…" – the International School of Lausanne and HBA celebrate the International Day of Women and Girls in Science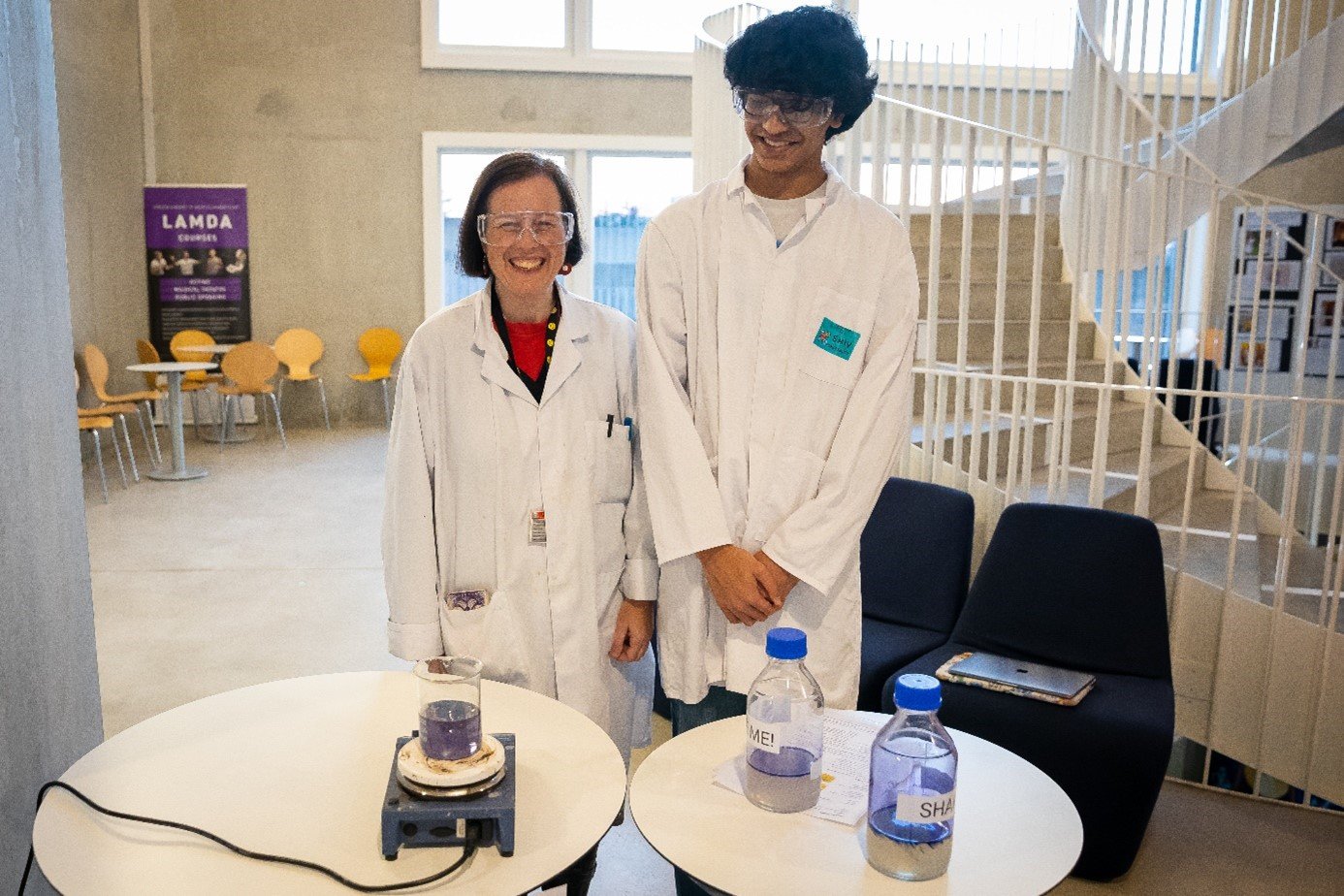 Ukrainian mathematician Maryna Viazovska is not only a winner of the highest award given in mathematics, the Fields Medal, but a truly inspirational speaker. Viazovska was one of the five female keynote speakers at the HBA,Inspiringirls Switzerland, Mod-ELLE and International School of Lausanne Potenti'Elle event on February 9th, celebrating the UN International Day of Women and Girls in Science, and each woman, all leaders in their chosen fields, spoke powerfully on the need to encourage more girls to pursue careers in STEM. Viazovska, the last to take the microphone, struck a particularly relatable chord in her young audience; down-to-earth and natural, her words rushed out with infectious enthusiasm and engaging expressiveness.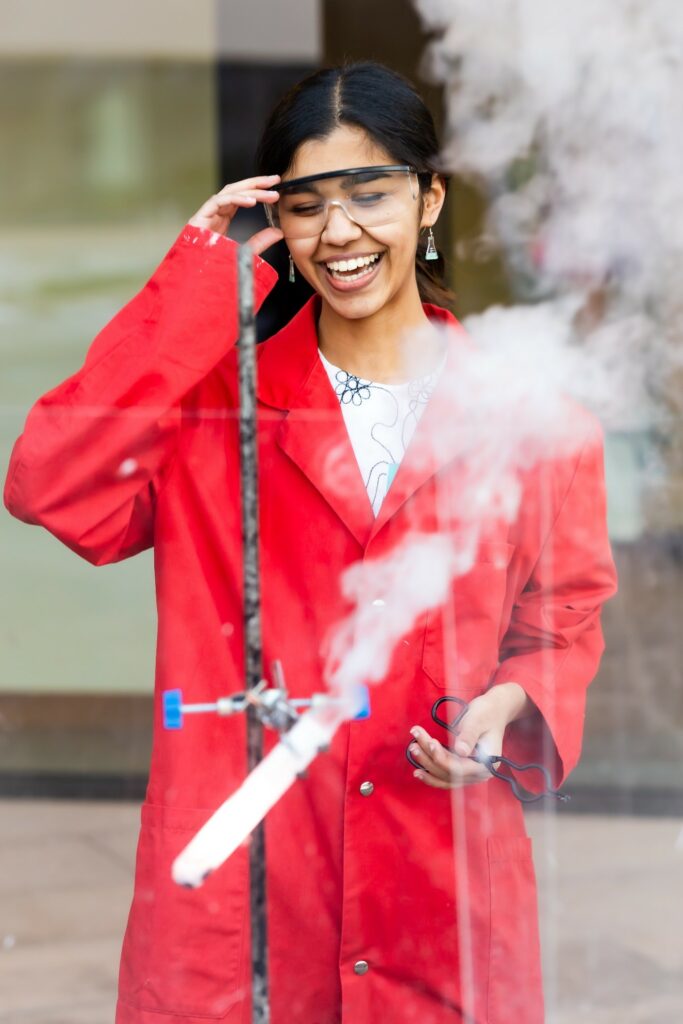 "The only true magic that exists in this life is science," she began, with a confiding smile, going on, in the course of her succinct speech, to capture the pity and waste of the social patterns that turn girls away from studying the STEM subjects:
"Mathematics cannot feel our gender. It is very sad for the women who could have had great joy in studying mathematics and science. But it is also sad for society because we lose such talent."
The Potenti'Elle event aimed to empower the many girls and young women in the audience with a belief in their own ability to have successful and change-making careers in the STEM subjects, and inspire them with the fulfilment to be found "when the passion and the spark ignite" (Dr Archana Sharma) in the pursuit of scientific knowledge and advancement.
Keep reading to learn more about the event in the words of event organiser, Ms Edmunds (Academic Counsellor; Diversity, Equity and Inclusion Coordinator), and Student President, Divya (Year 13).
Potenti'Elle – In the words of ISL's Student President, Divya…
What do you get when you mix some fizzing test tubes, a Fields medal winner and over 200 people from all over the Suisse Romande region?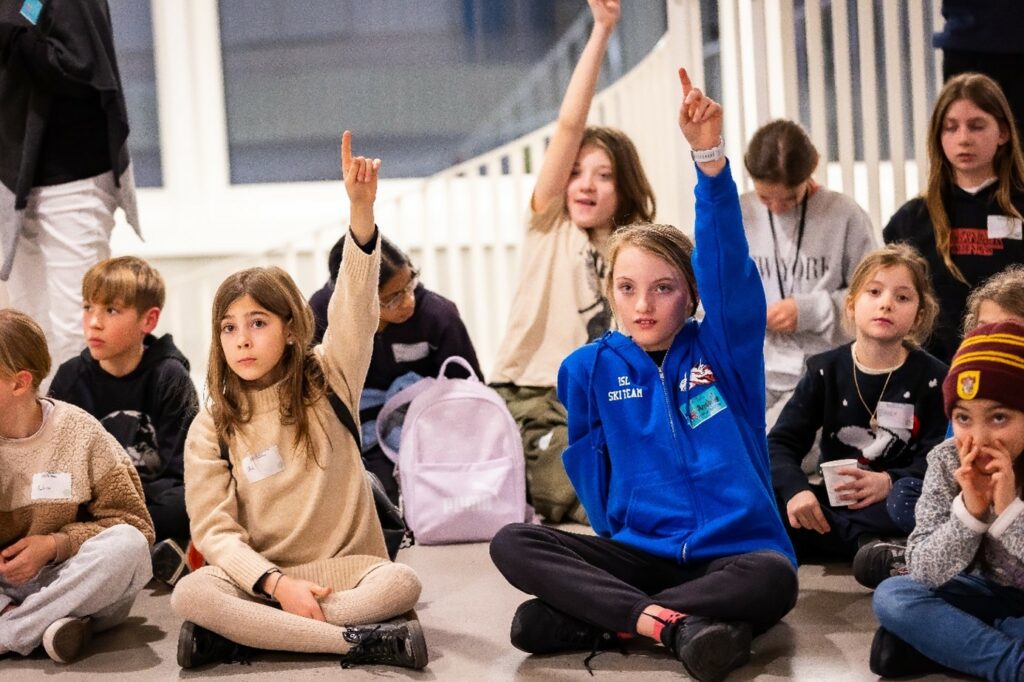 On the 9th of February 2023, the International School of Lausanne was proud to host Potenti'Elle In Science – an event in collaboration with the Healthcare Businesswomen's Administration, Inspiringirls Switzerland and Mod-ELLE. The evening was dedicated to celebrate the United Nations International Women and Girls' Day in Science, and boasted participants and inspiring speakers from all fields of STEM.
In case you missed it, here's a short recap of the wonderful event organised by Ms. Edmunds, the International School of Lausanne Science Department, and ISL students.
The doors opened to a series of colourful science experiments organised by the ISL STEM week team: burning compounds, whizzing robots and sparks of static electricity were in the air. The students also mounted posters around ISL's South Building featuring famous female figures in STEM fields throughout history. A particularly popular experience was the ice cream made on the spot with liquid nitrogen by Dorka and Mr Allen (Head of Natural Sciences Department, Teacher of Biology) – a student was even heard to declare that it was "better than store-bought"!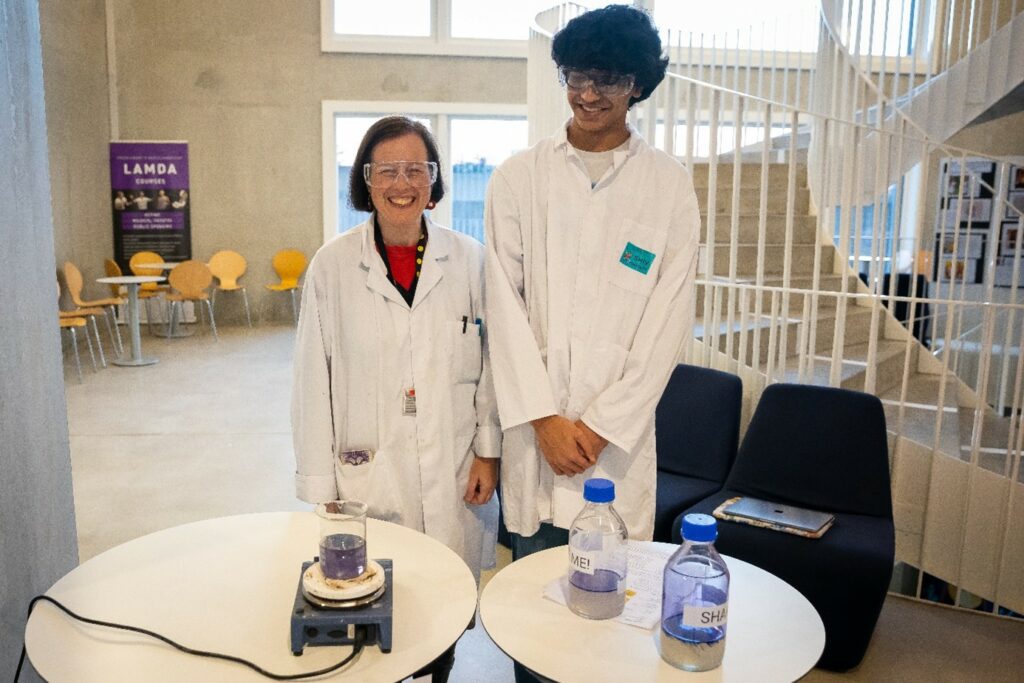 The crowd then assembled in the auditorium for a plenary session, delving into the cause for the evening. A significant gender gap has persisted throughout the years at all levels of STEM disciplines all over the world. Even though women have made tremendous progress towards increasing their participation in higher education, they are still under-represented in these fields. In cutting edge fields such as artificial intelligence, only one in five professionals is a woman (UN, 2023).
These topics were addressed by the five fascinating keynote speakers: Dr. Stephania Bonilla-Feret from the UN Department of Economics gave insight on the significance of the event. Dr. Archana Sharma, a senior researcher at the CERN, and Dr. Maryna Viazovska, EPFL professor and Fields medal winner, spoke of their experiences in physics, maths and academia. Finally, Dr. Eglantine Jamet and Siew Veena Sahi, CEO of Testmate Health, reminded the audience to pursue their passion for STEM –even if it means taking risks.
Later in the evening, students and parents participated in workshops that uncovered unconscious biases, a day-in-the-life of women in STEM and business areas, as well as friendly conversations about their journeys and challenges.
To have the chance to hear from each speaker was truly a once-in-a-lifetime experience.
It was invaluable to connect with women who push the boundaries of STEM every day in their career, studies, or research, as well as to hear about the obstacles they face. And, most importantly, it was moving to hear the resounding message that young girls can do anything they set their minds to. One of the memorable quotes from the evening was: "If she can see it, she can be it." By interacting with a female role model, any girl is inspired to believe that her own dream is achievable.
It is not easy to measure the impact of inspiring others, but after months of planning and organisation, Potenti'Elle left a bright note on the ISL community and beyond. The event will hopefully return in the years to come. As parents, teenagers, and young children headed out of the South Building doors, there was a buzzing excitement in the air.
In STEM, the future is uncertain – anything could be possible. But one thing is certain: any girl can make it possible.
Potenti'Elle – In the words of Ms Edmunds (Academic Counsellor; Diversity, Equity and Inclusion Coordinator)
High school students at ISL exercise free will in choosing their subjects… or do they? There are some re-occurring patterns which deserve deeper attention as they align with wider trends in gender split in education decisions which impact the careers of students of all genders as it leads to individuals limiting their choice and thus restricting their potential. As an academic counsellor and gender equity leader, these biases are omnipresent and explicit and if we want to change this, we need to raise awareness as individuals and shift the culture in our community.
Have you ever caught yourself thinking of mathematics, economics and physics as more masculine subjects and associating literature, languages and the Arts with femininity?
Have you assumed that it is a male responsibility to earn and provide and a female responsibility to care for family and let these assumptions influence your career choice?
Have you experienced exclusion because you are endeavouring to go beyond the gendered norms?
In Switzerland, gender segregation is all around us. It is particularly persistent and obvious in STEM participation and even more acute in leadership. For instance, in the universities of applied science, while women are evenly represented in the student body in chemistry and life sciences (which link to the "caring professions", they are under-represented in engineering and information technology (between 12 to 23 per cent of students depending on course and university, FSO 2019. It is, thus, important to distinguish between different STEM disciplines and subjects when addressing the gender gap in the STEM field (Rosser, 2012; Ertl et al., 2017, Frontiers ). The imbalance is notable in other countries which are popular study destinations for ISL students, with the percentage of women studying STEM in the UK fluctuating around 25% in the UK (STEM Women UK)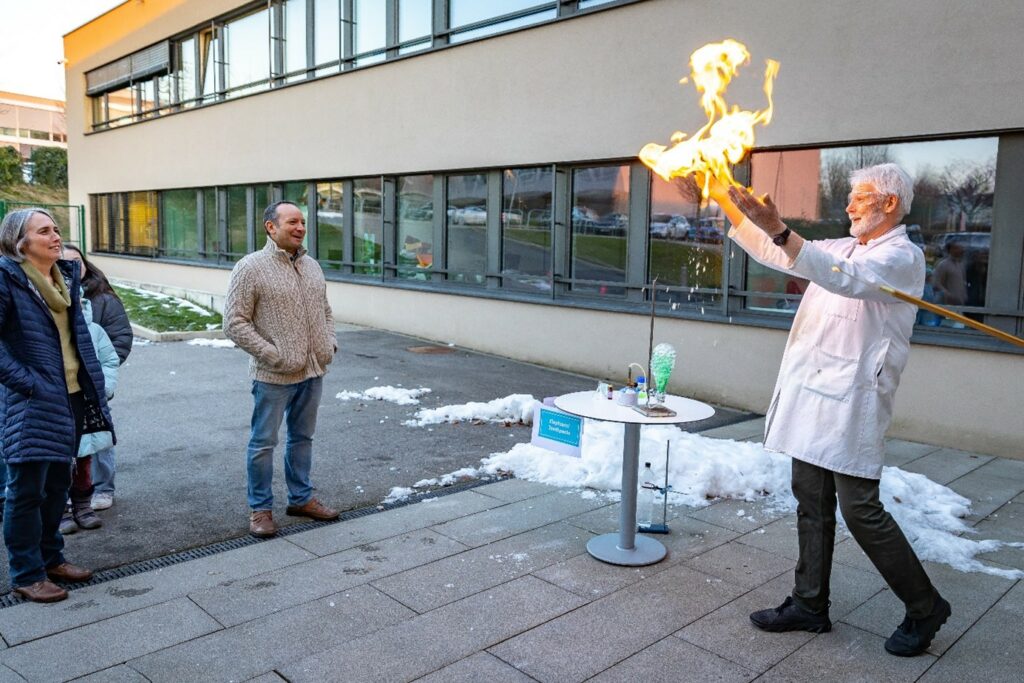 In 2021, a group of 3 students from the ISL Gender Equity group (Zoe, Gargi and Sofia) decided to delve deeper into their CAS project and researched some of the factors influencing STEM choices by gender and looked into evidence-based solutions. They recommended the promotion of certain STEM activities for students identifying as female, in order to overcome gender-based exclusion. They also highlighted the need to increase the visibility of female role models in STEM to inspire girls, particularly those who had limited science experience within their families (Girls in STEM, 2021). Thus, the Coding Weekend for students identifying as girls in December is a key event. The STEM Society has also stepped up by offering gender-balanced drop-in support sessions. However, it is not enough to provoke the shift required. As a whole community, we need to be aware of our collective bias. We need to consider the culture that we co-create to ensure that as parents, educators and students, we are not part of the problem through equitably promoting expectations. We need to showcase female leaders as we are more often exposed to men in these positions and children "cannot be what they cannot see".
Thus, in collaboration with the Healthcare Business Women, Inspiring Girls Switzerland and Mod-Elle we hosted an intergenerational role-modelling event for nearly 200 people to celebrate the UN´s International Women and Girls in Science Day. The STEM Week team, led by Pavi, Naomi and Divya and their dedicated teachers, shaped Potenti´Elle into an event to inspire students from the most impressionable age and stage in primary through secondary. Our team of STEM ambassadors welcomed our visitors with an exciting array of science experiments and a striking display (created by Naomi and Carmen) to highlight female STEM leaders, which is worth appreciating here. By engaging with the female networks, we were able to offer a variety of age-appropriate workshops and insights into a mixture of careers. We also sought to raise awareness of biases in education and career choices by engaging gender equity expert Dr Eglantine Jamet for the evening which you can watch here.
Through the plenary, our expert panel enabled us to reflect on the issues presented by living in a world made by men for men which are multi-faceted and alarming. Did you know that women have different symptoms of cardiac arrest from men and that these are often overlooked, leading to a higher mortality rate in our canton for women? Did you know that vehicle safety systems are built for the average male adult which results in women being more likely to be seriously injured or die in an accident? Going forward we need to create a more inclusive reality and indeed virtual reality which is inclusive and is not biased against any gender. The imperative is important as we need a diversity of thoughts and solutions to tackle issues of equity, and the planetary crisis and to create economic success. You can catch up on the plenary panel and Q&A here.
The energy at the event was palpable and the feedback was very positive, with 95% of the participants requesting further role-modelling and careers insights events in the future. Many of the student participants reported that meeting the role models had encouraged them to think differently about the future as they had discovered that there is a plethora of career possibilities and routes to get there. Furthermore, a key message that resonated was the importance of interdisciplinarity. To paraphrase Bonilla-Feret and Delannoy you should persevere in your love for learning about a subject and not to be put off if you get a poor grade or a derogatory comment. In reality, you are not in competition and the acquisition of knowledge is a lifelong pursuit. In the world of work, ideally, you should be able to apply the skills and draw from a strong foundation learnt at school. Dr Sharma and Dr Viazovska concurred and painted a vision of the future which is founded on collaboration rather than competition, a future which allows everyone to bring their unique insights to the team to tackle problems. This is fundamentally what STEM is all about: solving human problems and we need everyone engaged to do this well.
Lastly, the role- reminded us of the important role of teachers, not just to educate but also to motivate and inspire. The day after the event an ISL parent emailed the school to say: "I dropped some of my daughter's friends home. I could hear the excitement in their voices as they were discussing their discoveries, the speakers. There can't be a bigger testimony than this that the event was impactful when you have a bunch of teenagers excited."
Organising this event required collaboration internally and externally, and we were very grateful to have the support of our sponsors Merck and Frontiers. Thank you to all my ISL colleagues who stepped up and pitched in including the A-Team, Novae, Marketing, Kate MacLeod, Andrew Capes and Victor DeRidder, the STEM teachers, DEI coordinators and the PTA. Thank you to our awesome ISL STEM students who made the event extraordinary under the leadership of Pavithra Venkat Sridhar, Naomi Kurt-Elli, Divya Venkat Sridhar and to Carmen Tan for the exhibition of Female Leaders in STEM. Thank you to our inspirational speakers Stephania Bonilla-Feret (UN), Dr Archana Sharma (CERN); CEO of Testmate health Siew-Veena Sahi; Prof Maryna Viazovska (EPFL), Eglantine Jamet Artemia Executive Search and SEM Association. It was a pleasure to collaborate with Julie-Lyn Noel (HBA), Andrea Delannoy (Mod-ELLE) and Ruth Garcia Calle (Inspiring Girls Switzerland). I look forward to our next project.
If you are interested, in themes of Gender Equity, please contact Ms Edmunds, Ms Pearcy or Mr Lloyd to effect change.