Article
Learning while teaching and teaching while learning: Ecolint's teaching diploma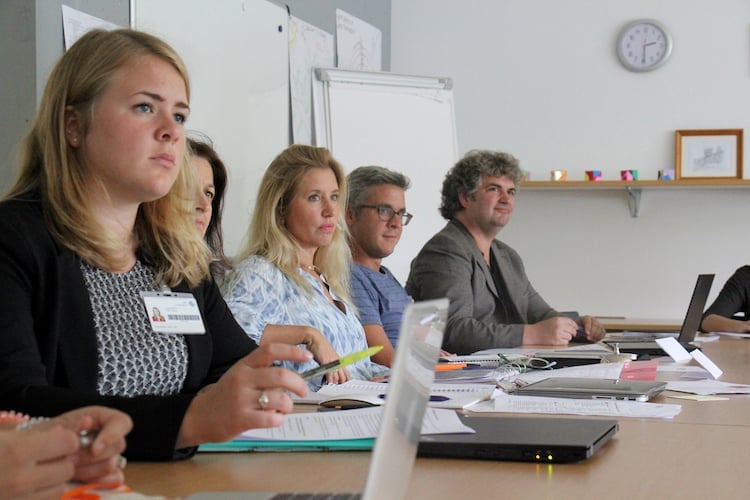 As the world's first international school, the International School of Geneva – or Ecolint – has over 90 years track record of incomparable international education. Ever since its foundation, Ecolint has followed a comprehensive approach to education that aims to prepare its students to be active and engaged participants in an ever-more interconnected world. However, encouraging students to think globally comes first and foremost from the dedication of its teaching staff to international values, inclusiveness, innovation and academic rigour.
Ecolint's commitment to international education means that it opens its doors not only to children, but also to adults seeking to join the teaching profession. Through a collaborative partnership with Durham University, one of the UK's oldest and highest-ranking universities, Ecolint offers the Postgraduate Certificate in Education, or PGCE (International), which enables successful students to teach in international schools across the world.
A truly international situation:
Set up in 2010, this course welcomes a small cohort of trainees every year who wish to learn to teach Primary or Secondary students in an international context. "We train teachers not in a local, national situation, but in a truly international situation, where diversity is considered to be a really key element of the programme" explains Dr Tony Harries, co-programme director for the PGCE (International) at Durham University School of Education. Ecolint, with its 140 nationalities and 80 mother tongues, exposes its students, children or adult, to extraordinary international diversity. This diversity is not just cultural and linguistic, but also generational. "You meet people who come from different backgrounds, from different careers and who, at different points in their lives, have decided they wanted to go into teaching, and that makes for a very interesting, rich and inspiring group," said Christoph Genz, who trained as a Secondary music teacher in 2014-2015 and is now working at an international school in Bangladesh.
Beginning every year in September, and running for one academic year, the PGCE (International) course is composed of three modules: a professional module delivered by the International School of Geneva, which is chiefly school-based, and two academic modules at Masters level delivered by Durham University's School of Education.
Learning while teaching and teaching while learning:
While the PGCE classroom is situated at Ecolint's Campus des Nations, close to the UN headquarters in Geneva, trainees have the opportunity to observe and teach on all three campuses, as well as in other local partner schools in and around Geneva. Seminars, workshops and professional training help consolidate the hands-on knowledge, exploring themes such as planning, EAL (English as an Additional Language), classroom management and assessment. The professional module also includes lectures covering topics such as Special Educational Needs and 'Third Culture Kids'. "International education remains the guiding thread throughout the professional module," explains Alison Ball, Director of Professional Studies for the PGCE programme at Ecolint's Institute of Learning and Teaching. "Our trainees can leave with not only the Durham PGCE qualification, but also the IBctl, the IBO certificate in teaching and learning qualification. This gives the graduates two well recognised qualifications as well as experience working at the International School of Geneva, the original home of the IB Diploma Programme."
The School of Education at Durham University supports the academic work of each PGCE trainee. In addition, course participants spend two weeks in January at the University, attending a Masters level academic conference, and other workshops and seminars, and have the opportunity to use Durham's well-stocked libraries. Throughout the course, those studying for the PGCE are also able to use Durham University's online Education Library facility, as well as the PGCE section of the library at Campus des Nations, which contains a very up-to-date collection of relevant books. Through the Ecolint libraries, trainees are also able to access an extensive database of academic journals.
The PGCE (International) course brings together the academic excellence of a renowned university and a first-class learning and teaching environment in the international hub that is Geneva. Add in the passion for teaching of its trainees and it's the perfect mix for a new generation of international teachers. "The magical thing about being in a classroom is that you can touch young lives and make a difference, and it's been an incredible experience," said Gillian Rogers, who graduated from the programme in 2015.
Everybody benefits:
It's not just the PGCE trainees themselves who benefit from the course. Across Ecolint's eight schools, and in the partner establishments who work in close collaboration to provide placements, the opportunity for experienced practitioners to mentor this new generation of international teachers and pass on some of their wisdom (as well as learning some of the latest educational theory) hasn't gone unnoticed. As one of the teacher-trainee mentors Grainne Dolan-Parry observes, "I get a lot out of working alongside someone who comes with fresh ideas, new ideas, and lots of energy". Students also benefit, as Melissa Sundqvist, primary teacher at the Campus des Nations comments, "Having another person in the room allows us both to share our perspectives on the child, and think about how to move that child forward from where they are. So the children definitely benefit from the programme." Remembering his time as a PGCE trainee in 2011-2012, primary teacher Alex Sabbag who now teaches at Ecolint shares his impression: "I learned what it means to be an inspirational teacher, I was fortunate to have inspirational mentors during my course, and that gave me the energy and drive to become a great teacher myself."
Lifelong learning for all:
The PGCE (International) is one of the programmes offered by the Ecolint Institute of Learning and Teaching, which was created in 2011 to promote lifelong learning among members of the Ecolint community, and beyond. To achieve its mission, the Institute strives to develop and support best pedagogical practices, disseminate educational research across all Ecolint campuses, and offer a range of professional development opportunities through trainings and educational events. For information about the PGCE (International) Programme and other programmes offered by the Institute visit the Institute's website: www.ecolint-institute.ch
Applications for the September 2017 PGCE (International) programme are now being considered. For more information, please contact
More from International School Parent
Find more articles like this here: www.internationalschoolparent.com/articles/
Want to write for us? If so, you can submit an article here: www.internationalschoolparent.submittable.com