Article
Meet the Headteachers – Thomas Schädler, Director General, Collège du Léman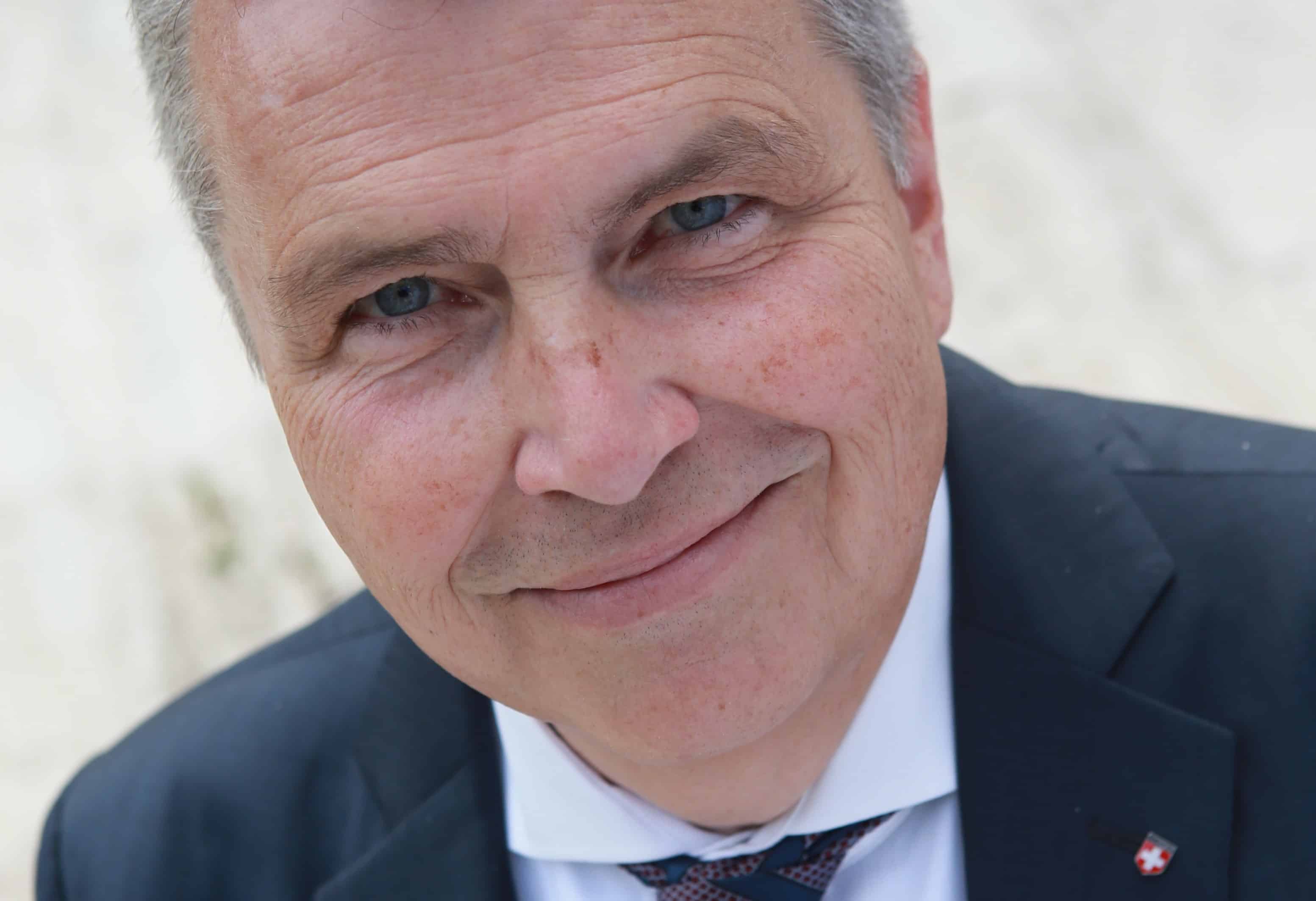 Nick Gilbert, Editor of ISP Magazine, interviews Thomas Schädler, the new Director General of Collège du Léman (CDL) at their beautiful campus nestled between the Jura Mountains and Lac Léman, on the outskirts of Geneva.
Thomas, it's great to see you and we are very excited to be here at CDL – it's such a fantastic location. Firstly, I'd like to go back to the beginning of your career, because you've been all over the world and led a very international life. Where are you from originally?
I'm Swiss, originally from Zurich. I trained as a teacher in Switzerland and after a few years of teaching, I went to Singapore, where I became the director of a school at the early age of 29. I spent 5 years at the Swiss School of Singapore (now the Swiss International School in Singapore). Then when Switzerland was voting on EU Membership in 1992, I was called back to Zurich to start an international bilingual school, as a group of pro-Europeans wanted to create an EU School of Zurich. The school still exists, but I think it is called something like Bilingual Lakeside School, as of course they gave up on the European aspect! That was a great experience because it was the first bilingual school that I started up and headed.
Before this I had a lot of teaching experience in an area of Zurich where there were a lot of immigrants. In 25 students, there was only one Swiss child, so I was confronted with very multicultural education right from the beginning of my career. In a way this kind of opened my mind, if you like, and followed me throughout my career.
How have these international experiences shaped your outlook on education?
After my time in Zurich, I spent many years in Asia, in Indonesia, going back and forth to Europe, the USA, the Caribbean, Berlin, as well as studying in the UK and doing another Masters in the USA.
This opened my mind to a huge variety of views, value systems and expectations that different cultures have with regard to education. At the same time it has made me realise that in any country, wherever you are in the world, parents want the same thing. As a head of school, the best thing for me to learn was that the parental interest and care is the same whether you are in Indonesia, the Bahamas or Germany.
Based on this reflection, have you developed a magic formula for international education?
If I had a magic formula I wouldn't tell! It was eye-opening however, to see that the common interest amongst parents is the same and this is really what makes it possible for international schools to function. If the basic interest of different families in different parts of the world was not the same, we could not have international schools, because you would have too many different beliefs and value systems. But the fundamental, shared core is all about love and care for your child, and wanting the best possible development for them. Parents usually want some traditional values in a school, but also for us to promote open-mindedness and a desire to explore the world. This is the same across Asia, the Caribbean, Germany and so on.
The formula that I have found is related to being Swiss. Despite the fact that I have spent more years abroad than in Switzerland, I have always had very strong roots in this culture and country. My personal formula that I try to promote at CDL is for the education to be of Swiss quality (just like the Swiss watch), with traditional Swiss roots, and take advantage of being in the mountains in the heart of Europe, but always to have a very open mind for other influences and views. It's a little bit like Switzerland as a country – we have to open our hearts and eyes and minds to the world, because otherwise we can't survive, but on the other hand, we want to preserve our very strong identity as a beautiful and successful country. So my personal formula for success is really to combine the best of everything.
What is the best thing for you about leading CDL?
For me, the very nice thing about leading CDL is that all the different parts of my career come together in one school. CDL is a bilingual school, offering the Swiss Maturité, the IB, a boarding section, with many different nationalities. Everything comes together in one beautiful school, so for me this is heaven – I am very happy here.
This is also the biggest school I have taught in, which is also nice to come to later on in my teaching career. I've always swayed between big schools and small schools, very modern schools and then schools in need of real development. I left Berlin after 7 years at an extremely high-end school and went to Rome, where there was a lot of basic groundwork to be done. Doing a mix keeps you humble! So mine has not been a career which has always gone in an upward trajectory, but one which has posed different challenges along the way. Partly, my career has been driven by my interests as a teacher and what I wanted to do with my life. My dream was to go through the world and see a lot of different countries.
What have you learnt about your international students during your career?
Again, a very interesting experience for me has been coming to the understanding that most students across the world have very similar needs and interests. What varies tremendously is the type of respect they have for the school, teacher and the director, which is a lot to do with their value system. In Asia you find a lot of respect for older people, whereas in Europe this is less pronounced, but these things are not necessarily related to what the students need.
Every student all over the world wants to learn, to explore, and to be successful. In no other business do you have a market which is so even. It is more about how you deliver the education which varies from country to country. This is very important for us at CDL where we have so many nationalities and cultures represented – we have to find different ways of talking to the students and parents about the same thing. Same message and content, but personalised delivery.
You've just arrived at CDL. Do you have any plans for change? What will a student who graduates under your leadership be like?
You can't keep on doing the same thing if you want to be successful as a school. I think that story ended a long time ago, so you have to remain open-minded, innovative and look out at the world to find out what the children need to be successful. We have a variety of challenges that we need to work with and prepare our students for. Our students are entering a world which is extremely competitive, so I want my students to be well prepared for and aware of the competition, which increases every year. The other big challenge is technology – it has changed the way we think, the way we work, the way we do business, and I want our students to be able to embrace this technology and use it to their advantage.
Do you have a technology integration in the school?
Yes absolutely, we are one of the few schools with a complete iPad programme – every student in the school from Grade 3 to Grade 12 has one. They are encouraged to use it, and it is also a symbol of how we value technology. It is a fantastic learning tool, but you have to learn what to do with it and how to use it, and make sure that the students don't just use it for games.
We are now part of a group of 42 schools, Nord Anglia, which is a huge advantage because our students and classes can connect. Right now we are in the process of giving all our students individual email addresses, which will allow them to access a global portal to connect with other schools, classes, and students. For example, if a class is studying climate change and industrial pollution, they can now easily call another class in Beijing or Singapore where the pollution is terrible and ask them how it is, and they can have a joint lesson.
On top of the advantages that Nord Anglia brings, what is it that makes people come to CDL?
I don't think it is one single thing, rather a combination of many different things. It is a school that has been here for a long time, with strong local roots and a welcoming attitude towards the expat community. The beauty of the location, the view of the lake and our open, village-like campus are hugely valued. If you walk into other schools you often have one big block with a fence around it, and we don't have that. Then I think that the fact that we have students from age 2 to 18 on one campus adds to the happy atmosphere. And we are very international with over 100 nationalities.
We don't have a high turnover of teachers because I believe people here are happy and it truly is a good working environment. It is an environment that challenges them to try new things, improve their practice, whilst sharing and growing as a teacher. That is one of the advantages of a big school because we can provide career progression and professional development and now being part of Nord Anglia we can offer even more to our teachers. Nord Anglia has its own university programme where teachers can do a Masters degree, in conjunction with Kings College London, which is extremely interesting for our teachers of course.
What do you think the parents of CDL students value most about the school?
It's the bilingual aspect – we do programmes in both French and English. We are not a purely international school so we have very pure Swiss and French roots. Another reason would be that we have a fabulous mixture of children from many different backgrounds, providing them with a connection to real life and the real world. Many of our parents work very hard to be able to send their children to a school like CDL, which also makes it much easier for us as teachers.
What are the principles and philosophies that CDL promotes?
We provide a highly individualised education which is the key to success now, and will continue to be the key to success in the future. We have now realised that the learning styles and needs of each child differs greatly. Schools have realised that the world is moving in this direction, towards catering for diverse learning styles. Some children learn best if you give them a project and leave them alone, others need a classroom environment with the teacher at the front telling them what to do, a third child works best in a team, and a fourth will absorb information best in a visual way. So these diverse learning styles are being recognised more and more in schools and in a school like CDL with the resources that we have, and the broad curriculum offering, we are able to cater for all of them.
You've just built and opened an amazing gym and boarding house. You've bought and launched some new sailing boats. You run around 195 extra curricula activity sessions per week, what other areas are you looking to develop?
I was on the boats yesterday! Excellent wind conditions! We need to promote sailing at CDL, it is fantastic. We need more boats! Separate to this, what is really exciting now that we have joined Nord Anglia is that we are benefitting from a collaboration with The Julliard School in New York, one of the most famous performing arts schools in the world. This means that CDL students will learn from an innovative music curriculum developed by experts at Juilliard. We're also excited that CDL will be hosting the first Juilliard performing arts summer school in July next year! The power of these 42 international schools combined gives us enormous opportunities at CDL.
For the parents, and being Swiss yourself, how do you make the most out of Switzerland?
For me it is slightly different because I am coming home after 30 years abroad, so I have always had the question, "how do I ever go back?", on my mind. I really enjoy Switzerland to its fullest extent, with all the advantages it has in comparison to other countries that I have lived in. The key to Switzerland is the beauty of the country and the easy access to it. I can tell you from my experience of living in Rome, that the countryside there is very beautiful but you cannot go on a hike because there are no hiking paths anywhere. Even if there is one, it is never described in any guides. I have just bought a lovely bicycle, and here I can use it, whereas in other countries I have lived in, you cannot use a bicycle because they have only main roads. So the beauty of the country and the easy access to fun and activities is the secret to enjoying Switzerland to me. At the moment, whenever I have time, I am on the lake, and on bikes. Another thing of course, is the central position of Switzerland in Europe and the world. The easy access to all the other cities – I can be in Rome in 1.5 hours for CHF50. Then you have London, Berlin, Barcelona and so on.
When you go sailing with the students, do you do that to help them get into it or because you like it or a combination of the two?
Both! I love sailing, it is a passion of mine. And of course I want to see what our children do, what the programme needs in order to be better promoted. Yesterday the children came up to me and said that if they could find a better, stiffer genoa sail, they could go faster. They asked me who they should approach for some money to buy a new sail so I told them they were speaking to the right guy! So I do it for the direct contact with students, the activity itself, and to understand what is going on.
What are the future trends for the future of education?
Place-based learning, and hyper-blended learning are both terms you will hear in the future, as well as immersive language learning. Sports, drama, and science all lend themselves very well to immersive learning because it's not a huge issue if you get it wrong and you learn without noticing it.
Are there any challenges that education faces?
Our biggest challenges are really the things I have mentioned. Market pressures inside and outside. Technology and how to make the best use of it in the schools. I feel like we are just at the beginning – we call children born after 1996 digital natives. My youngest daughter is like that and I have seen that with her. She is 19 and studying at the arts university here. She was Whatsapping me when I was very busy during my first working week and she asked me how to send a letter by normal mail. You wouldn't believe it, she eventually called me and said "and now I am standing in front of this yellow box on the street, are you sure I have to put it in this box?". It sounds ridiculous, but from her point of view I can understand it because to her, you send mail via the internet!
Thank you so much for your time, Thomas, it was great to chat to you. Hope to see you again soon!
Collège du Léman is a private international school founded in 1960 in Versoix, of the Swiss Canton of Genève. CdL is part of Nord Anglia Education. For more information: www.cdl.ch