Article
Meet the Headteachers – Didier Boutroux – Head Master of Le Régent Crans-Montana College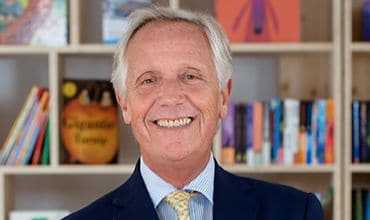 Head Master of Le Régent Crans-Montana College
What initially inspired you to pursue a career in education?
I had an exciting experience as a boarding tutor in a French Lycée when studying at university, which sparked my desire to build a career in education.
How do your own life/work experiences inform your approach to your work?
My own boarding school experience gave me first-hand insight into community life and enabled me to relate easily to my students. Coming from a traditional French family and married to a British artist has undoubtedly contributed to my broad-mindedness.
What have you learnt from your time as a head teacher at an international school?
How much I enjoy the diversity of languages and cultures! I have also understood that gender, age, social and cultural gaps can be bridged easily. Henry Ford once said, "If everyone is moving forward together, then success takes care of itself." I have proved the truth of his saying on many occasions throughout my long career.
What characterises the students graduating from your school?
They are equipped to look towards the future and blossom in an ever-changing world while cherishing their collective heritage. Students leave us having become self-sufficient, internationally-minded, inquisitive and caring global citizens.
What would you say makes the learning environment extra special?
Two factors contribute to the uniqueness of our learning environment: the natural element and the human one. We live in an incredibly healthy, remarkably safe and strikingly beautiful setting, which provides an inspiring place to learn with confidence, determination and happiness. We are fortunate to have attracted many local children who bring to our school their rich cultural heritage and facilitate our integration into the local community.
Which features of the school do parents value the most?
A happy, supportive and purposeful atmosphere
A rigorous and challenging curriculum
An individual approach to academics coupled with small classes and a robust tutorial system
The breadth of our extra-curricular activities and an emphasis on arts and sports
What are the main principles and philosophies you promote at the school?
Everything we do, from the classroom to the boardroom, is guided by four principles: COURTESY, COMPASSION, CREATIVITY, and finally, COURAGE.
How do you get children to do their best academically?
By planning and delivering a demanding curriculum; providing individual support and monitoring most positively the progress of our students. Small class sizes, progressive methods of teaching and state of the art technology make education and learning a unique experience.
Students and teachers work in small classes in brand new facilities, equipped with state of the art technology.
Which other areas of education and extracurricular activities are you developing?
We offer Mandarin classes which are very much appreciated. We are also putting a particular emphasis on entrepreneurship, service, arts, sports, and the discovery of the surrounding mountains.
How do you encourage understanding between cultures and nationalities?
By establishing a climate of courtesy and tolerance that leads to the understanding and respect of others.
What is the best thing about leading an international school in Switzerland?
The opportunity to offer a healthy and safe environment in which our students can thrive.
How do you make the most of everything Switzerland has to offer?
By establishing a weekend program which will, over the years, enable all our students to discover the best Switzerland has to offer, such as its cultural heritage, national beauty and unique system of government (direct democracy). We are in fact teaching one term of Swiss history in Year 9.
How do you help international students settle in when they first arrive?
Our pastoral care system based on courtesy and compassion ensures that we are extremely attentive to everyone's needs. This is also helped by a low ratio between students/ and teachers, and a stable support system.
What are the main trends in education that you see at the moment?
Undervaluing the importance of the arts and at times sports, which we have chosen to support actively because the world of industry and business is crying out for creative people who are adept at working in teams.
What are the main challenges for education as a whole in the future?
Ensuring that our students are fully conversant with the world of IT and at the same time committed to a world where social interaction is courteous and compassionate.
How are you equipping your students for future success?
From the start, our students are encouraged to think and discover for themselves. They also are trained to be life-long independent learners. Therefore, most importantly, we make sure they are honest, kind, hardworking, and open to others.
More from International School Parent
Find more articles like this here: www.internationalschoolparent.com/articles/
Want to write for us? If so, you can submit an article for consideration here: www.internationalschoolparent.submittable.com