Article
Studying an IB Diploma course online – What parents should know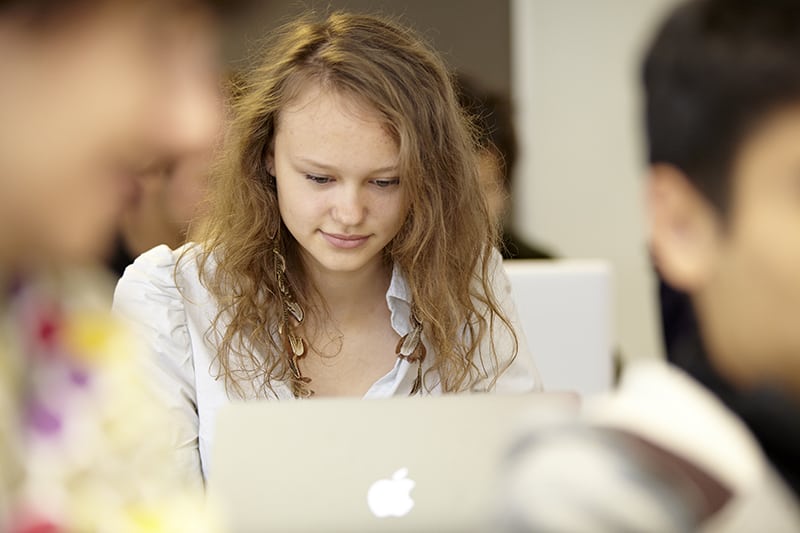 This year over 3,000 16 to 19 year olds are studying one or more of their International Baccalaureate (IB) Diploma Programme subjects online. Instead of having their lessons delivered by a teacher from their school in a traditional classroom setting, these students are studying the course in a virtual global classroom, with an online teacher and with online classmates who are based in different schools and countries around the world.
The Inter-Community School Zurich has been offering online courses to its students for several years. Here the IB Diploma Programme coordinator at the school and an online IBDP student share their experiences of learning in this way and offer some advice to parents whose teenagers might be considering the IB and online courses.
Studying what and how I wanted to learn
Hollie Smith studied one of her IBDP courses online. She explains why: "I wanted to do Psychology but there was no teacher at our school. There were people who wanted to do Business Management and Economics too but the school couldn't have all the staff for all the subjects. Offering the online courses gave us a much greater choice of subjects," she says. "My online classmates were from all over the world including Namibia, New York, Brazil and Copenhagen. This was really valuable as it gave me such different points of view. In Psychology you cover some quite ethical issues and it was fascinating to hear the different perspectives because of cultural influences. It opened my mind up to the fact that people see the world in different ways; there's not just one right way."
Hollie says she particularly enjoyed the flexibility of learning online: "I loved the fact that I could do my learning whenever and wherever I wanted. School timetabled two hours each week for online learning but it was up to us how we used that time. Outside school, I'd schedule about three hours each week, but that varied. Sometimes I'd do my online learning in bed, at the kitchen table, and on the plane when I was travelling. You can learn online anywhere in the world, when and where it is right for you. It gives you more flexibility and I really liked that, rather than being in a classroom having to do the learning at a very set time, in a very set place, when you're stressed, or just not in the best mood to learn."
Hollie, who is now studying Psychology with American Studies at the University of Sussex in the UK, says her online learning experience taught her skills that prepared her well for higher education: "It definitely taught me self-motivation and developed my time management skills and that really helped prepare me well for university. It made me feel confident that I could cope with the university way of learning. And I think it did help me stand out in my applications; I got all five offers from my university choices. I made a point in my personal statement to say that I had taken an online course. I think that definitely sets you apart."
Supporting online learners
As the coordinator for the International Baccalaureate Diploma at Inter-Community School Zurich, Philomena Marchetti currently has 34 students who are studying at least one of their Diploma subjects online. Much of this learning takes place at home. "The school allocates periods within the timetable for online learning but it's not mandated that this is what the students must do at this time," she explains. "Online learning is very much about learning when it best suits the student and many of them choose to do it at home. As a result, the students sometimes equate the online learning hours to homework time and forget that they've had no classes during school hours. I often hear students say 'I didn't realise it would be so much work!' They need to look at the learning hours and be very clear that a standard level online course will require four hours each week and six hours for a higher level course and if they don't use the hours timetabled within school, then all that learning will have to take place at home."
The challenges of online learning
Philomena says that knowing the challenges that will be faced as an online learner helps students to decide whether it's a learning approach that they are prepared to handle. "Some kids want face-to-face time with their teacher, some kids want to be able to see someone straight away if they have a question, and some kids struggle to prioritise their learning and their assignments. Students really do need to be good at time management, self-motivation and engagement, or so passionate about their subject that they are prepared to improve these skills."
Philomena says that for those students who do approach the online learning in the right way and become familiar with the expectations, then the experience benefits them. "They broaden their skill base," she explains. "They learn to gather information from different places, they learn to collaborate in a digital environment, there's also the opportunity to learn from the experiences and beliefs of others, although not all students at this stage actually appreciate the value of this. It definitely helps them to become more able, independent learners which is good preparation for the learning style of university," she says. "The online learners really do need to have good discipline and self-motivation, but these are important skills for higher education so if they practice them early, when they have the support of teachers and parents around them, then they will be better prepared for the next stage of their learning."
Advice for parents
Philomena offers advice for parents to support their child with online learning:
Research the online course with your child really well. Is it a subject they are passionate about? The Diploma Programme is a major commitment and online learning is an added challenge. Make sure they are making the choice for the right reasons. Having said that, those who complete it are usually really pleased that they've taken their online course.
Show them that you are interested in their online learning; ask them where they're at with their assignment, and what they have to complete this week.
Make sure your child is doing everything way in advance of their work deadlines; they will get tied in knots if they leave it to the last minute and then find they need help or collaboration and can't access it immediately.
Help them to allocate their time effectively. They should be setting short term goals for their online learning for each day and each week.
Remember that during the mid-term holidays the online learning doesn't close. So in February, if you're up on the mountain skiing, your child might need access to the internet. The expectation will be that online learning is still going on, so help your child to make sure that happens.
Some parents go along with what their teenager wants to do and some worry, particularly as it's a way of learning that they are not familiar with. As the school's Site-based Coordinator (SBC) for the online learners, I am the one who feeds back to the parents and so I need to keep them informed. Parents need to know that if there are any concerns or if they want to understand more, they should work with the school's SBC.
---
About the Author:
Anne Keeling specialises in international school media relations and has been writing about the international schools market for 10 years.
More information
All online International Baccalaureate Diploma Programme courses are available through the IB's only approved provider, Pamoja. You can find out more and read about other student experiences at www.pamojaeducation.com
More from International School Parent
Find more articles like this here: www.internationalschoolparent.com/articles/
Want to write for us? If so, you can submit an article here: www.internationalschoolparent.submittable.com